A rapidly growing number of patients around the globe seek affordable, quality dental care that is easily reachable from their home country. One of the countries that heed this call was Hungary, which is now considered as one of the fastest developed dental tourism destinations in the world. There are 3 reasons why Hungary should be your dental destination namely strategic location that makes it accessible to foreign patients, quality clinics and price affordability for dental procedures.
#1 Accessibility
Hungary as a European country is easily reachable by air and road from most countries. So if patients are from Austria, Great Britain, Ireland and Germany or any European country, Hungary's demographic profile makes it highly accessible and easy to reach.
#2 Top Quality Dental Clinics
The quality clinics available include the following:
Access Smile Dental Clinic offers first-class dental treatments at a low-cost price in a relaxed and caring atmosphere. They are experts in procedures that will enable their patients to show a healthy mouth and bright smile and renew their confidence.
In pursuit of offering outstanding dental treatment at an astonishingly affordable price is Flydent Fogaszati Kft. Its staff includes specialists from different fields of dentistry such as aesthetic and cosmetic dentistry, implantology and restorative dentistry. The clinic is equipped with state-of-the-art medical equipment and the best dental laboratory.
TriDent Budapest Cosmetic & Family Dentistry has been serving patients from more than twenty (20) countries. The clinic specializes in implants, crowns, veneers, inlays, dentures and fillings. They have the latest computer-controlled dental units supplied by SIEMENS, oral cameras, radio wave surgical unit and digital x-ray systems.
Batorfi Dental Clinic is a leading dental implantology clinic in Hungary and provides procedures in dental implantology, bone graft and bone block. Patients are assured of Batorfi Dental Clinic's effective delivery of treatments due to their experience, reputation and most importantly dedication.
Fedasz Dental Clinic uses the most up-to-date technologies to enable their dentists to perform top-quality dental procedures. It has an on-site laboratory that allows them to accomplish all types of dental artwork, sometimes in less than a week.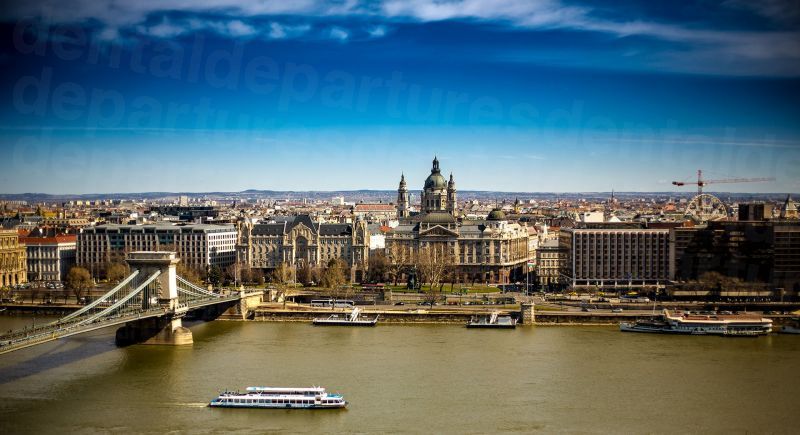 #3 Affordability
The dental clinics in Hungary offer outstanding dental care services at an affordable price. This table gives an overview and price comparison of procedures offered in Hungary.
INTERNATIONAL PRICES VS. HUNGARY PRICE.
PROCEDURE

UK £

EURO

US$

COMPARISON

DENTAL CROWNS

970

1030

1200

INTERNATIONAL

270

302

352

HUNGARY

ROOT CANAL

950

1030

1200

INTERNATIONAL

77

86

100

HUNGARY

FILLINGS

1116

133

155

INTERNATIONAL

54

60

70

HUNGARY

INLAYS/ONLAYS

691

773

900

INTERNATIONAL

140

156

182

HUNGARY

PORCELAIN VENEERS

932

1069

1245

INTERNATIONAL

163

183

213

HUNGARY

DENTAL IMPLANTS

3000

3306

3850

INTERNATIONAL

173

193

225

HUNGARY

All-on-4® treatment concept

20000

23000

24000

INTERNATIONAL

1782

1995

2322

HUNGARY

ALL-ON-6

24000

27000

28000

INTERNATIONAL

1905

2132

2482

HUNGARY
[Note: These figures are estimates at the time of writing; please check our clinic listings for up-to-date prices.]
How Do I Get Started?
Hungary has top quality facilities that accept and treat dental tourists with care, offer extremely affordable procedures and is within easy reach of European, British and even American patients. These are the main 3 reasons why Hungary should be your dental destination. What more can a patient ask for!
If you want to avail any of their services, do not hesitate to get in touch with Dental Departures' Customer Care Team. We provide information on general questions regarding warranties and other services.