Patients flock from all over Europe to visit dentists in Budapest, for everything from dental implants to root canal treatment. Not only can you expect a high standard of dental care, but for patients from the United Kingdom, the cost of treatment is just a fraction of what you would pay at home. Traveling to Hungary for endodontic treatment could save you hundreds, if not thousands of pounds.
Understanding Endodontic Treatments
Endodontics is an area of dentistry that focuses on the living pulp of a tooth, with root canal treatment the most common endodontic procedure. Endodontists are specially trained to carry out this type of dental treatment, which involves removing the pulp from inside a tooth, cleaning the pulp chamber and root canals, then filling the entire tooth before sealing it.
Why Do You Need Root Canal Treatment?
When the process of tooth decay breaks through the protective layer of enamel and dentin on a tooth to reach the inner pulp, you will be in a lot of pain. Also, if a hard impact has damaged the pulp in your tooth it could feel sensitive and painful. Root canal treatment will alleviate this pain and works to keep your tooth in good working order. In many cases of pulp damage, the only real alternative to a root canal filling is extracting the affected tooth, but it is much better to keep your original tooth in place for as long as possible.
What Happens to My Tooth After a Root Canal?
After root canal treatment you will no longer feel any pain in your tooth, or any sensitivity at all. The pulp is the living part of a tooth, and once removed that tooth is dead. With a root canal filling you can continue to use your new tooth for many years to come; however, it will weaken over time. You are also likely to notice the coloration of your tooth become slightly duller over time as the dentin within the tooth darkens.
Do You Need a Dental Crown After a Root Canal Filling?
The likelihood is that you will need to have a dental crown attached to your root canal filled tooth, but this is not always the case. It is important to consult your dentist regarding whether or not you need a crown. A number of factors need to be considered, including whether the tooth is at the front or back of your mouth and how much of the original tooth is left.
If your tooth is very weak at the time of the root canal filling it could be best to put a crown on it straight away. On the other hand, a root canal treated tooth with very little or no decay could be left as it is in your mouth, with a filling. You may find this tooth continues to do a great job of cutting and chewing food. Teeth with root canal fillings are prone to discolouration over time, so you may eventually want a crown to match the whiteness of your other teeth.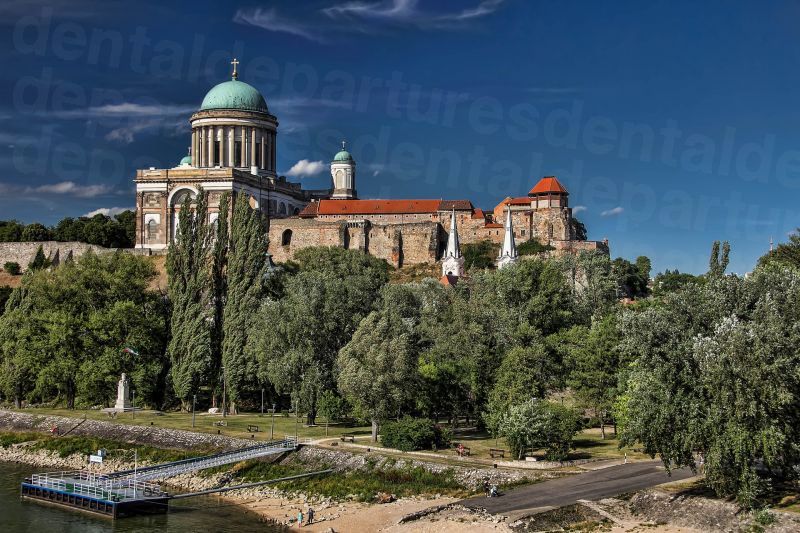 Visit a Hungarian Dentist to Save Money on Your Root Canal Treatment
Prices do vary from clinic to clinic, but the root canal cost in Hungary averages out to roughly £70 per tooth. Visit a private UK dentist for root canal treatment and you can expect to pay an average of £840 for a single tooth. Saving £770 for just one root canal is good enough, but if you needed three root canals the savings jump to over £2,000.
Four of the Best Dental Clinics in Hungary
An award-winning dental clinic in the heart of Budapest, MDental Hungary offers a wide range of different dental treatments to solve any dental issues. Implants, crowns, invisible aligners, veneers, and root canal fillings are all available. This clinic features modern facilities and equipment, plus there are dentists working here that speak a variety of languages, including English, Italian, German, and French.
Evergreen Dental is another excellent clinic in the capital, where the latest in CAD/CAM technology is available for dental restorations. The entire team of dental specialists working here can communicate with you in English, and the clinic is also ISO 9001:2015 certified. Read some of their verified patient reviews to get an idea of what it is like to have root canal treatment here.
Founded in 1992 by Dr. Bela Batorfi, the Batorfi Dental Implant clinic is one of the leading centres for implantology in the city. Dr. Batorfi opened a brand new clinic in 2008, where international patients can take advantage of many low-cost dental treatments, not just implants. Batorfi Dental Implant consistently receives a 5-star ranking for customer satisfaction.
Many UK patients choose Access Smile Dental Clinic for low-cost dental care , with some of the most competitive prices in Budapest. The entire team of dentists and hygienists working here speak both Hungarian and English, and over the past ten years they have built up a solid reputation for providing expert dental treatment to international patients from the UK, the EU and beyond.
Book Your Hungarian Dental Appointment Online
Whichever clinic you choose to complete your dental work in Hungary , you can set up your appointment in just a few minutes here at Dental Departures. Use the online appointment scheduler whenever you want, even outside of dental clinic opening hours. Alternatively, call the Customer Care Team to have them make all the arrangements for your Hungarian dental trip.
Sources:
Issenberg, Sasha. Hungary: World Capital of Dentistry. The Atlantic. 22 February 2016. https://www.theatlantic.com/international/archive/2016/02/hungary-dental-medical-tourism-batorfi/470391/" target="_blank
Endodontic Treatments and Procedures. American Association of Endodontists. 9 November 2017. https://www.aae.org/patients/2017/11/09/endodontic-treatments-procedures/" target="_blank
National Institute of Dental and Craniofacial Research. The Tooth Decay Process: How to Reverse It and Avoid a Cavity. July 2018.
https://www.nidcr.nih.gov/health-info/childrens-oral-health/tooth-decay-process" target="_blank