Save more than 50% on the dental implants cost in Costa Rica with Dental Departures and enjoy high-quality, low-cost care in a country steeped in history and culture. Expect great savings on dental care compared to home with our quality-checked dentists in Costa Rica —at a fraction of the price.
Due to its convenient location, many Americans and Canadians, benefit from top-notch, affordable treatment, making Costa Rica a popular dental tourism destination. Every year some 35,000 patients, mostly from North America, visit Costa Rica's clinics and hospitals for medical and dental treatment.
Why Choose Costa Rica for Dental Implants?
Costa Rica is an ideal destination for patients looking for sun-kissed beaches, warm hospitality and cost-effective dental care. Many budget-conscious North Americans and Canadians who don't want to endure long flights for dental procedures choose Costa Rica over more distant options in Thailand or India.
Its enviable position provides access to several airline carriers offering flights in a few hours from major US and Canadian cities. This is all the more important a return trip is required for dental implant work.
With millions struggling due to the high costs of care at home, Costa Rica can save you upwards of 40% not just on implants but across any number of dental procedures. Many of our best Costa Rican dentists have undergone training in the US and belong to the American Dental Association or similarly-accredited by a leading US or Canadian agency.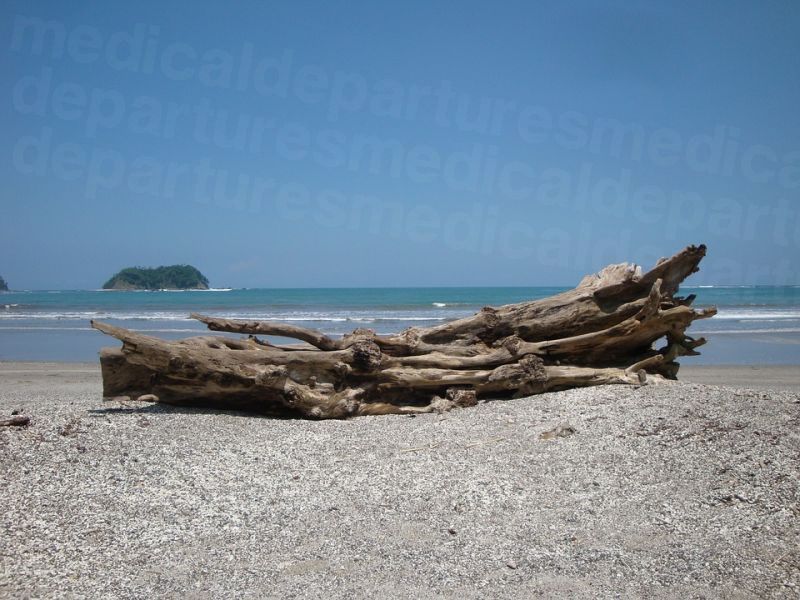 Clinics in Costa Rica—Synopsis
Boasting state-of-the-art diagnostic equipment, English-speaking staff and contemporary interiors, our background-checked Costa Rican clinics are the perfect solution for superior implantology treatment at cost-effective rates. Dental Departures meticulously vets each clinic, ensuring a hassle-free, first-rate, patient-focused experience.
Our virtual clinic tours, high-res images, memberships and dental qualifications checks make your decision-making easier. Check out verified dental implants review Costa Rica cases, written by patients who have "been there and done that." Fully-approved clinics at the affordable prices you're seeking include Costa Rica All on Four , Prisma Dental and Clinica Mario Garita the Dental Experience .
What is the Price of Dental Care Compared to Home?
American and Canadian patients can save more than 50% on dental implant treatment in Costa Rica;
Dental implant cost in the US: $3,913

Dental implant cost in Canada: $5,026

Average dental implant cost in Costa Rica: $1,780
These kinds of savings—and all the moreso if you require multiple implants—can override the costs of a return visit.
Why Choose Costa Rica?
Costa Rica enjoys a rich, diverse history: a diverse landscape (25% of Costa Rica is designated national parkland!), glorious beaches, volcanoes, flora and fauna make this Central American paradise perfect for dental tourism travellers. Over the past 20 years, the Costa Rican government has injected significant finances into improving its healthcare system, which has made the dental travel all the more appealing.
Affordable flights to Aeorpuerto Internacional Juan Santamaria (SJO), superior dental treatment and inexpensive care sees many Americans and Canadians visit annually for their check-ups, cleanings and minor repairs. Our best dentists can achieve more complex work, such as dental implants or full mouth makeovers.
Filled with lush green spaces and UNESCO Word Heritage Sites , patients can relax and recover in idyllic surroundings. Visit Monteverde and Santa Elena for trekking, hiking, whitewater rafting and rainforest tours or swim and snorkel in the Caribbean and Pacific oceans. Or chill in a unique Costa Rica " recovery resort ," created especially for dental and cosmetic surgery patients.
Miles of sandy beaches extend from Punta Uva and Puerto Limon to Talamanca and Montezuma. Culture-vultures can take in San José's museums and galleries. Aside from the array of adventure-tourism opportunities, you can take in nine holes on one of many impressive golf courses around San Jose and Guanacaste.
Staying in Costa Rica
Varied hotel options in Costa Rica await you, suiting all wallets and budgets from indulgent spas and beach-friendly resorts to ultra-modern five-star hotels.
San José is where patients can find an abundance of top-quality dental clinics as well as a host of wallet-friendly and stylish hotels. The upscale suburb of Escazú, close to downtown San José offers a wealth of luxury American hotels, cost-effective airbnb rentals and apartments. Many of Costa Rica's top clinics have their offices in Escazú.
Patients should reserve their lodging in advance of high season, usually between December and April. Some clinics offer free or discounted hotel lodging, via your booking with Dental Departures.
"Recovery lodging" is available for both dental and cosmetic surgery patients, with additional facilities such as airport and clinic ground transportation, dedicated nurses and a patient hotline, available 24 hours a day.
How Do I Book?
Take advantage of high-quality, superior dental care with Dental Departures
See ways below to get in touch today to book your appointment. Call our toll-free number, book online and use our site to find a quality-checked dentist in Costa Rica.