Dental Fillings
Dental fillings are used to treat tooth decay and mild fractures. There are many types of filling materials that include composites and ceramic. Composite Resins are commonly used because they match the shade of your natural teeth. The material bonds easily to the tooth. Less tooth structure is also removed when composites resins are used. However, the material wears out more easily than amalgam fillings, especially if it's placed in the chewing area. Consult a dentist in Los Algodones to know which material is best for you.
The dentist in Mexico will take an oral examination and discuss the treatment process. First, your teeth, gums, and surrounding area will be numbed. The dentist will keep the affected teeth dry, remove the decay, and replace it with dental fillings.
After the treatment, continue to maintain proper oral hygiene by brushing, flossing, and rinsing with mouthwash. Get regular checkups and professional teeth cleaning to achieve optimal health.
Fillings: Price in Los Algodones
As mentioned earlier, dental clinics in Los Algodones are affordable compared to the US and Canada. Composite fillings in Los Algodones costs around USD $45 (CAD $61), which is just a fraction of the price in the US USD $201 (CAD $271). Take note the cost of treatment depends on the material you choose, the number of teeth involved, and the type of technology used. The dentist in Los Algodones will recommend the right material that suits your needs and budget.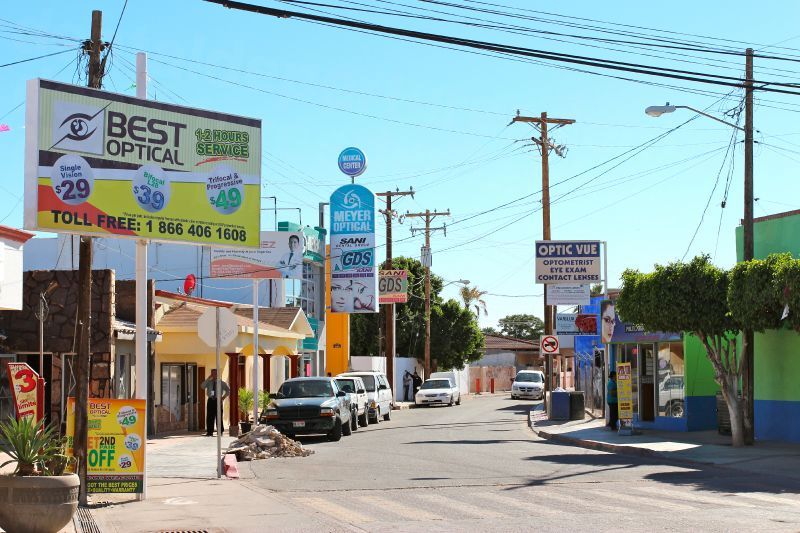 Clinics in Los Algodones
Dental Departures has a list of quality-checked clinics in Los Algodones. We perform background checks such on-site visits, verification of the dentists' qualifications, and professional memberships. The verified clinics in Los Algodones include the following:
Sani Dental Group is a member of the American Dental Association. The dental clinic including its branch office called Sani Dental Group – Platinum offers Preventive Care and specialized treatments such as Cosmetic Dentistry, Oral Surgery, and Full Mouth Restoration. It uses modern technology like Computer Aided-design/Computer-aided Manufacturing system, digital x-rays, and CT scan that delivers accurate results. The clinic has well-trained specialists who improve patients' oral health.

Supreme Dental Clinic offers exceptional care using advanced treatments in General Dentistry (oral exams, teeth cleaning, dental fillings) and Cosmetic Dentistry (crowns, bridges, dentures). It has a modern and comfortable environment. The clinic is staffed with specialists certified by the American Dental Association (ADA).
Restore your teeth with dental fillings. Prices in Los Algodones are lower than back home. Find a clinic in Los Algodones and book an appointment by phone, email, or online chat.