Alberta Dental is a modern dental office located in Algodones. Dentists at the clinic offer a comprehensive range of general, cosmetic and restorative dentistry to local and international patients, helping their patients to achieve and preserve their oral health as well as a fabulous smile.
At the heart of our dental clinic is a staff who are welcoming and caring and who are committed to ensuring your comfort. We place great importance on the trust you have given us, and pride ourselves on delivering outstanding customer care that exceeds expectation.
Why Alberta Dental?
You don't have to travel too far to find the best dentist in Mexico . Algodones is the most northernmost town in Algodones and is right on the United States-Mexico Border. For Americans and Canadians who are looking for good value dental care it provides a reasonably accessible location only a few miles away from Yuma, Arizona.
Most people tend to drive to the Andrade crossing at the border, parking on the US side and walking over. Alberta Dental run a shuttle service so can pick you up once you're in Mexico and take you to your appointment (and back to the Border crossing when you're finished).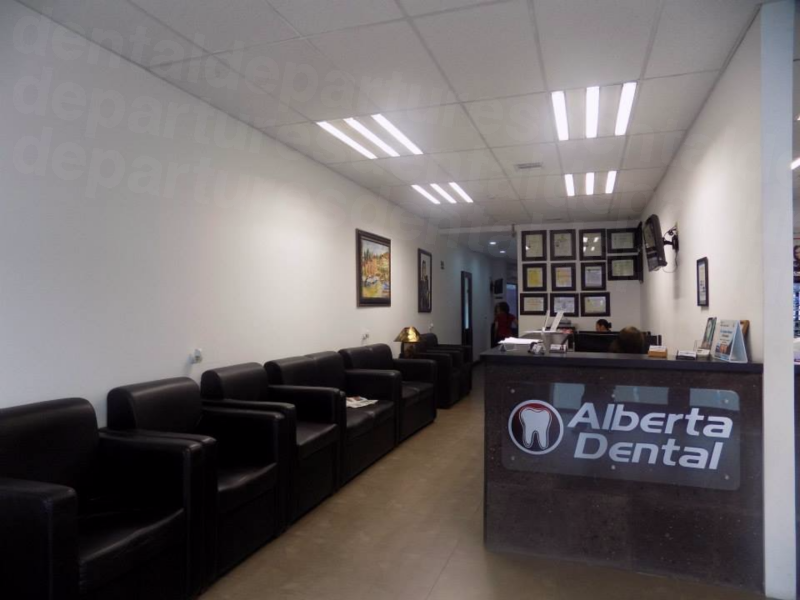 Even if you live farther away, it's possible to drive to one of the nearby airports and hire a car to bring you to Alogodones.
Wide range of dental treatments available
Alberta Dental offers an extensive range of dental treatments for the whole family. This includes:
Preventive care - cleaning and fillings to achieve and maintain oral health;
Orthodontics – bite and jaw malocclusion problems corrected with braces;
Cosmetic dentistry – advances in modern dentistry can change a smile for the better with some surprisingly quick and affordable procedures
Oral Maxillofacial Surgery – treats conditions such as TMJ, facial reconstruction, impacted wisdom teeth, and misaligned jaws. Treatments such as dental implants may also be carried out by Oral Maxillofacial Surgeons.
If you are looking for cost-effective dentistry then Los Algodones dentists are it! The savings you can make at Alberta Dental are at least 60%:
Cost of dental fillings in the United States $155 (CAD $199)
Cost of dental fillings at Alberta Dental, Algodones $50 (CAD $67)
Cost of root canals in the United States $1,275 (CAD $1,630)
Cost of root canals at Alberta Dental, Algodones $200 (CAD $267)
Cost of dental implants in the United States $3,900 (CAD $5,000)
Cost of dental implants at Alberta Dental, Algodones $1,100 (CAD $1,400)
Alberta Dental serves patients well by always ensuring they know all the information pertaining to their dental health. They find that if patients understand the reasons why a problem is occurring then they will take on board how to prevent it in the future. For this reason, the dentists at Alberta Dental will give you all the facts so together with your dentist you can make an informed decision about your oral health treatments, needs and goals.
Together, Alberta Dental and you can create the ultimate in dental health and a beautiful smile to go with it.