Do you want to get a top-quality full-mouth restoration at an affordable price? Angeles City dentists in Pampanga, the Philippines offer superior oral care at a reasonable price. Angeles City is located in the northern part of Manila. Know more about the quality and affordability of the all-on-4® Treatment concept in Angeles City.

The All-on-4® treatment concept by Nobel Biocare is a dental procedure that replaces all of the upper or lower teeth with just four implants. This advanced procedure is carried out in Angeles City dental clinics. Prices of treatments are lower compared to Australia, New Zealand, UK, and other countries. Below is the price comparison of All on Four:
Price List
| | | | | | |
| --- | --- | --- | --- | --- | --- |
| | Australia | New Zealand | UK | US | Canada |
| Quezon City | AUD$9,544 | NZD$10,239 | £5,622 | USD$7,200 | CAD$9,718 |
| Other countries | AUD$16,304 | NZD$17,492 | £9,604 | USD$12,300 | CAD$16,602 |
Take note that the price varies depending on the type of dental material, the technology used, and the specialization of the dentist. If you want to know if All on Four is right for you, consult a dentist and discuss your concerns. He'll prepare a personalized plan that suits your needs and budget.
During the initial consultation, a thorough examination will be taken. Upon confirmation, your specialist will plan to insert four implants into your jawbone with replacement teeth on top. After the healing period of about six months, the dentist will remove the temporary teeth and attach the permanent ones. You'll be given further instructions on how to maintain your teeth. Make sure to observe proper oral hygiene and get regular checks to achieve optimal health.
Quality of Oral Care in Angeles City
To help you achieve optimum results, find a clinic offering superb dental service. This is where Dental Departures come in. We have a list of clinics in Angeles City that are verified. They include Bonifacio Dental Center, Smile Makeover Dental & Aesthetic Center, and Metro Angeles Dental Center. These clinics offer dental tourism where they assist international patients.
Bonifacio Dental Center is one of the top clinics in Angeles City offering comprehensive treatments such as Restorative Dentistry, Periodontics (gums), Oral Surgery, Orthodontics, and Endodontics (Root Canal Treatment). It is equipped with state-of-the-art technology that delivers safe and effective treatments. The dentists handling the procedures are highly trained.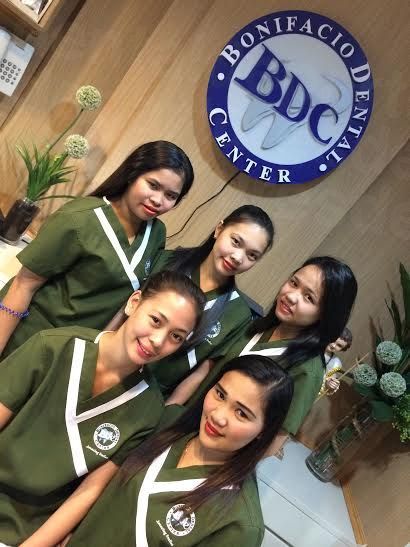 Smile Makeover Dental & Aesthetic Center offers high-quality treatment in a comfortable environment. It provides treatments such as Cosmetic Dentistry, Orthodontics, Dental Implants, and Endodontics. The specialists and dentists are well trained.
Metro Angeles Dental Center offers a comprehensive range of treatments such as Oral Surgery, Cosmetic Dentistry, Orthodontics, and Dental Implants. The specialist in dental implants completed his studies in Boston USA. He is a member of the International Team of Implantology.

Restore your teeth with the All-on-4® treatment concept by Nobel Biocare in Angeles City. The cost is affordable compared to countries like Australia, New Zealand, US, Canada, and UK. Contact Dental Departures to book an appointment.