For replacing a whole arch of teeth, check out the quality on offer in Istanbul with our verified All-on-4® dentists.
Learn more about the procedure and click through to our listings to see prices, photos, patient reviews and more useful information.
What Is an All on Four?
All on Four is a restorative treatment that replaces the entire upper or lower teeth with just four implants per jaw. A custom-made dental prosthesis holding a whole row of replacement teeth is eventually attached to the implants once they have properly fused with the jawbone (in the meantime, a lighter healing denture is worn).
All on Four may possibly be used on people with insufficient bone. This eliminates the need for bone surgery, which shortens treatment time. The treatment is suitable for patients with no teeth or those who want a full smile makeover and are willing to have any remaining teeth extracted prior to the implants being inserted.
Finding a Reputable All-on-4 Specialist in Istanbul
The dental clinics in Istanbul listed on our site have all been fully-screened by Dental Departures to ensure everyone booking with us receives the best possible care while abroad. Quality checks include on-site visits, verification of dentists' qualifications, and validation of professional affiliations.
Take a look below at some of the most popular options in Istanbul for All-on-4 treatment: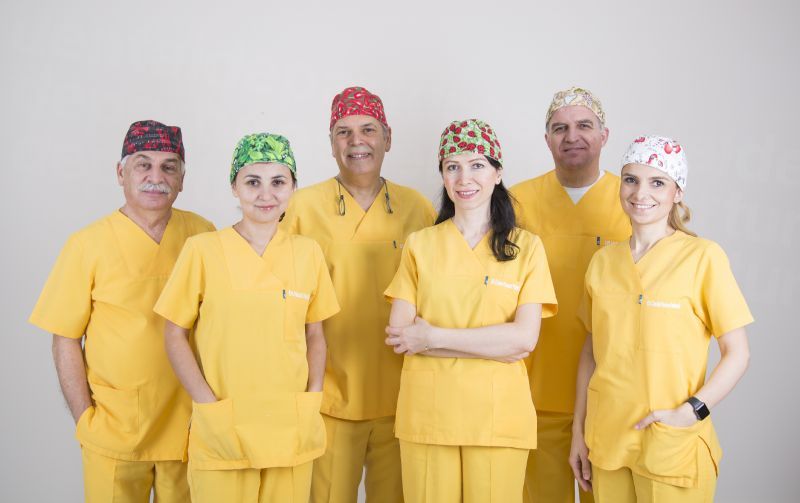 What About the Feedback From Past Patients?
As you can see from the reviews collated and published on our site, the patients who visited these clinics in Istanbul are happy with the services – fixing their teeth and improving their overall oral health while saving thousands.
Aside from the low prices, patients are able to enjoy a well-earned holiday and explore at least some of what this fascinating city has to offer.
Many of the clinics also offer dental tourism services where they assist patients with treatment and travel, for example, hotel discounts and a free shuttle service.
What Is the Cost of All on Four in Istanbul?
The cost of treatment in Istanbul is generally between 50% and 70% less than the US, Canada, and the UK. Here's the price comparison of All on Four in Istanbul:
| | | | |
| --- | --- | --- | --- |
| All on Four | USA | Canada | UK |
| Price in Istanbul | USD $5,600 | CAD $7,559 | GBP 4,373 |
| Other countries | USD $12,300 | CAD $16,602 | GBP 9,604 |
[Please note that these are estimated prices at the time of writing. See our individual clinic listings for latest prices.]
What Next?
Over 100,000 patients have already taken advantage of affordable prices and top-quality services at our partner clinics around the world, so, why not take the opportunity to take advantage of 70% savings while enjoying a holiday in Istanbul.
Contact our Customer Care Team here to get started.
Sources:
Kurbonali, Manuchehr. All On 6 Dental Implants. Medium, 7 June 2017. https://medium.com/@manuchehr/all-on-6-dental-implants-5a4375fa651e
Hodges, John A, DDS, FICIO. When is All-on-4 the best option? 5 factors to consider when creating your dental treatment plan. Dentistry IQ. 1 November 2017. https://www.dentistryiq.com/articles/2017/11/when-is-all-on-4-the-best-option-5-factors-to-consider-when-creating-your-dental-treatment-plan.html
Top 15 Things to Do in Istanbul. The Istanbul Insider. Website accessed: 31 October 2020. https://theistanbulinsider.com/top-15-things-to-do-in-istanbul/