The quality of dental care in Mexico City is now widely considered to be on par with the services offered in the US, a fact that is driving thousands of Americans across the border to receive the normally expensive All-on-4® treatment concept.
Browsing through reviews from patients who have visited Mexico City for their dental care is just one way of ascertaining quality. Dental Departures' publishes verified patient reviews, alongside other information, to help you make an informed choice when it comes to finding your dentist in Mexico City.
Keep reading to learn how much you can save when replacing your teeth in the cosmopolitan Mexican capital.
What is the All-on-4® Treatment Concept?
This procedure is an advanced technique that involves the insertion of four implants into the jawbone with replacement teeth on top. The procedure is great for people who are looking for stable replacement teeth. It may eliminate the need for bone surgery, which shortens treatment time and cuts down your dental expenses.
Your treatment will first involve a sit down for a consultation with the dentist in Mexico City. A complete examination, as well as an evaluation of your dental and medical status, will be taken. Your dentist will discuss the results and explain the process before commencing the surgical phase of inserting the four implants in each jaw.
It's then time to head back home, waiting several months for the implants to properly fuse with the jawbone. During this time, you'll be given a temporary "healing" denture to be worn, although you will need to stick to softer foods.
On your second visit to the dentist in Mexico, your new teeth will be attached to the implants. These are fixed onto a custom-made prosthesis, normally made from acrylic, providing you with a secure, stable and permanent set of replacement teeth - and a great alternative to dentures.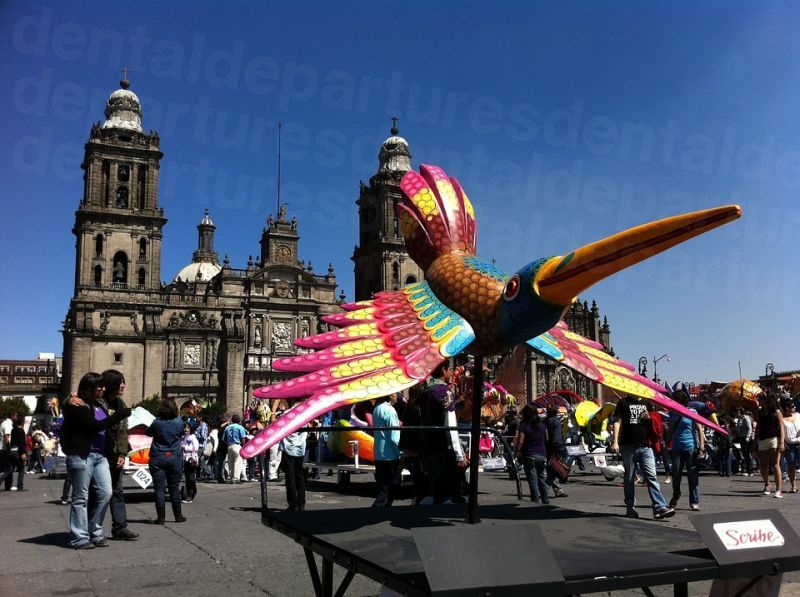 Dental Clinics in Mexico City Offering the All-on-4® Treatment Concept

Many of our dental clinics listed by Dental Departures offer this procedure and other restorative treatments, such as All-on-Six and other types of implant-supported overdentures.
We have screened all of the clinics listed on our site to ensure the ultimate satisfaction of our patients. Some of the best clinics in Mexico City for this procedure include:
Patients Reviews in Mexico City
Dental facilities in Mexico City are equipped with the latest technology in dentistry, such as digital x-rays and lasers to provide accurate treatment outcomes.
The dentists handling your treatment specialize in different fields like oral surgery and prosthodontics (teeth replacement), using top-quality materials to create beautiful smiles. Overall, patients booking through our site are happy with the results as they are able to restore their teeth at a price significantly lower than their home country.
How Much Can I Save in Mexico?
On average, prices for the All-on-4® treatment concept treatment in Mexico is around $10,000; in the US, dentists charge two or even three times this amount.
[Please note that these are estimated prices at the time of writing. See our individual clinic listings for latest prices.]
Getting Started with Dental Departures
For more reviews, browse through our quality-checked listings for All on Four treatment.
Contact our Customer Care Team to book an appointment or use our convenient online appointment scheduler, free of charge.
Sources:
All-on-4 Dental Implants: Your Guide to Costs, Treatment and More. Dentally.org. 14 March 2019. https://www.dentaly.org/en/all-on-4-implants/
Siadat H, Rokn A, Beyabanaki E. Full Arch All-on-4 Fixed Implant-Supported Prostheses with 8.5 Years of Follow-Up: A Case Report. J Dent (Tehran). 2018;15(4):259-265. https://www.ncbi.nlm.nih.gov/pmc/articles/PMC6218463/
Academy of Osseointegration. Website accessed: 24 November 2020. https://osseo.org/