If you're struggling to raise the cash to pay for your essential prosthodontic dental work, Bangkok dental implants could be the answer to all your problems. The capital city of Thailand is home to literally hundreds of world-class facilities offering international patients superior dental treatments for a tiny fraction of domestic prices!
What Exactly Are Dental Implants?
Dental implants are metal posts that act as artificial roots in your jaw. They are normally constructed of titanium and are threaded to allow a peg, or abutment, to be screwed securely into place. Once fitted, false teeth can then be mounted onto the abutments to provide a secure, long-term and natural-looking solution to the stigma of tooth loss.
What Will my Bangkok Dentist do During a Dental Implants Procedure?
A dental implants procedure comprises of three stages:
Fitting of the implant

Attaching the abutment

Affixing the crown
To fit the implant, your Bangkok dentist will need to make an incision into your gum to allow a small hole to be drilled into the jawbone. The implant is inserted into this hole and will fuse directly with the jawbone. This process is known as osseointegration and can take several months for the implant to become completely secure.
Once osseointegration is complete, your dentist will need to reopen the gum around the implant so that the abutment can be screwed securely into place. He can then attach the crown directly onto the abutment to complete the process.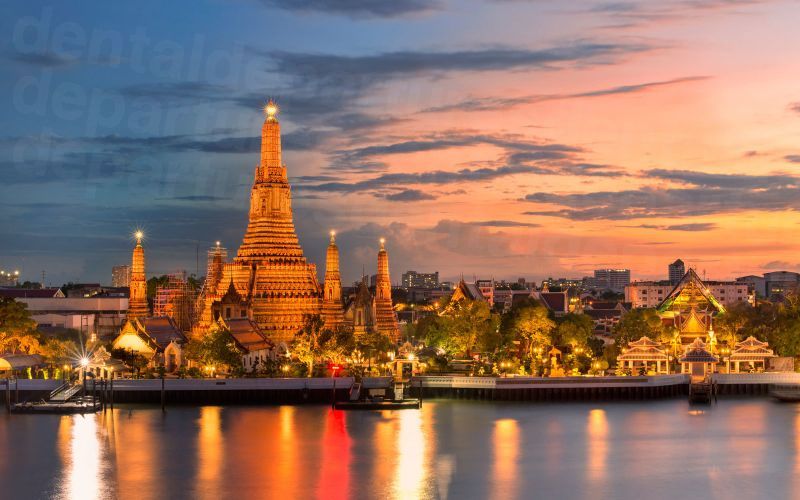 What is The Average Price For Bangkok Dental Implants?
Dental treatment in Bangkok is around 50% cheaper per dental implant compared to average domestic prices. This can equate to a substantial amount, especially if you require more than one implant. Here are some examples of the average cost of a single implant compared to what a Bangkok dentist would typically charge:
In Australia, AUD $5,000 compared to AUD $2,500 in Bangkok (saving of 50%)

In New Zealand, NZD $5,500 compared to NZD $2,700 in Bangkok (saving of 51%)

In the United States, US $3,913 compared to US $1,900 in Bangkok (saving of 51%)

In the U.K., GBP £2,928 compared to GBP £1,510 in Bangkok (saving of 49%)
How Can Dental Departures Help?
Here at Dental Departures, we understand that Dental tourism in Thailand is big business. Our website can help you to find the best dentist in Bangkok to perform your dental implant procedure.
We have exclusive listings of quality-checked dentists in Bangkok that includes everything from detailed price lists and opening hours, to site photographs and Bangkok dentist reviews.
You can also take advantage of our best price guarantee when you book your treatment through us, and we also work closely with several independent insurance providers that can help with additional medical insurance .
We can book you in to world-class dental facilities such as the Bangkok International Dental Center (BIDC), which is the first dental clinic in Thailand to attain Joint Commission International (JCI) accreditation.
Bangkok dental implants are a cost-effective solution to help you restore your smile. Contact our Customer Care Team today to find out just how much you could save!