If you are looking for affordable dental implants, Antalya should be on your shortlist of destinations.
Amazing Antalya
The city of Antalya has traditionally been considered a gateway to the Turkish Riviera. Today, it has become a destination in its own right. Located on the Gulf of Antalya, it is the biggest city on Turkey's western Mediterranean coastline, which is simultaneously classic and modern. At its heart it retains the old-city feel. The vintage city surrounds a magnificent Roman-era harbour, with breath-taking hazy-blue mountain silhouettes. If you go outside the central municipality, you will also find two fantastic beaches and one of Turkey's finest museums.
Some interesting sites in beautiful Antalya are Old Town and Harbour, Hadrian's Gate, Antalya Museum, Roman Fortress, the fluted minaret Yivli Minare, and Roman theatre Aspendos. When you get dental implants in Antalya, you are getting an unforgettable holiday in one of Turkey's most beautiful places.
Getting to and Staying in Antalya
Traveling to and staying in Antalya is quite affordable. Three and five-star hotels cost £35 (€39) and £122 (€137) per night on average. The London to Antalya flight is 4h 23m, with average ticket prices around £290 (€326). So even after accounting for the travelling and accommodation expenses, you will still save money by getting dental work done in Antalya. You can also ask the clinics for some hotel recommendations.
Brits love the dry Mediterranean climate of Antalya. Whether it is parched summers or mild, rainy winters; almost every day is sunny in Antalya. How can you pass on such a fantastic place?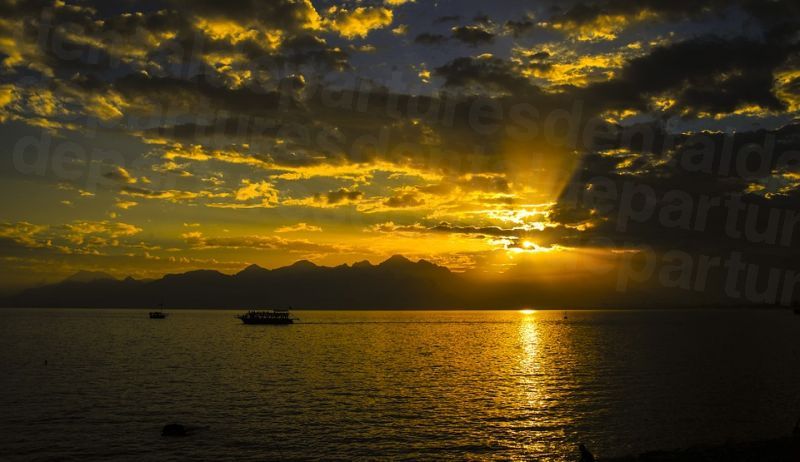 Impeccable Dental Clinics in Antalya
Here is a brief overview of some of the best dental clinics in Antalya:
Founded in 2010, Premium Dental has been providing premium yet affordable dental care since its inception. The clinic combines quality dental work with services to help you enjoy a nice holiday in beautiful Antalya as well. In addition to their core dental team and patient coordinators, they also have travel agents who ensure you have the best dental tourism experience.
The clinic combines dental art, practice and technology to offer an amazing dental solution. Alanya Dental complies with the ISO 9001-2008 requirements. They have four full time dentists, a part time consultant dental surgeon and six dental chairs. The personnel speaks English, among many other languages. They offer free check-up, consultation and pick up service as well.
This clinic is led by Dr Osman Cengiz, a fully-qualified general dentist offering a range of affordable yet reliable dental treatments from teeth whitening to tooth replacement systems. The clinic serves local and international patients six day a week from 9:30 am to 5:30 pm.
Lower prices are the main reason why Brits travel to Antalya for dental implants. Here are the fees of dental implants at the top clinics:
Premium Dental Turkey: £459 (€548)

Alanya Dental Center: £561 (€670)

Antalya Dental Clinic: £332 (€396)
The average price of dental implants £2,928 (€3,480). Rest assured, Antalya's impeccable dental clinics offer world-class dental care despite the lesser prices. The lower operating costs in Turkey result in affordable dental care. This attracts people from as far as the UK, where dental care is super expensive.
Driven by the extreme out-of-pocket dental costs, Brits continue to travel to Antalya. On arrival, they benefit from not just quality dental work, but the beautiful sites and rich culture this amazing resort city presents.
We do our part to remove any sub-standard clinics from the equation. Our screening process includes confirmations such as onsite visits, malpractice checks, staff qualification and substantiation of association membership. Moreover, we share authentic patient reviews, which help you better understand the clinic. We can also connect you to these past patients. If you book through Dental Departures, you will get warranties on dental work and materials used.
If you are considering dental implants, Antalya should be on your mind. Feel free to learn more about the clinics listed above and plan your dental holiday. Remember to collect and evaluate personalized quotes from the clinics before you choose one.