An All-on-4 can completely transform your smile, and as one of the more expensive dental treatments available it is well worth shopping around to find a budget All-on-4 that you can afford. Trusted dental clinics all over the world can be found here at Dental Departures, where you can get an All-on-4 at a fraction of the price you would pay at home.
A low-cost All-on-4 is worthwhile, and with our guide to global prices you can find the best dental tourism destination to suit your budget and travel preferences.
A Guide to Global All-on-4 Prices
So, how much is an All-on-4 ? Let us begin with the places where the procedure is most expensive, namely in the United States, Canada, Europe, the United Kingdom, Australia, and New Zealand. Check out our list of average All-on-4 prices for these countries below, all displayed in their local currency:
United States: $26,000 / Canada: $33,431 / Europe: €23,130
United Kingdom : £19,382 / Australia: $33,910 / New Zealand: $34,841
The price varies slightly between countries and regions listed above, but when you move away to other areas of the world, like Southeast Asia and Latin America, the cost plummets. In fact, savings of up to 80% can be found when you are willing to travel for your All-on-4.
Average All-on-4 Cost in Southeast Asia
All prices below are in United States dollars to help you compare.
Indonesia, specifically the island of Bali, is the cheapest place to have an All-on-4, with an average price of just $4,247. Malaysia (one of the world's best value destinations for medical travel) comes in second, with an All-on-4 averaging $7,258. The bronze medal goes to the Philippines, where high-quality dental clinics charge around $8,000 for an All-on-4.
One of the most popular destinations for dental tourists is Thailand, where the average price for an All-on-4 is $11,000. While more than twice the price of an All-on-4 in Bali, a Thai All-on-4 is still less than half the price of what you would pay in Australia, New Zealand, the United Kingdom, or any of the more expensive countries mentioned above.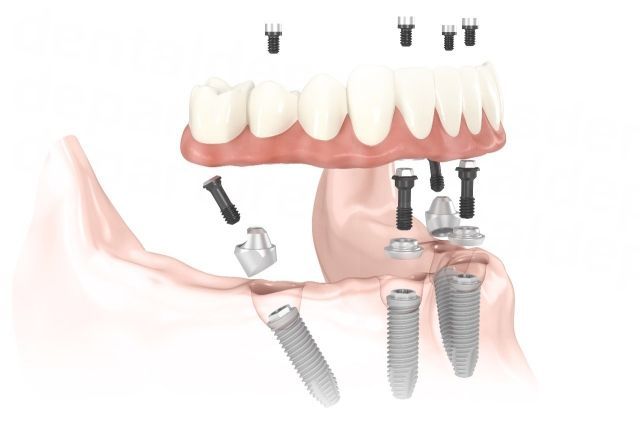 Average All-on-4 Cost in Latin America
For dental tourists from the United States and Canada, destinations a little closer to home are more practical and economical. In Mexico the price for an All-on-4 averages $10,000—60% cheaper than its northern neighbors! In fact, with so much competition between dental clinics in border towns like Los Algodones, Mexicali, and Tijuana, prices for an All-on-4 can be found for as low as $5,000.
Even further south in Costa Rica, the average price jumps a little, to $10,500, which is still a 60% saving on the cost of an All-on-4 in the US. If you shop around, some dental clinics do offer lower prices, down to $8,000 in some cases, although the cost can also increase with some dentists, up to $13,000.
While all Dental Departures facilities are checked for quality, prices vary depending on clinic, destination, equipment and materials used. We're happy to help you find the right destination and clinic.
If you have any questions about All-on-4 pricing, speak to a member of our Customer Care Team, and when you are ready it is quick and easy to book an All-on-4 appointment online at Dental Departures.