Checkout Dental Departures' clinic profiles and you'll see details about a complete mouth makeover, before and after photos, Chiang Mai dentists' backgrounds and prices of treatments. Here's a glimpse of what you'll discover about full mouth restorations in Chiang Mai.
Complete Mouth Restoration
A complete mouth construction/restoration involves the restoration of the entire teeth in the upper and lower jaw. This involves one or more procedures that include the following:
Dental Implants are substitute tooth roots embedded into the jawbone with replacement teeth on top. Implants are stable and natural looking. A good candidate for implants is one who has healthy gums and enough bone to hold the implants.
Restoration with 4 or 6 implants
This dental restoration treatment replaces the entire upper or lower teeth with just four or six implants. The treatment eliminates the need for bone surgery, which saves time and reduces the treatment process.
Crowns are tooth-shaped caps used to cover damaged teeth. The "caps" improve the appearance and restore the function of the teeth. They're also used to hold a dental bridge, cover an implant, and fix broken teeth.
Consult a dentist in Chiang Mai if you're interested in getting a complete mouth reconstruction. The dental professionals will check your teeth, gums, and jaw to determine the right treatment for you. They will also assess your dental/medical condition and recommend options.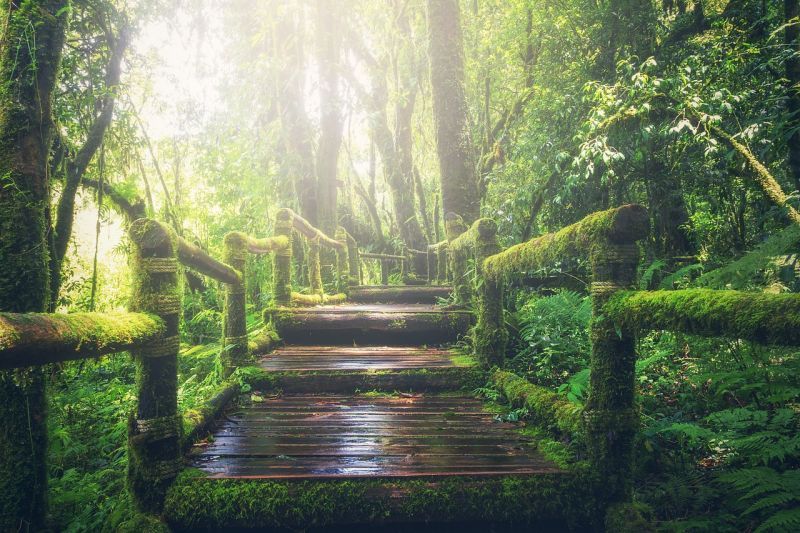 Quality of Oral Care in Chiang Mai
Dental Departures has a list of quality-checked clinics in Chiang Mai. One of the verified oral care providers is Kitcha Dental Clinic that was established in 1981. The clinic's goal is to provide safe, clean, and high-quality treatments.
It offers the following services:
General Dentistry (fillings, scaling, polishing)

Aesthetic Dentistry (crowns, bridges, inlays, onlays, teeth whitening)

Dental Implants (single tooth implant, restorations with four or six implants)

Oral Surgery (tooth extraction, bone graft)

Periodontics (Gingivectomy, Gingival graft)

Orthodontics (braces, clear aligners, Invisalign)

Root Canal Treatment
Complete Mouth Makeover: Cost Chiang Mai Dental Clinics
The cost of complete mouth restoration in Chiang Mai is just a fraction of the price you'd spend at home. Here's a table showing the price comparison of single implants and dental restorations with four implants.
Price Comparison of Dental Implants
| | | | | | |
| --- | --- | --- | --- | --- | --- |
| | AUD | NZD | USD | CAD | GBP |
| Price in Chiang Mai | AUD $1,722 | NZD $1,847 | USD $1,299 | CAD $1,753 | GBP 1,014 |
| Other countries | AUD $5,170 | NZD $5,546 | USD $3,900 | CAD $5,264 | GBP 3,045 |
Price Comparison of dental restorations with four implants
| | | | | | |
| --- | --- | --- | --- | --- | --- |
| | AUD | NZD | USD | CAD | GBP |
| Price in Chiang Mai | AUD $16,848 | NZD $18,075 | USD $12,710 | CAD $17,156 | GBP 9,924 |
| Other countries | AUD $27,218 | NZD $29,201 | USD $20,533 | CAD $27,715 | GBP 16,033 |
Know more about the treatment, browse photos, and find a clinic in Chiang Mai that offers complete makeovers. Book an appointment by getting in touch with our Customer Care Team.