Your search for the best Bangkok dentists who offer dental implants ends here. Dental Departures has been working for a number of years with some excellent providers throughout the world. Here's our pick of the top-quality clinics in Thailand's capital that can help you regain your smile with dental implants.
Why should I go to Bangkok for Dental Implants?
1: Thailand has a great reputation for dental and medical tourism. A pioneer of medical tourism in the 1990s it has become one of the most reliable destinations for patients from other countries looking for reliable healthcare services. Dental tourism is a sub-specialty of medical tourism and has been embraced wholeheartedly by Bangkok's dentists . Dental patients can look forward to exceptionally good-quality treatments, modern clinics and great prices.
2: Bangkok is a beguiling city that attracts millions of visitors annually – both tourists and business people. It is one of the regional powerhouses in southeast Asia in economic terms and is a capital city in every sense of the word.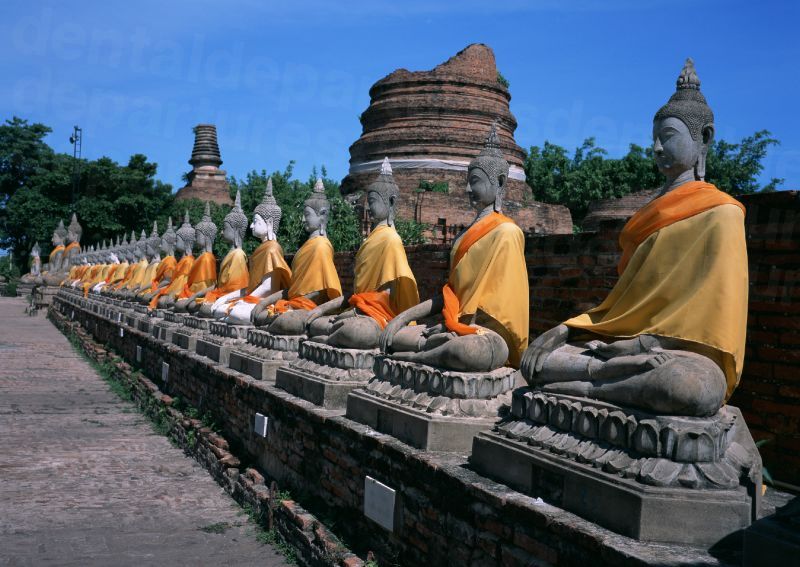 The city is an alluring mix of traditional and contemporary. High-rise, glass office buildings, huge shopping-malls and chain hotels stand shoulder-to-shoulder with traditional ornate temples, the network of canals where the floating markets are still part of everyday life and street vendors. It's also easy to get to anywhere else in the country with cheap, domestic flights that fly from Bangkok.
3: Dental implants in Bangkok are considerably less expensive than they are at home – with most people making savings of at least 50%.
How much do dental implants cost in Bangkok compared to Australia and New Zealand?
Average cost of dental implants in Australia AUD $5,150 (New Zealand $5,500)
Average cost of dental implants in Bangkok AUD $2,600 (New Zealand $2,800)
Best dentist in Bangkok recommendations for dental implants
These dental clinics offer exceptionally good all-round dental services as well as dental implants – so you can get all your dental needs attended to under the one roof.
Bangkok International Dental Center
This huge dental center houses over 70 dental specialists in tailor-made premises that also includes a bank, restaurant and hotel! It is ISO 9001 certificated and includes dental staff that have been trained across the world.
Cost of dental implants at BIDC AUD $2,619 (New Zealand $2,800)
Bangkok Smile Dental Clinic
With a number of branches throughout Thailand, the Bangkok Smile Dental Clinic recently joined forces with the Malo International Clinic Network. The Malo Clinic was founded by the pioneer of the All-on-4® treatment concept and so its pedigree in terms of implantology is unquestionable.
Cost of dental implants at Bangkok Smile AUD $2,806 (New Zealand $3,002)
Smile Signature Dental Clinic
Another group that has 8 centers across Thailand with more than 100 dentists, including implantologists and other specialists. Cost of dental implants at Smile Signature AUD $2,245 (New Zealand $2,400) Discover more about dentistry in Thailand and check out the Dental Departures website where you can easily search for the best dentists in Bangkok. Alternatively, you can speak with our Customer Care team if you'd like to talk things over, or book an appointment.