Bangkok is one of the top tourist destinations. Aside from the attractions, gastronomic dishes, and shopping opportunities, visitors can restore their teeth with high-quality dental veneers. Bangkok has a bunch of dental clinics offering world-class service at affordable prices. Sounds interesting? Keep reading and learn more on this.
Dental Veneers in Bangkok
Dental Veneers are customized thin shells thatare placed on the front surface of teeth to improve your appearance. The wafer-thin shells can change the shape, color, size, and length of your pearly whites. They can solve various dental issues such as discoloration, cracks, and minor gaps between teeth.
Veneers are made from materials like resin composites, porcelain, ceramic, and zirconia. Resin composites are very thin,so require less removal of the tooth structure. Porcelain resists stains and mimics the natural color of the teeth. Some clinics are equipped with an in-house laboratory that process veneers in just a short period.
If you want to know if this treatment is best for you, consult a dentist in Bangkok. During the consultation,the dentist will perform a complete examination including a review of your dental as well as your medical status. Your dentist will also determine which type of material is best for you. Upon confirmation, the dentist will prepare your teeth by shaping them to make room for your veneers. Impressions and models of your teeth will be created and then forwarded to the laboratory for processing. On your next visit, your veneers will be fitted and bonded to your teeth. Your dentists will give instructions on how to maintain your teeth with veneers.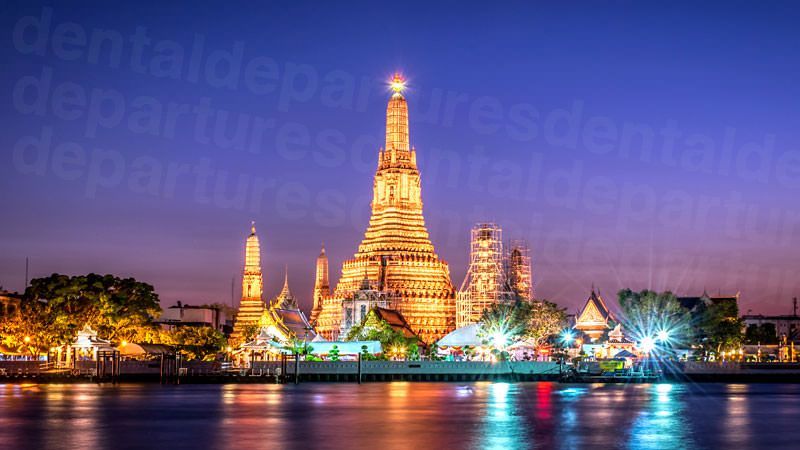 Dental Veneers: Bangkok´s Top Clinics
Clinics in Bangkok offer General Dentistry to specialized treatment like Restorative and Cosmetic Dentistry that includes veneers. The leading clinics in Bangkok listed by Dental Departures are the following:
Bangkok Smile MALO Dental Clinic and its own laboratory are certified by the International Organization for Standardization (ISO 9001:2008 by Bureau of Veritas). It is also accredited by the Joint Commission International (JCI). The clinic offers exceptional service handled by highly qualified dentists. Stringent sterilization processes are observed to give the best patient care. Part of the chain of clinics is Bangkok Smile Dental Clinic Sukhumvit 21 Branch .

Bangkok International Dental Center (BIDC) - Main Headquarters

is an award-winning network of clinics that are also certified by the International Organization for Standardization (ISO) and the Joint Commission International (JCI). [G13] It's has a state-of-the-art technology complete with an in-house laboratory that strictly complies with global standards. The dental team includes specialists that are members of the American Board of Prosthodontics. [G14]
Smile Signature - Siam Square is a subsidiary of Dental Corporation that is the largest clinic network in Bangkok and Phuket. It's also accredited by the International Organization for Standardization (ISO). The highly skilled dental team is comprised of specialists who are members of the American Board of Prosthodontics. It uses the latest technology and follows strict sterilization standards.
Thantakit International Dental Center is a trusted clinic that was established in 1945. Well-experienced dentists offer high-quality cosmetic dental work using the latest dental technology.
Restore your teeth with dental veneers. Bangkok clinics offer affordable prices. Find a clinic by getting in touch with Dental Departures.