Croatia is bringing more tourists from around the world because of its historical sites, spectacular beaches, and tourists attractions like the film location of Game of Thrones. While you roam around the country, take time to get a safe, complete mouth makeover. Croatia has a range of dental clinics offering full mouth restorations at a lower price. Aside from the treatments, the clinics also provide travel assistance to patients from overseas. Most of them offer airport transfer to the hotel/clinic, accommodation, and travel packages. Pick the best clinic that can fully restore your smile.
H-dent Dental clinic is located in Rovinj providing high quality dentistry for 35 years. It is equipped with ultramodern technology such as intraoral cameras and digital x-rays that emit less radiation. After a consultation with the dentists, you'll be given the right treatment that suits your needs. Treatments include Preventive Dentistry (fillings, scaling, polishing), Root Canal Therapy, Periodontics (gum treatment), Prosthodontics (crowns, bridges, dental implants) and Cosmetic Dentistry (laser teeth whitening, veneers).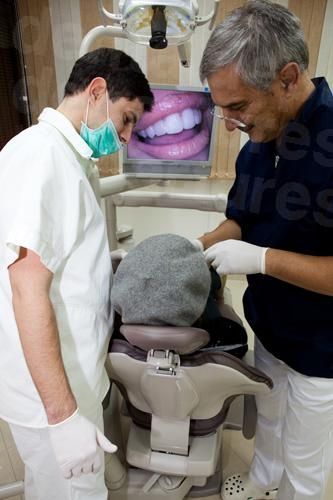 Dental Clinic Ksaver's location is in Zagreb, which is the capital of Croatia. The clinic is dedicated to providing the best dental service in a comfortable environment. It received a certification from the International Organization for Standardization (ISO). The clinic improves patients' teeth using Restorative Dentistry, Root Canal Treatment, Prosthodontics (dental implants, crowns), Periodontics (gums), Oral Surgery, and Children's Dentistry. It also uses painless treatments to make patients relaxed during the procedure and utilizes digital x-rays that reduce radiation exposure. It has specialists in Prosthodontics who are well experienced in different procedures.
artDENTAL is polyclinic located in Kastav, Croatia offering outstanding dental service at an affordable price. It's one of the few of polyclinics in Europe that received quality certificate for its dental work. The clinic provides treatments such as Oral Surgery, Dental Implants, Periodontics (gum treatment), Children's Dentistry, and Aesthetic Dentistry. Treatments are carried out by specialists in Oral Surgery, Restorative Dentistry, and other experts, The clinic follows stringent sterilization procedures by using Autoclave Class B that complies with the standards of the World Health Organization (WHO).
Smile Studio Dentist Croatia offers a personalized treatment using modern technology in a painless environment. Treatments covered in this clinic include Esthetic Dentistry, Orthodontics, Gums Treatment, Dental Implants, and Children's Dentistry. It also offers treatment of Sleep Apnoea. The procedures are handled by friendly specialists in Oral Surgery, Prosthodontics, Orthodontics, and Periodontics. The clinic strictly adheres to the standards of the World Health Organization by using autoclave Class B, the highest level of sterilization.
Dental Practice Dundjerovic Knez provides superb dental services. It offers Dental Implants, Oral Surgery, and Restorative Treatments. The dentists performing the procedures are experts in Dental Implants and Prosthetics. Advanced techniques in dentistry are used in restoring patients' teeth.
Consult a dentist to get a safe, complete mouth makeover. Croatia dental clinics can restore your smile a reasonable price. Find the best oral healthcare provider from quality-checked clinics listed by Dental Departures. Book an appointment by getting in touch with our Customer Service.