The All-on-4® treatment concept is a great way to revamp your smile with just four implants. However, this system can cost you a small fortune in the UK. It is among the most expensive of dental procedures and is not covered by government or private health plans in the UK or most other countries.
As a result, a lot of Brits are heading east to take advantage of the affordable All-on-4® treatment concept prices Budapest has to offer.
All-on-4® treatment concept cost – Budapest
Budapest is known as the dental capital of Europe, holding some 40% of the continent's share of global dental tourism market.
How much can you save on the procedure by getting it in Budapest? In the UK, the average cost of this full-arch replacement system is £19,382 (Ireland: €23,130).
Compare this to the starting prices at Budapest's top three clinics:
Rest assured these low prices do not mean you are settling for lower-quality dental treatment. Every year tens of thousands of dental travelers from the UK and EU cross borders into Hungary to enjoy substantial savings on their dental care.
Budapest clinics can offer deep dental discounts due to:
Lower cost of living in Hungary

Less bureaucratic red tape

Lower operating costs for dental clinics

Stiff competition among Budapest dentists
Moreover, the best clinics, such as the ones listed above, understand the importance of providing top-notch dental work. While Brits want to save money, they also demand the same quality of dentistry they receive back home.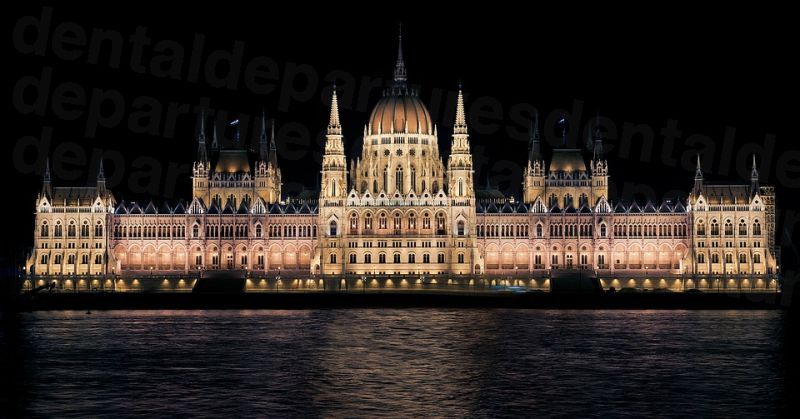 Budapest Clinics in Brief
Clinics offering low costs on a range of dental implant procedures in Budapest include:
MDental Hungary
Located in the heart of Budapest, this modern facility offers world-class ISO 9001:2008 certified dental services, from simple dental treatments to complex oral surgery, implantation, bone grafting and sinus lifting procedures–all provided by highly-trained, certified specialists. The Western Railway station is close by, as are many tourist attractions and amenities.
Evergreen Dental
This Hungarian-American clinic offers a range of dental services, including dental implants. The state-of-the-art facility holds ISO 9001:2015 accreditation and only uses CE-certified materials. Housed in a UNESCO World Heritage building, specialists work from spacious 30 square meter treatment rooms. A special travel department helps cross-border patients with transportation, accommodations and activities planning.
Batorfi Dental Implant
Founded in 1992, Batorfi has been providing 200 dental implants every month for the last 15 years. Since its inception, thousands of patients have found first-rate dental care at this clinic. Batorfi is also counted among Europe's most well-equipped dental clinics.
Preparing for Your Treatment in Budapest
Two trips to Budapest, approximately six months apart, will be required for this procedure.
On your first visit, the dentist will add the implants with a temporary plate. The extractions (if needed) will also be done on this visit. Then, after a healing period of four to six months, you will then head back to your dentist in Budapest, who will add the permanent abutments and a fixed bridge containing a full row of crowns.
Dental implants are the only dental prosthesis besides your natural teeth that help preserve your bone. You will care for the plate as you do your original teeth. It is a good idea to visit your dentist every six months for regular check-ups and cleanings.
Finding a good dental clinic in another country is challenging. With our help, you can choose from an array of quality, vetted facilities in Budapest. The Dental Departures team conducts a thorough screening process prior to adding clinics to our site. From onsite visits to staff qualification verification, we do the legwork so you do not have to.
Travel and Accommodation
Take your time and learn as much as you can about your procedure, clinics and your trip to Budapest. Here is some information that will help you on your way:
London to Budapest flight duration: 2 hours

Flight cost: £200 (€227)

Three-star hotel rate: £50 (€57) per night

Five-star hotel rate: £158 (€180) per night
The Bottom Line
Feel free to learn more about the clinics mentioned above and plan your dental trip(s) to this beautiful Hungarian city.
The Dental Departures Customer Care Team can address any questions or concerns about undergoing dental treatment in Hungary, or you can book an appointment online with your selected clinic.