In Budapest, dental prices are much lower than those offered in the UK. This drives scores of Brits to travel to this Hungarian capital. The rising out-of-pocket expenses for dental work in the UK is atrocious and Budapest is a great solution. This beautiful city proffers a nice combination of low cost and high quality dentistry. You can save more than ten thousand pounds on some dental procedures. Part of this money can go towards a nice holiday.
Budapest's dental prices continue to attract more Brits and we continue to help them find a suitable dentist. Dental Departures is the shortest distance between you and the most reliable dentists in Hungary. The best prices are not worth it if they are not presented by the best dentists. Rest assured with our help you can easily pinpoint the right clinic. Below are three names you should add to your shortlist:
Quality clinics like these make Hungary a hotspot for dental tourism. They are modern, well-equipped treatment centres that prove you will not compromise on quality despite the great prices. Our catalogue is invaluable because we only add the most reliable and accomplished dental clinics. From onsite visits to malpractice records; our screening process includes all significant details to consider when deciding whether to trust a clinic or not.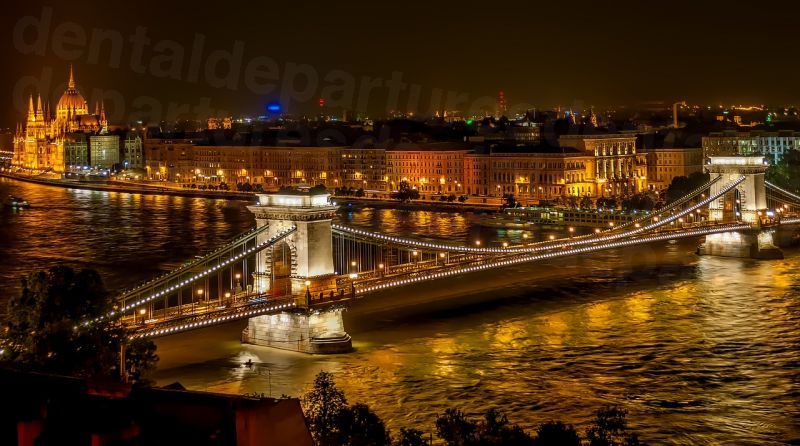 Budapest Dental Prices
Take the example of a dental implant. In the UK, the average price of the implant is £3,000 (€3,417). In Budapest, the starting price is only £773 (€923). An all-on-4 costing a hefty £19,382 (€23,130), is as low as £1,985 (€2,370) in Hungary. As for a root canal, the UK and Hungary prices are around £954 (€1,133) and £63 (€76) respectively. The prices are the biggest motivation for people from the UK to travel to Hungary.
Even with the cost of travel and accommodation factored in, you will still save money.
Plane tickets from London to Budapest average £200. Three-star and five-star hotels have average rates of £50 and £158 per night respectively. You can effortlessly have a nice holiday along with your dental treatment in Budapest. The best time to visit Budapest is from March to May and from September to November.
Reasons for the Best Prices
If you wonder of the reason for the low price, you are not alone. The fantastic price difference leads many people to doubt the quality. Therefore, it is imperative to know the actual reasons for these amazing deals. The main explanation? It costs much less to operate a dental clinic in Budapest than it does in the UK. The lower cost of living and high competition among the clinics also contributes to the great offers.
Despite the lower prices, you will enjoy not only quality dentistry but a vacation. The River Danube splits the city and the 19th-century Chain Bridge takes you from the flat Pest to hilly Buda district. You can also find a funicular running up Castle Hill to Old Town. This is where Budapest History Museum shows life from the Roman era onwards. The 13th-century Matthias Church is located in the Trinity Square. The turrets of the Fishermen's Bastion, provides sweeping views.
Get Personalized Quotes
All prices on our listing are estimates. Nevertheless, book only after getting a personalized quote. Contact multiple clinics and compare the prices. You will need to provide some dental records for this quote. Feel free to ask about hidden costs; there are none. The clinics are very candid about their prices since they know they offer better rates than your local dentist in the UK ever could.
Make the most your trip to Budapest. Dental prices may get you there. But once there, feel free to explore the amazing city and all the interesting things to do. Budapest combines old-world charm with modern facilities. Booking with Dental Departures, you get warranties on dental work and materials used.