Castle Dental in Mexico's border town of Los Algodones has proven to be one of our most popular partner clinics for North Americans seeking more affordable dental care away from home.
In this article, we run you through some of the reasons why this particular dental center has been awarded hundreds upon hundreds of five-star reviews from patients based in the US, Canada and even further afield.
Why Castle Dental?
Convenience:
Offering a comprehensive range of general and specialist dental care, Castle Dental was established in 2007 by Dr. Arturo Beltran. Alongside a welcoming and amenable team of staff who are all fluent in both English and Spanish, they deliver professional dental services to take care of all your dental needs.
The facility is just moments away from the US-Mexico border crossing, making it easily accessible for patients either driving south or flying into Yuma's international airport in Arizona.
In fact, many patients choose to drive to the Border and leave their car on the US side, where there is ample space for secure parking; from there, they simply walk over the border crossing into Algodones for their appointment.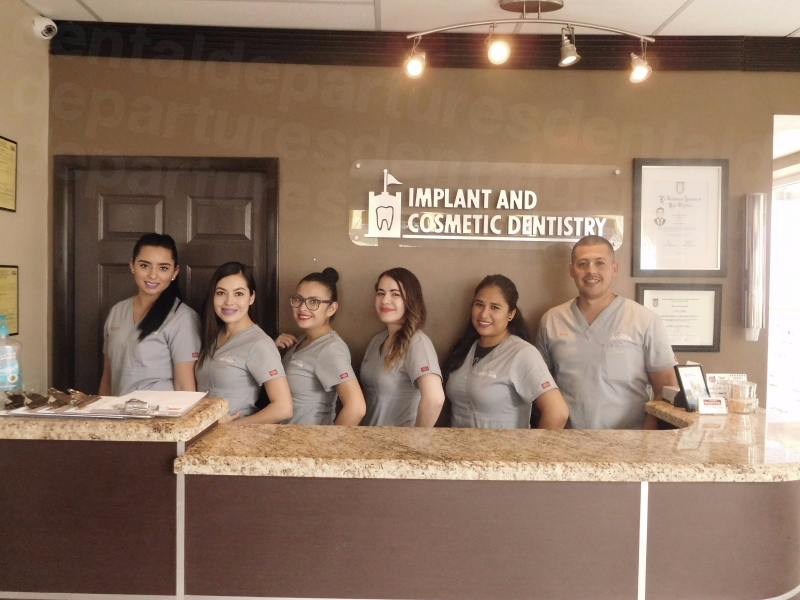 Dentist Expertise:
Castle Dental, in common with many of our other partner Algodones dentists, offers high-quality services that are comparable with dental services in the United States. In fact, the specialists here have memberships with the American Dental Association; maintain this, they are bound by the same rules and regulations as American dentists – so patients can be sure they will receive the same standards of care.
Clinic Facilities:
Castle Dental is a state-of-the-art dental facility, offering a clean and modern environment. It is equipped with the latest diagnostic and therapeutic technologies, such as panoramic x-rays and 3D CT scanning, for dental care that is accurate and reliable.
The clinic also offers free Wi-Fi and courtesy calls to the United States or Canada, as well as complimentary parking, x-rays and oral examinations.
Low Prices:
Cost is always going to be one of the main reasons why people initially decide to visit Los Algodones for dental care. While dentists offer exceptional value-for-money, it's the high standards have people returning again and again.
To get an idea as to how much you can save at Castle Dental, check out the price comparisons below:
Cost of Composite Filling in the United States $170 (CAD $93)
Cost of Composite Filling at Castle Dental, Algodones $48 (CAD $63)


Cost of Dental Crowns in the United States $1,000 (CAD $1,330)
Cost of Dental Crowns at Castle Dental, Algodones $249 (CAD $330)


Cost of Dental Implants in the United States cost $3,900 (CAD $5,200)
Cost of Dental Implants at Castle Dental, Algodones $1,400 (CAD $1,800)
Please note that these are estimates at the time of writing.
The Bottom Line
Mexico has long been a go-to destination for Americans and Canadians looking for cost-effective solutions to their health problems. At one time in the distant past, it was difficult to know whether the dentist you went to was reliable; now, it is much easier to separate the wheat from the chaff, with clinics like Castle Dental doing everything they can to make sure their services stand up to scrutiny, as well as taking the time to ensure their patients are well looked after.
Book with Dental Departures
Save 70% on your dental bills by booking in at Castle Dental via Dental Departures. Follow the simple steps on our site or connect with our Customer Care Team any time of day or night.
Sources:
Yuma International Airport. Website accessed: 8 November 2020. https://www.yumaairport.com/yumahome.nsf/
Dental Cone Beam CT. Radiology Info. Website accessed: 8 November 2020. https://www.radiologyinfo.org/en/info.cfm?pg=dentalconect
American Dental Association. Website accessed: 8 November 2020. https://www.ada.org/en