Looking for cheap all on four dental work? Bangkok is the best place for quality and price.
Are you seeking quality but cheap all on four dental work? Bangkok is a dental tourist destination that is giving international patients the best of both worlds. Not only is the prices among the best available but the quality of care provided is world class. Patients have the opportunity to get dental work while recovering in this lovely country on the savings they achieved.
The procedure called all on four is also known as same day teeth or same day smiles. The procedure is 4 dental implants supporting teeth in the upper or lower jaw. A metal screw is placed in the jawbone and fuses over time with the bone and acts like a tooth root. Implants are placed at an angle and not straight like a normal implant. At this stage a bridge is fixed to the implant, locking it together. This is ideal for patients who had previously experienced bone loss.
All-on-4 dental treatments in Bangkok provide international patients with savings of up to fifty-eight percent (58%). The cost, fortunately, does not compromise the quality of service Bangkok's dental clinics provide - they remain world leaders! Below are the prices.
INTERNATIONAL PRICES VS. BANGKOK, THAILAND PRICE.
PROCEDURE

USD$

AUD$

NZD$

COMPARISON

ALL ON 4

$ 26,000.00

$ 33,910.00

$ 34,841.00

INTERNATIONAL

$ 11,000.00

$ 13,703.00

$ 14,606.00

BANGKOK

42.30%

40.40%

41.90%

% PATIENTS PAY IN BANGKOK
Dental Departures highlight nothing else more than the quality of services we offer our clients. You are ensured that the outcome of these treatments will produce success. Here are some of the top clinics we guarantee and recommend for affordable dental care.
Bangkok Smile MALO Dental Clinic offers comprehensive dental services and procedures including All-On-4's, dental implants & bone grafting, full mouth reconstruction and rehabilitative dentistry, routine and advanced general dentistry. They are part of a worldwide MALO clinic encompassing the largest global network around the globe with branches in more than 20 countries across 53 cities.
Bangkok International Dental Center (BIDC) - Main Headquarters is known as an excellent quality services provider to international patients. Every treatment is done using their laboratories which have the latest dental technology and materials. Their procedures include the following: laser teeth whitening, root canal, standard titanium dental implant, composite filling and All-on-4 treatment.
Thantakit International Dental Center is considered to be the longest established dental center in Thailand. They compete with other clinics by providing dental services with updated equipment like digital x-rays and imaging systems to treat thousands of patients from all over the world. They offer deep cleaning, porcelain fused to metal crown, laser teeth whitening and All-on-4 treatment.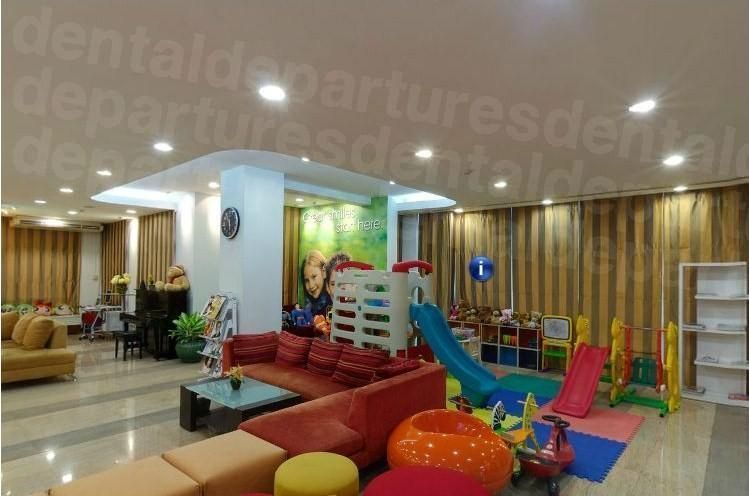 Bangkok Smile Dental Clinic Sukhumvit 21 Branch offers general dentistry, full mouth reconstruction, pediatric dentistry, geriatric dentistry, and all-on-4 procedures. It is highly regarded as one of the best because of its accreditation by Joint Commission International (JCI) and International Organization Standardization (ISO).
Smile Signature - Siam Square has for ten years delivered dental care treatment with an approachable nature in order to maintain an atmosphere of trust between patients and dentists. They provide excellent dental care treatments including scaling & root planing, regular and laser teeth cleaning, dentures, crowns, veneers, deep cleaning, implants and all-on-4.
A world-class dental health care provider can provide quality and cheap all on four dental work. Bangkok clinics have has proved this by providing quality dental services at an affordable price.