In addition to being a beautiful city and resort area, Marbella is also a popular dental tourism hub. In Marbella, dental implants cost only around 30% of what you pay in the UK. As invaluable as dental implants may be for those who need them, there is no need to pay through the nose. You can easily get cheap dental implants in Marbella.
Does Cheap Mean Low Quality in Marbella?
Thankfully, not. It is important to know the actual reasons why the prices (details below) for Marbella's dental implants are so little. The main reason is the difference in operating costs. In Spain, operating a dental clinic costs much less than it does in the UK. The cost of living is also much lower in Spain.
Moreover, there is high competition among the dental clinics in Marbella, all vying for international patients such as you. Another factor that drives up dental costs in the UK is the red tape that plagues businesses including dental practices. In Spain, this is not an issue.
Dental implants in the UK cost a pretty penny. A single implant is around £3,000 (€3,417). If you want an all-on-4 dental implants system, you are looking at an average price of 16,033 (€19,144). By travelling to Marbella you get the implants for a third of these costs. Look at an overview of two of the best clinics in Marbella and how much they charge for the implants.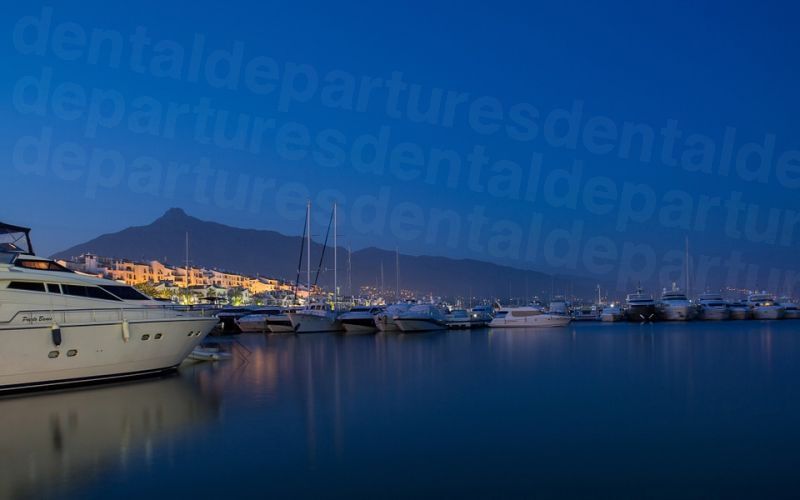 Dr. Eduardo Crooke, a reputed implantology expert who trained at Sweden's University of Goteburg leads this clinic located at the Spanish Costa del Sol. You can get a dental implant here for £1,086 (€1,300).
This clinic uses a multidisciplinary approach towards dental care, utilizing effective pain control and quality biomaterials. A dental implant here also costs £1,086 (€1,300).
The Dental Departures team digs into every clinic before deciding whether it should be added to our site. Our goal is to provide you a list of only the most reliable clinics abroad. For Marbella, we do the same. From checking malpractice and criminal records to verifying staff qualifications and association memberships, our thorough screening process includes several fundamental checks.
Low Price for a Priceless Smile
Dental implants are often instrumental in revamping your smile. They also help you eat and speak properly. This translates into higher comfort, confidence and a better quality of life. By travelling to Marbella, you can have all these benefits of dental implants without spending a fortune.
Enjoy a mini-vacation in Marbella as you get your dental implants. The price difference will more than cover the cost of travel and accommodation. The London to Malaga flight starts around £159 (€176). Marbella is just around 50 km from Malaga airport. You can get three-star and five-star hotel accommodation in Marbella for £170 (€191) and £513 (€577) per night respectively. Even the savings from a single dental implant will be enough to pay for the trip.
In addition to the implants, Marbella offers other reasons for you to smile. From flashy clubs and restaurants to shiny marinas, Marbella has its fair share of ostentatious elements. On the other hand, it also has some quieter attractions. For instance, the splendid Sierra Blanca Mountains and old town balance out Marbella's extravagant side.
Remember you will need to visit Marbella once again, after four to six months for your dental implants. The gap is for the healing time as the implants infuse with your bone. Think of it as two free holidays with the dental work.
Here are some things you should not miss during your trip to Marbella:
Alameda Park

Old-town

Vega del mar Basilica

Iglesia de la Encarnación

Roman Villa Avenida del Mar

Museum of Spanish Contemporary Engraving
Feel free to learn more about the clinics mentioned above on Dental Departures. You can examine clinic descriptions, view photos, compare prices and read patient reviews. In Marbella, dental implants come without a heavy price tag or hassle. Remember to ask for personalized quotes before you choose a clinic.