Anyone who has been to Kuta remembers the famous long white stretches of the coastline. It has been a well-liked surfing destination since the 1970s. The charm of Kuta has not been drowned by the many developments which have taken place at this touristic town. Because recovery is quick when in a relaxed environment, dentists and other medical professionals have set up clinics in the town so that all those who are visiting or living in this town can enjoy the services. For cheap dentists in Kuta , be sure to visit the following clinics:
a) Bali 911 dental clinic- Kuta branch
This premier clinic located in Bali, Indonesia offers specialist services in implants, orthodontics, and cosmetic dentistry. The clinic location is ideal for maximum relaxation. Throughout the time it has existed, the clinic has been offering services in:
Crowns.
Veneers.
Mouth rehabilitation.
Teeth whitening.
Gum therapy.
Dental emergency.
Oral surgery(root canal therapy, extractions).
Fillings.
Prophylaxis.
For fast services, an in-house laboratory is available which helps in making a diagnosis and supplying the necessary resources. Dr. Indra Guizot is the Chief Dental Surgeon at Bali 911 Dental Clinic and he supervises every procedure.
Dr. Indra has been working in the dental field for the last 30 years which has given him vast experience. He is a specialist in implants, orthodontics, and cosmetic dentistry. The clinic receives patients from all over Australia, Europe, USA, and Asia.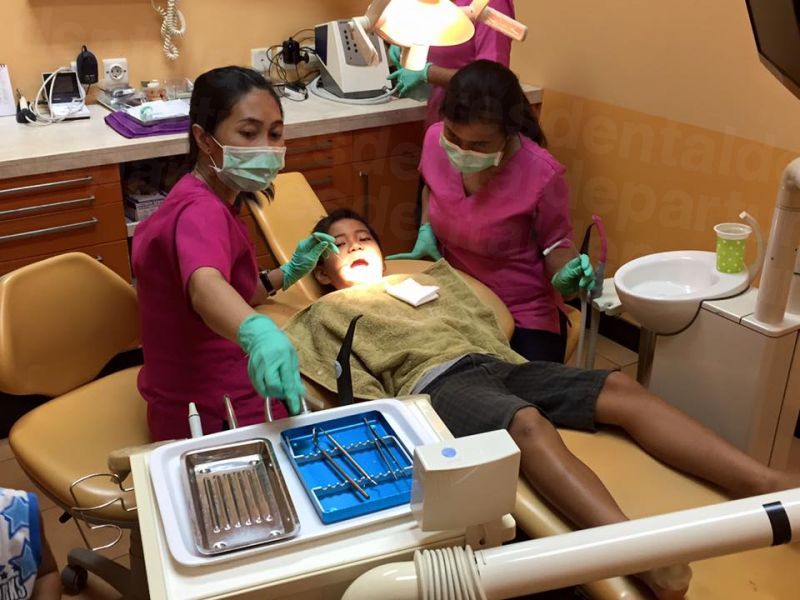 b) ARC Dental Clinic
This clinic is at a convenient location along the Jalan Sunset Road in Kuta. Among the services offered here are periodontics, general dentistry, orthodontics, and endodontics. The cutting-edge technology the clinic prides itself in makes it the first choice for any international patient seeking dental care in Bali.
The dentists working here receive their training in German and they are thorough in coming up with treatment plans. They offer free consultations and digital x-rays(panoramic). The dental materials utilized here are advanced(full porcelain only).
The results are long-lasting because state-of-the-art technology is used in creating the supplies and fixing them. The in-house laboratory stocks technology and equipment made in US and Europe only. The clinic offers cost-effective dental services with many international patients saving up to 70% of what is charged back home.
c) Dentes Denta Clinic (Kerobokan)
This clinic has a reputation for creating beautiful smiles through restorative treatments and general dentistry services. It was founded by Drg. Handoko Setiawan S. Sp. Ort. He has been serving in the field of dentistry for over 30 years.
The clinic offers a full range of dental services to the whole family. Thus, it is the one place where you can take every member of your family to have their dental hygiene taken care of. There are consultants available all through for free consultation.
You do not have to stress yourself in looking through the tons of clinics in Kuta to decide where to get dental services. Just walk into any of the clinics discussed above to see cheap dentists in Kuta. Rest assured that the outcome will be extraordinary.