Marbella is one of the most beautiful Spanish cities. In addition to being a famous holiday spot, this superb resort area has also grown into a popular dental tourism destination. Dentists in Marbella are among the best in Europe; they promise the winning combination of low cost and high-quality dental work. Their ability to live up to that promise attracts thousands of Brits every year who fly out to this wonderful Spanish destination for dental work–with the added bonus of sun, sea and sand nearby.
Thanks to Dental Departures, finding the ideal dentist Marbella is home to is also simple. Browsing through our pre-screened listing is the quickest way to find the most competent and reliable dentists in Marbella. We go to great lengths to evaluate the clinics before adding them to our site. Our screening process includes the following:
Physically visiting the clinics

Checking criminal and malpractice records

Verifying dentists' and support staff qualifications

Verifying dental association memberships

Evaluating health and sterilization protocols

Assessing the equipment and facilities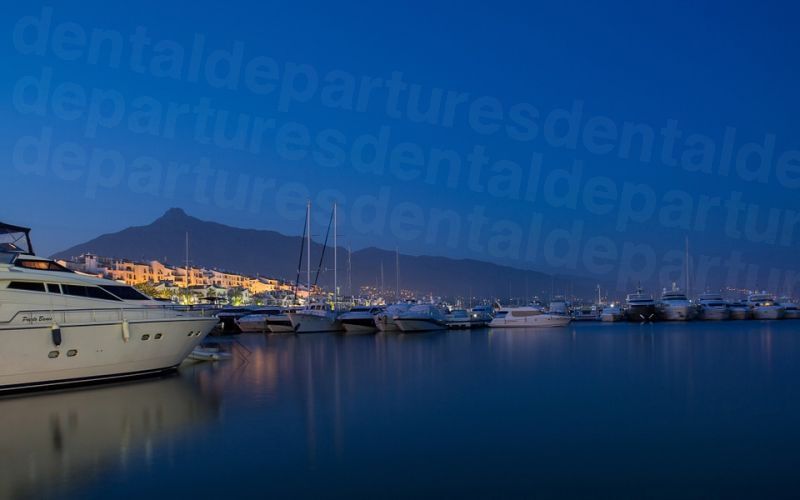 We also collect reviews from verified patients who have visited each clinic, including dental tourists from the UK and other countries. By reading these authentic testimonials, you can learn a considerable amount about the clinic you're interested in, toward booking an appointment with confidence. As Spain is a member of the European Union, Marbella's dentists are also regulated by EU regulatory bodies. But that doesn't mean all dental clinics in the region are up to the mark–which is why it is important for you to stick to our well-managed listing.
Interested in saving on dental costs while soaking up the sun in Spain? Then get a head-start with these three recommended clinics:
Thanks to facilities such as these, Marbella (and Spain in general) has earned a reputation as one of Europe's top dental tourism hubs. Let's take a closer look at these dental clinics.
Crooke & Laguna Malaga
With decades of experience under their belt, specialists at this clinic provide a range of dental services to local and international patients, many of whom travel from the UK. The clinic enjoys the leadership of Dr Eduardo Crooke who is one of the clinic directors. A graduate of the University of Goteburg in Sweden, Dr Crooke is a renowned implantology expert. He also owns many other clinics on the Spanish Costa del Sol. These are all manned by a well-trained team of multilingual and multidisciplinary dentists and support staff.
Vasaldora Clinica Dental
Renowned dentists Dr Cesar Lopez Rodriguez (periodontics and aesthetic prostheses on implants) and Dr Cristina Gutierrez Linero (pediatrics, aesthetic and endodontics) lead this clinic. A team of dental specialists works under these clinic directors, using first-rate biomaterials and efficient pain control.
Clinica Dental Crooke – Marbella
This is another clinic owned by implantologist Dr Eduardo Crooke. Using state-of-the-art dental technology and techniques, this clinic promises to transform our smile and dental health. You can choose from a wide range of dental services under one roof.
You can find the most renowned dentists in Marbella working at these and other dental clinics listed with us. As mentioned above, the Dental Departures team utilizes a strict screening process to weed out all but the very best clinics. So long as you pick a place from our listing, you can be confident that you'll be heading to a competent and reliable dentist.
Save Thousands of Pounds
The biggest reason for traveling to Marbella for dental work is to save money. But the question is, how much? As an example, a dental implant that costs around £3,000 (€3,417) in the UK will cost only around £1,086 (€1,300) at one of the clinics in Marbella mentioned above. Similarly, a root canal that would cost £954 (€1,133) in the UK is roughly £183 (€220) in Marbella.
Although you might wonder whether quality is compromised in an effort to provide lower prices, this simply isn't the case. The main reason behind the lower prices is that it costs much less to run a dental clinic in Spain that it does in the UK. The lower operating, labour and material expenses, as well as the lower costs of living, all contribute to affordable Spanish dental care. The red tape that plagues businesses in the UK and pushes their prices up is also largely absent in Spain. So, rest assured you are not compromising on quality just because you are paying a fraction of the price.
In addition to checking out the clinics and comparing prices, we also recommend that you gain a better understanding of the particular procedure you need. For instance, dental implants require you to visit the dentist again after four to six months. Sometimes it is better to take someone along with you. You can always talk to us about making the best arrangements for your dental holiday. You should also check out the touristy things you can enjoy in Marbella.
Holiday in Marbella
Holidaymakers flock to Marbella for its villas, hotels, beaches and mountains among other things. Some of the attractions you should not miss are:
Alameda Park

Bonsai Museum

Museum of Spanish Contemporary Engraving

Old Town

Puerto Banus
Feel free to check out the many other sites and activities. A trip to the dentist was never this amazing. Last year, Spain was the world's second most-visited country, boasting a whopping 82 million visitors in 2017.
If you are looking for quality dental work and a nice holiday, Spain will not let you down. Marbella is among the ideal places in Spain to get the best of both worlds. The quality dental care, lower prices, superb weather and host of activities are too much for Brits to turn down. So they flock to Marbella, enjoying dental work and an unforgettable holiday.
Go ahead and check out the dental clinics in Marbella listed above. Read their descriptions, see their photos, compare prices and go over the patient testimonials. We suggest you book through Dental Departures and enjoy warranties on dental work and materials used.