Check Out the Best Dentists in Chiang Mai
Here's a guide to help you in finding an oral health care provider outside your home country that will improve your smile.
Search online for clinics in Chiang Mai . To help you in finding an oral health care provider, checkout Dental Departures' website that has a list of verified dentists. The clinics are screened based on their facilities, dentists' qualifications, professional memberships, and skills. Feel free to browse the clinic photos, look at the dentist profiles, read patient reviews, and see online testimonials. Booking an appointment with Dental Departures allows you to access an array of certified dentists.
Check the dentists' educational background, qualifications, and skills. Dentists in Thailand have the same qualifications as their counterparts in Australia, UK, and US. Dentists in Chiang Mai completed their studies from local and international institutions. They specialize in Oral Surgery, Cosmetic Dentistry, Periodontics (Gums), Dental Implants, and other fields. For example, the dentist at Dental 4 U clinic pursued Master Program in Implant Dentistry from the University of California Los Angeles, School of Dentistry, (Continuing Dental Education), USA.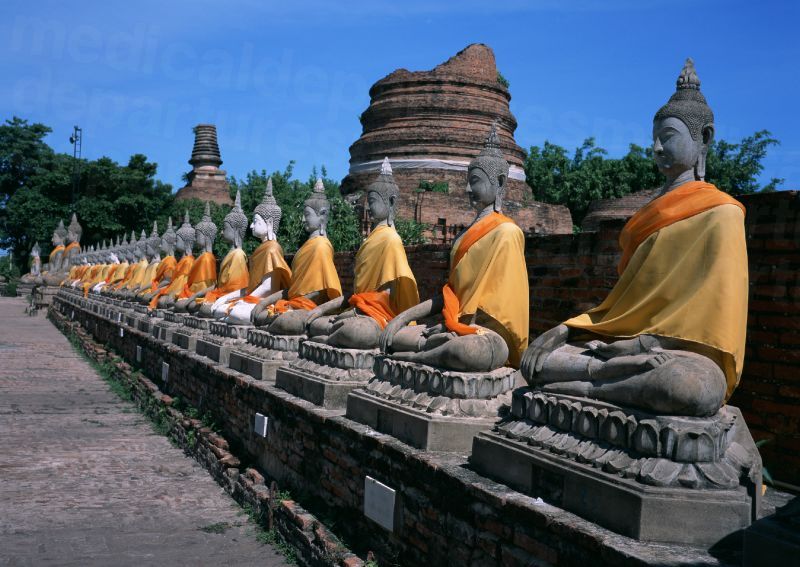 Take a look at the list of dental services provided by the clinics. Clinics in Chiang Mai offer the same services in your home country. They perform various procedures ranging simple to specialized treatments such as:
General Dentistry aims to maintain patients' oral health by means of preventive treatments such as oral examination, teeth cleaning, dental fillings, and fluoride. Mouth guards are offered to protect patients from injury.

Oral Surgery includes extractions and removal of wisdom tooth.

Periodontics focuses on the prevention, diagnoses, and treatment of gum diseases like gingivitis.

Root Canal Treatments involves restoration of decayed teeth.

Dental Implants replace missing teeth with artificial tooth roots.
In addition to this, they offer Sedation Dentistry to patients who want to feel at ease during the procedure. The dentist will assess if this is the best option for you.
Find out if they offer dental tourism, where they assist visitors not only with treatment, but also with travel activities. You can get discounts on hotels and avail of tour packages. Some offer airport transfer, which is convenient for tourists.
Know more about the clinic's facilities. Clinics in Chiang Mai have clean and modern environment with friendly staff assisting patients from overseas. They follow proper sterilization process to ensure patients' safety and provide a comfortable environment. The clinic uses the latest technology in dentistry such as lasers and digital x-rays to give the best patient care. High-quality materials are used in restoring the teeth. Prices of dental services are lower compared to Australia, UK, US, and Canada.
If you want to find the best dentist in Chiang Mai make sure to check the qualifications, services, and facilities. Restore your teeth while on a vacation in this Asian destination. Visit the tourist attractions, taste Thai dishes, and grab some souvenir items on your trip.