Cabo San Lucas, Mexico is endowed with beautiful beaches great for tourists recuperating from a dental work. Many clinics here offer cheap dental implants. Cabo San Lucas has a team of dentists who are experienced in restoring teeth with implants. Learn more about the clinics offering affordable dental implants in Cabo San Lucas.
Dental Implants in Cabo San Lucas
Dental implant procedures that are offered in the US are available in Cabo San Lucas. It involves the insertion of dental implants into the jawbone with replacement teeth on top. The implants serve as artificial tooth roots with an abutment that is connected to the replacement teeth (crowns or bridge). This procedure is an alternative for those looking for stable and natural-looking teeth. If you lost your precious teeth due to gum disease or trauma, the dentist can replace them with dental implants.
Sit down for a consultation with the dentist. During the consultation, the dentist will perform a thorough examination of your teeth, gums, and jaw. You need to have healthy gumsand enough bone to hold the implants. If you are suitable for the procedure the the implants are placed into your jawbone with temporary teeth. After the healing period of about 6 months, the temporary teeth will be replaced with permanent ones. It is important to practice proper oral hygiene to maintain optimum oral health.
Price of dental implants in Cabo San Lucas
The price of dental implants in Cabo San Lucas is cheaper compared to countries like USA, Canada, and UK. Take a look at the price comparison of dental implants:
Dental Implants Price List
Price in Cabo

San Lucas

Price in the

USA

Price in

Canada

Price in the UK

Price in Australia

Price in

New Zealand

USD $179

USD$ 1,164

CAD $1,483

£863

AUD $1,505

NZD $1,545
Dental clinics in Cabo San Lucas
Dental Departures has a list of verified clinics offering cheap dental implants in Cabo San Lucas. The quality-checked clinics include Cabo San Lucas Dental, Dental Station, Dental Santa Fe, Estetica Dental, and Dental Sunset.
Cabo San Lucas Dental is headed by a dentist with 40 years of experience in dental restorations such as implants. He is a member of the American Dental Association.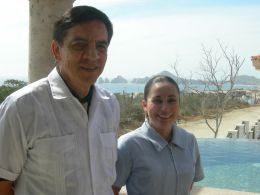 Dental Station has a modern and comfortable environment with caring dentists handling preventive care and specialized treatment like implants. It has team of experts in Orthodontics (braces), Endodontics (root canals), and Prosthodontics (teeth replacement). The dentists in this clinic are also connected with Dental Santa Fe.
Estetica Dental has group of specialists in Oral Rehabilitation, Orthodontics, and Endodontics who improve smiles using advanced treatment.
Dental Sunset offers first-class oral care at a lower price. The Oral Surgeon has a vast experience in dental restoration.
If you're looking for cheap dental implants, Cabo San Lucas clinics are an ideal place to get a treatment. Let Dental Departures help you find a clinic. Get in touch with our customer service for an appointment.