A complete mouth makeover is becoming a popular treatment for people looking for mouth preservation and restoration. Thailand is mainly known to many tourists as a country of great beauty. However, complete mouth makeover prices in Thailand are now attracting more of the international clients who are after high-quality dental care, besides site-seeing.
The number of procedures involved in full mouth makeover might seem overwhelming to many. Thus, it is better if the treatments are broken down with patients getting rests in-between. However, people who are working against tight schedules can plan to get the treatments at once.
Once you enlist with the top dental clinics in Thailand, the procedures will not only give impressive results but you will also enjoy the time you spend in Thailand as the dental professionals have the environment set to offer maximum comfort.
One of the clinics that will never disappoint you when it comes to complete mouth makeover in Thailand is Bangkok International Dental Center ( BIDC) Main Headquarters.
This is the largest and contemporary dental clinic in Thailand. It has won multiple awards for exceptional dental care and being at the forefront in researching better ways of improving customer service.
BIDC is strategically located to allow anyone at this clinic to access all the amenities Bangkok has to offer. It has more than 70 qualified dental professionals who offer excellent care in modern and clean surroundings.
The clinic features 30 hotel rooms to accommodate its patients. It is the first and only dental clinic in Bangkok that offers one-stop services to its international clients. The complex also features a coffee shop, a bank, and a restaurant
Next in the listing of great dental clinics in Thailand is Bangkok Smile MALO Dental Clinic. It is one of the dental clinics owned by MALO clinic group which is a worldwide establishment.
The clinic is housed in a 14-storey complex which is modern in every way. Every modern equipment and facility you can think of are available here to give the best service to clients who trust this clinic to handle their dental problems.
You can also visit Sea Smile Dental Clinic-Phuket which is also in the MALO clinic partnership too. It prides itself on offering the most affordable total dental care packages to international clients.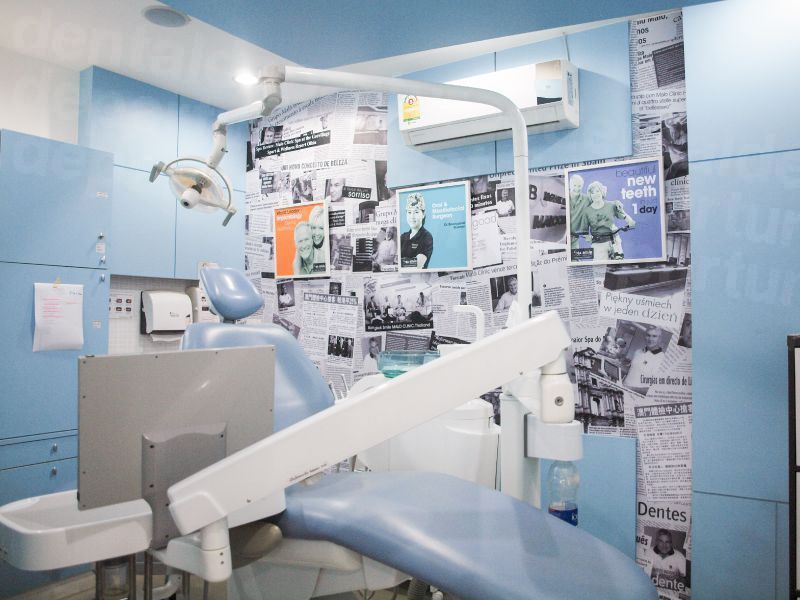 Thantakit International Dental Center is another option for people seeking quality dental care in Thailand. It has been in existence since 1945 and has perfected customer service and dental care services making it the most trusted dental establishment in Thailand.
What is the cost of a complete mouth makeover in Thailand?
| | | |
| --- | --- | --- |
| Procedure | Cost USD ($) | AUD ($) |
| All-on-4® treatment concept by Nobel Biocare | $ 9050 | $ 11370 |
| Dental Implants | $ 1510 | $ 1897 |
| Veneers | $ 330 | $ 414 |
| Crowns | $ 270 | $ 340 |
| Composite filling | $ 30 | $ 37 |
The table above does not feature all the procedures in full mouth makeover. Also, complete mouth makeover prices in Thailand will be affected by changes in currency exchange rates. Get in touch with our Customer Care Team for further information, or to arrange a free quote.