Complete mouth makeovers in Cancun.
Many international patients are opting to undergo a complete mouth makeover in Cancun. Why? Because it's inexpensive and the quality is top-notch.
What does a full mouth makeover entail?
This complex procedure involves a variety of procedures from a simple crown replacement to complicated procedures, such as replacing all of the top and bottom teeth with implants, dentures or bridgework.
Step 1 is the consultation.
Discuss the needs of the patient,
Assess the budget of the patient
Recommend a treatment.
Step 2 is the actual surgery
With simple treatments this can be completed in 1 day. Advanced procedures may require the patient to return in a few months for additional surgery
Step 3 is the after-care procedures
Patients will be given tips on how to care for their mouth during the healing process and scheduling any required follow up appointments with the clinic.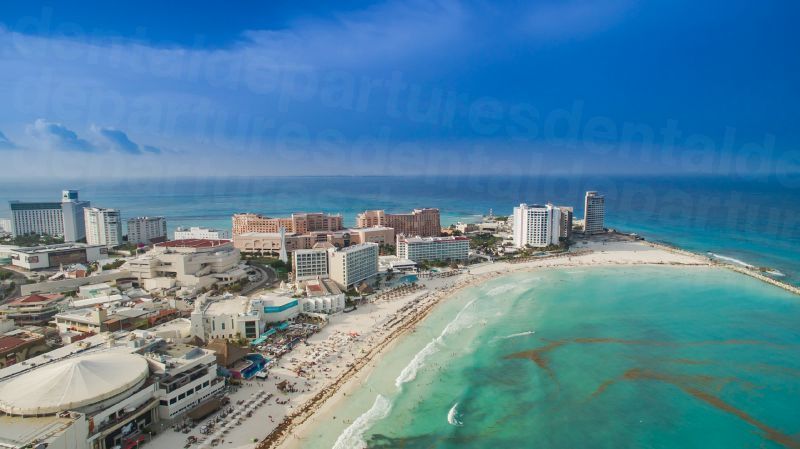 What makes Cancun so special?
Cancun is a Mexican city located on the Yucatán Peninsula bordering the Caribbean Sea. The city is known for its beaches, numerous resorts and busy nightlife. There are 2 very different and distinct areas namely the more traditional downtown area, El Centro, and Zona Hotelera. This part of the city is a long, beachfront strip with numerous high-rise hotels, nightclubs, shops and fantastic restaurants. Cancun has been a favourite among the university student community to celebrate their spring break in this city.
Is Cancun Pricing really that good?
Below is a Dental Departures average pricelist to illustrate just how much a complete mouth makeover cost. Cancun dental procedures are among the most affordable on the continent and on average around 40% of the price patients would have to pay in their own country
PROCEDURE

USD$

CAN$

AUD$

COMPARISON

ALL ON 4

$26,000.00

$33,431.00

$33,910.00

INTERNATIONAL

$11,000.00

$13,816.00

$14,243.00

CANCUN

Dental Crowns

$1,164.00

$1,483.00

$1,505.00

INTERNATIONAL

$400.00

$502.00

$518.00

CANCUN

Dental Fillings

$155.00

$199.00

$202.00

INTERNATIONAL

$38.00

$47.73

$49.00

CANCUN

Dental Implants

$3,913.00

$5,026.00

$5,098.00

INTERNATIONAL

$1,900.00

$2,386.00

$2,460.00

CANCUN

Veneers

$1,245.00

$1,599.00

$1,623.00

INTERNATIONAL

$360.00

$452.00

$466.00

CANCUN

Root Canal

$1,275.00

$1,636.00

$1,660.00

INTERNATIONAL

$230.00

$289.00

$297.00

CANCUN

Teeth Whitening

$668.00

$858.00

$870.00

INTERNATIONAL

$215.00

$270.00

$278.00

CANCUN

41.10%

40.20%

40.80%

% PATIENTS PAY

$34,420.00

$44,232.00

$44,868.00

TOTAL AVERAGE COST

$14,143.00

$17,762.73

$18,311.00
What exclusive promotions are offered by Dental Departures at these facilities?
Dental Departures ensures that the facilities they recommend is verified and checked before we would recommend them to our international patients. At present we offer patients a number of exclusive promotions at the 3 top facilities in Cancun. All the facilities offer the following promotions.
Where are the top 3 facilities in Cancun?
Patients visiting these facilities can make use of the above promotions as well as the additional exclusive Dental Departures promotions on offer at each individual facility.
Cancun Dental specialists are a state of the art dental clinic based in Cancun. The team consists of Oral Surgeons, Restorative specialists, endodontists, periodontists and general dentists. Among the staff are an American Dental Association (ADA) member and a U.S Board Certified Dentist.
The additional exclusive Dental Departures promotions on offer are:
Cancun Dental design offer their patients superior services in a modern and extremely comfortable environment. The facility offer the following 2 exclusive Dental Departures promotions:
Ocean Dental is a fully equipped dental clinic in Cancun that is certified by the American Dental Association. The bilingual staff is either U.S.-licensed or U.S.-trained. Together with Dental Departures they offer 5 additional exclusive promotions to their patients:
See just how much you can change your appearance by looking at before and after images of a complete mouth makeover. Cancun is the most affordable place to have this life-changing procedure. Book your appointment and procedure today!