Replacing lost teeth is important for your dental health, but not all of us have the money to afford dental implants at our local dental clinic. An American dentist charges just over $3,900 on average for a single implant; thus you only need three to total a bill of over $10,000. So what is the alternative?
If you are facing a dental bill of tens of thousands of dollars for dental implants in the United States or Canada, having your treatment in Colombia instead will cut your bill in half.
So now you know the difference between American and Colombian dental implant prices, but just how much do you know about dental implants themselves? Being prepared for your dental implant treatment means learning how the procedure works. You will also want to know about the different types of dental implants available, namely individual implants and full-arch implants such as the All-on-4® treatment concept by Nobel Biocare.
Single Dental Implants vs Full-Arch Implants
For restoring just one missing tooth, a single dental implant is likely the treatment you need. This procedure can be used to restore multiple teeth within your mouth, but each one has to be done individually. A full-arch implant uses a different method than single implants: with four implants placed within your jawbone, an entire arch of false teeth can be permanently affixed inside your mouth.
So, how do you know which is your best option? A general rule of thumb you could use is that if you have more missing teeth than natural ones left, a full-arch implant technique is worth considering. The procedure will restore your teeth completely in less time and at less expensive than with single implants.
On the other hand, if you have just a few missing teeth, it is likely that standard individual implants will be best for you. In this scenario, if you went with complete restoration, you would have to have all your remaining natural teeth removed ahead of treatment. Using single implants to fill in the gaps left by missing teeth will restore balance to your dental structure and improve your oral health.
What Happens During Dental Implant Surgery
Whichever procedure you and your dentist decide is best, the essentials of dental implant surgery are the same. The first stage is placing the implant, or implants in the case of the All-on-4® treatment concept. Your gums will be cut open and a small hole will be drilled into your jaw for each implant to be placed. With all the implants inside your jawbone, you are on to the second step.
Over the course of three to six months, the implants will fuse to the bone in your jaw, referred to medically as " osseointegration". Once the implants are secure, the third stage can begin. An abutment and ceramic crown can be fixed to a single implant, whereas with a full-arch treatment, an entire fixed bridge of ceramic dentures is permanently fixed to four implants.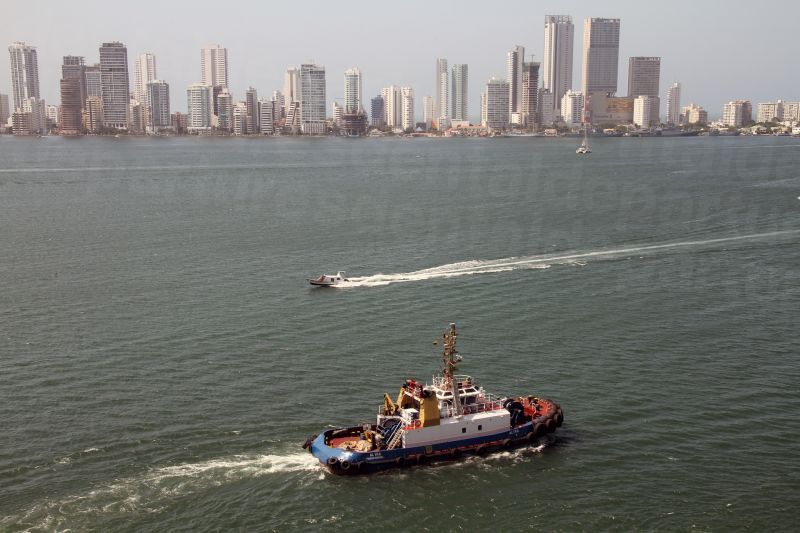 How to Take Care of Your New Dental Implants
Keeping your new dental implants in good shape requires you to brush, floss, and rinse with a mouthwash diligently. Luckily, your new teeth will not succumb to tooth decay, but you still need to keep your mouth and gums healthy. Visit a dentist for regular check-ups so that any issue with your dental implants can be fixed before it becomes a bigger problem.
Three of the Best Columbian Dental Clinics for Implants
We know how hard it can be to find a qualified dentist you can really trust in a country you are unfamiliar with, and that is one reason why we created Dental Departures. Here at our website, you can find dental clinics all over Columbia that we have checked and verified ourselves. To get you started, take a look at these top three Columbian dental clinics.
Dentist by Cristina Suaza is one of the most highly-regarded dental clinics in the Columbian capital of Bogota. Here you will find the talented maxillofacial surgeon Dr. Cristina Suaza. Her experience in total mouth restorations is extensive, plus she is also a member of the Colombian Association of Oral and Maxillofacial Surgery. You can read over 200 verified past patient reviews for this 5-star rated clinic.
Another excellent Bogota dental clinic is Natural Design, established in 2010 and equipped with the latest in dental health technology, including in-house 3D x-ray machines and CT scanners. Dr. Anibal Bolanos Bravo is the chief dental surgeon at this clinic, an expert in implantology and able to speak both English and Spanish.
In Columbia's second-largest city of Medellin, the International Smiles dental clinic scores 5 stars for patient satisfaction. The talented dental team here is headed by Dr. Adriana Castano, who studied dentistry at Nova Southeastern University in Florida. She is fluent in English and has helped many American and Canadian patients get their smiles back with implants.
Book Your Appointment With a Dentist in Columbia at Dental Departures
At Dental Departures, we specialize in helping people find the dental care they need at a price they can afford. If you require specialty dental treatment, please reach out to us and we will do our best to assist you. Call the Customer Care Team on our toll-free number to speak with someone right away, and they will match you with a trusted dentist who can treat you for the right price.
You can also book a consultation with any of our partner dentists in Columbia by using our online appointment scheduler. This service is available 24 hours a day, seven days a week, and takes just a few minutes of your time. Simply select a clinic, your preferred date and time, then add your contact details. That is all you need to do because we take care of the rest.
You can expect a confirmation shortly after you make your request, and once booked you may change or cancel your appointment up to one day before your scheduled time. All appointments booked with Dental Departures are also covered by our Best Price Guarantee. Why delay having the dental treatment you need any longer, an affordable dentist in Columbia is waiting for you!
Sources:
Mungo, Alex. Dental implants and how crucial replacing teeth really is. Oral Health Foundation. 8 June 2017. https://www.dentalhealth.org/Blog/dental-implants-and-how-crucial-replacing-teeth-really-is" target="_blank
Hodges, John A, DDS, FICIO. When is All-on-4 the best option? 5 factors to consider when creating your dental treatment plan. Dentistry IQ. 1 November 2017. https://www.dentistryiq.com/articles/2017/11/when-is-all-on-4-the-best-option-5-factors-to-consider-when-creating-your-dental-treatment-plan.html" target="_blank
Dental implant surgery. Mayo Clinic. https://www.mayoclinic.org/tests-procedures/dental-implant-surgery/about/pac-20384622" target="_blank
Ditcher, Darin. The Biologic Fundamentals of Osseointegration. Spear Education. 7 January 2016. https://www.speareducation.com/spear-review/2016/01/the-biologic-fundamentals-of-osseointegration" target="_blank