Did you know that Algodones dentist prices are so affordable that you save a great deal of money by just going across the border to Mexico?
Did you know that you can save even more if you book through Dental Departures as we give the best price guarantee?
Did you know that whether or not you are covered by dental insurance you can still get your dental work done by the best dentist in Algodones?
Why are dental prices in Los Algodones low?
Los Algodones in Mexico has a well deserved reputation as a dental town since it has the highest density of dentists globally. In a town that has only 6,000 inhabitants there are more 350 dentists. This high degree of competition keeps Algodones dentist prices affordable.
Apart from this, the cost of living in Mexico is much lower, land costs are reduced and all ancillary expenses are also less. Since Los Algodones sees a large number of dental tourists, the high turnover also has an effect on the pricing of dental procedures and treatments.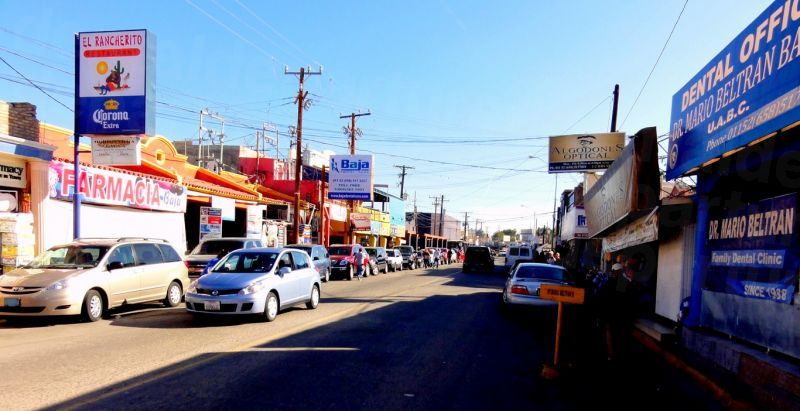 What is the cost difference in Algodones dentist prices?
The prices of various dental treatments in Los Algodones compare favorably with the cost of similar work done in countries like North America and Canada that are close by. You stand to save between 50 and 80 percent of the cost by going to Algodones dentists. Some examples:
The average price of a dental implant in America is around US$3,913 (CAD5,221, £3,123, €3,671, AU$5,146, NZD5,592). In Los Algodones, dental implants cost as little as US$1,250 (CAD1,668, £998, €1,173, AU$1,644 NZD1,786).
In North America all on four can cost, on an average, US $26,000 (CAD $33,431, £19,382, €23,130, AU$33,910, NZD34,841). But in Los Algodones, All-on-4s cost around US$10,000 (CAD13,329, £7,995, €9,420, AU$13,216, NZD14,303).
In North America a root canal that will cost you an average of US$1,275 (CAD1,636, £954, €1,133, AU$1,660, NZD1,706) will cost you an average of only US$247 (CAD329, £197, €232, AU$326, NZD353) in Mexico.
Dental crowns in the U.S. that cost US$1,200 (CAD1,620, £987, €1,139, AU$ $1,598, NZD1,741) will cost an average of only US$500 (CAD666, £399, €471, AU$660, NZD715) in this town.
So you can see for yourself that the price difference is very high.
Does a low price translate into low quality?
Again, because of the increased competition most dental clinics are of good quality. That is not to say that all clinics and doctors are created equal. You may well find dentists who are not well-qualified or experienced; some may not be very fluent in English and the clinics may not be well maintained.
That is why it is best to put your research in place and book in advance. There are large numbers of high-quality clinics that give you care and treatment of the kind you would get in your home country. Clinics like Sani Dental have highly experienced and qualified dentists who are specialists in their fields of treatments.
Check out other Algodones dentist prices with Dental Departures and go back home with improved oral health and not too much of a dent to your bank balance.