The modestly-sized Mexican border town of Los Algodones has made a name for itself for providing low-cost dental care - with more than 300 clinics and 1,000 dentists offering a wide range of treatments to international patients.
But this begs the question: Exactly how much can I save at one of the top dentists in Algodones?
Read on to discover price comparisons at some of Dental Departures' verified dentists south of the border.
First, Why Are Dental Prices So Low in Los Algodones?
Los Algodones has a well-deserved reputation as being one of the world's most popular destinations for dental tourism thanks to its budget-friendly prices and overall high standard of care.
Prices here are kept low for three main reasons:
Competition: In a town that has only 6,000 inhabitants, there are more than 300 clinics. This high degree of competition keeps Algodones dentist prices affordable, especially with the yearly influx of international patients.
Cost of living: In Mexico, basic living expenses are much lower; as a result, clinics are able to keep wages lower across the board - and these savings are passed on to you, the client.
Operating costs: Simply put, running almost any business in Mexico costs less than it does in North America; everything from salaries to building rents and facility bills are lower, allowing Mexican dentists to charge at least 50% less than their US counterparts.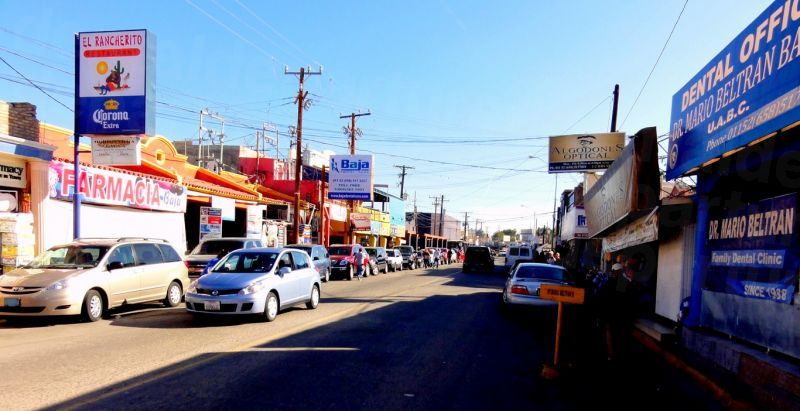 How Much Can I Save on Dental Procedures in Los Algodones? [Prices]
The prices for dental treatment in Los Algodones are substantially lower than in the US and Canada. You stand to save between 50 and 80 percent by booking in at one of our Algodones dentists.
Some examples of the cost savings available are given below:
Dental Implants:
The average price of a dental implant in America is around USD $3,913 (CAD5,221, £3,123, €3,671, AU$5,146, NZD5,592);
In Los Algodones, dental implants cost as little as US$1,250 (CAD1,668, £998, €1,173, AU$1,644 NZD1,786).
All on 4® Treatment
In North America, an All on 4 can cost, on an average, USD $26,000 (CAD $33,431, £19,382, €23,130, AU$33,910, NZD34,841);
In Los Algodones, All-on-4s cost around US$10,000 (CAD13,329, £7,995, €9,420, AU$13,216, NZD14,303).
Root Canals
In North America, root canal therapy averages at approximately USD $1,275 (CAD1,636, £954, €1,133, AU$1,660, NZD1,706);
South of the border, the same treatment costs an average of USD $247 (CAD329, £197, €232, AU$326, NZD353).
Dental Crowns
Dental crowns in the US cost around USD $1,200 (CAD1,620, £987, €1,139, AU$ $1,598, NZD1,741);
In Los Algodones, the same treatment costs an average of only USD $500 (CAD666, £399, €471, AU$660, NZD715).
[Please note that these are estimated prices at the time of writing. See our individual clinic listings for latest prices.]
Does a low price translate into low quality?
Again, because of the increased competition, most dental clinics are of good quality.
However, that is not to say that all clinics and doctors are created equal. You may well find dentists who are not well-qualified or experienced; some may not be very fluent in English and the clinics may not be well maintained.
That is why it is best to put your research in place and book in advance using a trusted third party site like Dental Departures.
Top clinics in Los Algodones that have passed our strict background checks with flying colors include:
How Do I Book?
To guarantee the best prices online, schedule your free appointment using the Dental Departures site. Our Customer Care Team is also on standby to answer any questions or assist you with the booking process.
Sources:
How Much Does it Cost to Live in Mexico? International Living. Website accessed: 28 December 2020. https://internationalliving.com/countries/mexico/cost-of-living-in-mexico/
Jacobs, Harrison. This tiny Mexican town has more than 350 dentists — and treats the thousands of Americans who flock across the border for dental care. Business Insider. 3 January 2018. https://www.businessinsider.com/andrew-waits-photos-of-molar-city-2014-6
Mexico's Molar City: Where Americans Go for Affordable Dental Care. Sky News. 12 July 2017. https://news.sky.com/story/mexicos-molar-city-where-americans-go-for-affordable-dental-care-10944822