The average price of Full Porcelain/Ceramic Crowns are approximately 70% less in Malaysia at AUD$597 (NZD$640, GBP£351, EUR€420, USD$450 and CAD$607). In comparison, it costs AUD$1,615 in Australia, NZD$1,732 in New Zealand, GBP£951 in UK, EUR€1,136 in Europe, USD$1,218 in America and CAD$2,160 in Canada,
Similarly, average Zirconia Crowns prices are AUD$603 (NZD$647, GBP£355, EUR€424, USD$455, and CAD$614), compared to AUD$2,121 in Australia, NZD$2,275 in New Zealand, GBP£1,249 in UK, EUR€1,492 in Europe, USD$1,600 in America and CAD$2,525 in Canada, which makes it about 70% cheaper in Malaysia.
A dental crown or cap acts as a prosthetic to cover and strengthen a damaged tooth. It is also used to improve dental occlusion or bite, appearance, misalignment and shape of a tooth.
Crowns are made by taking an impression of the tooth which is then sent to a laboratory to be custom-made. The new crown is fixed in place with a special dental cement or adhesive – and can last a lifetime if maintained properly.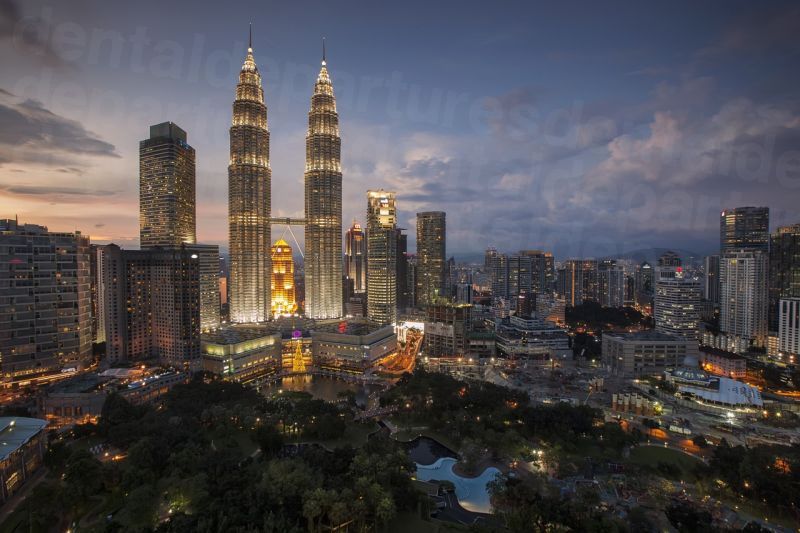 Types of Crowns :
Ceramic - made of porcelain-based material, and used for front teeth restoration as it blends in with the natural tooth color.
Porcelain-fused-to-metal - provides a stronger bond as it's connected to a metal structure, is extremely durable and matches teeth color.
Gold Alloy - a mix of gold, copper and other metals, provides a strong bond and does not fracture easily.
Base Metal Alloy- a very strong crown made of non-noble metals, resistant to corrosion.
Zirconia (milled crowns) - digitally made in the dental laboratory/clinic
Getting dental treatments abroad is a big decision and you may have concerns with regard to the quality of treatment. Dental Departures takes your concerns seriously and have taken measures to ensure that all clinics in our listings are of the highest standards. Dentist's credentials and experience are also verified through extensive background checks.
Here are some of our quality-checked dental clinics in Malaysia :
Imperial Dental Specialist Center
A centre for aesthetic and dental-care offering surgical and non-surgical procedures, the clinic comprises a team of internationally-qualified doctors and surgeons. Together they bring decades of experience and expertise in their respective disciplines and specialities.
Dentalpro Dental Specialist Centre
Located in Bangsar, Kuala Lumlpur, the Centre provides restorative and aesthetic dentistry. It is equipped with state-of-the-art technology and has a team of internationally trained specialists.

Procare Bangsar Dental Surgery
A multidisciplinary specialists dental-care centre in Bangsar, KL, equipped with modern technology and equipment, it utilizes top-quality dental materials and has a team of dedicated and highly-trained dental specialists.
Tiew & Partners Dental Clinic - Bukit Indah Branch
One of the largest dental groups in Malaysia, it is equipped with the latest top-of-the-line equipment and technology. It has an in-house laboratory and a team of highly-skilled dental staff. Located in Johor Bahru.
Proheal Dental Specialist Centre
Offering a range of dental-care, this clinic in Kuala Lumpur offers state-of-the-art technologies and has a team of internationally-qualified dental specialists with extensive experience.
If you would like to know more about crowns prices in Malaysia, browse through our listings or contact Dental Departures.