Are you looking for a dental clinic that offers cheap smile makeover in Bangkok? Take a look at the top dental clinics offering high-quality dental treatments and smile makeover in Bangkok at an affordable price.
1 . Bangkok Smile Dental Group is one of the largest groups of dental clinics in Thailand that is certified by the International Organization for Standardization (ISO 9001:2008 Certified Clinic and Dental Lab). The dental group is a partner of Malo Clinic, which is the leading center for Implantology and Fixed Oral Rehabilitation. This partnership means that as a patient of Bangkok Smile Dental Group, you can access a Malo Clinic located in more than 50 cities in the world in case a problem with your dental work arises. The clinic follows high sterilization standards and international treatment protocol and standards.
Bangkok Smile Malo Dental Clinic has a team of outstanding dental specialists that provides world-class treatments at affordable prices. The team is comprised of experts in Prosthodontists (teeth replacement), Oral Surgeons, Cosmetic dentists, Orthodontists, Periodontics, and other fields who helps patients achieve healthy, beautiful teeth.
Bangkok Smile Dental Group includes Bangkok Smile Dental Clinic Sukhumvit 21 Branch , and Sea Smile Dental Clinic – Phuket. They cover various treatments such as dental implants (full arch restoration, All on 6, Immediate Loading Implants), Smile Makeovers, Veneers, Oral Surgery, Gum Recountouring, Crowns, Bridges, Dentures, Root Canal Treatment, Laser Teeth Whitening, and Orthodontic Treatment.
2. The Bangkok International Dental Center (BIDC) - Main Headquarters is a 7-story building that is equipped with the latest dental and medical technologies. It has more than 20 treatment rooms, on-site laboratories, and a team of over 100 dentists. It has received various awards such as Best Service Provider – Prime Minister Export Award by the Royal Thailand Government. The award-winning clinic is accredited by the International Organization for Standardization (ISO) and the Joint Commission International (JCI). BIDC has a team of internationally-trained specialists in Restorative Dentistry, Oral Surgery, Prosthodontics, Perdiodontists, and other fields. They are members of organizations like The American Board of Prosthodontics, and the International Team for Implantology. The clinic offers a comprehensive range of treatments such as General Dentistry, Cosmetic Dentistry (Teeth Whitening, Crowns, Bridges, Veneers), Dental Implants, Orthodontics (braces), Periodontics (gum treatment), Oral Surgery, and Endodontics (root canals.)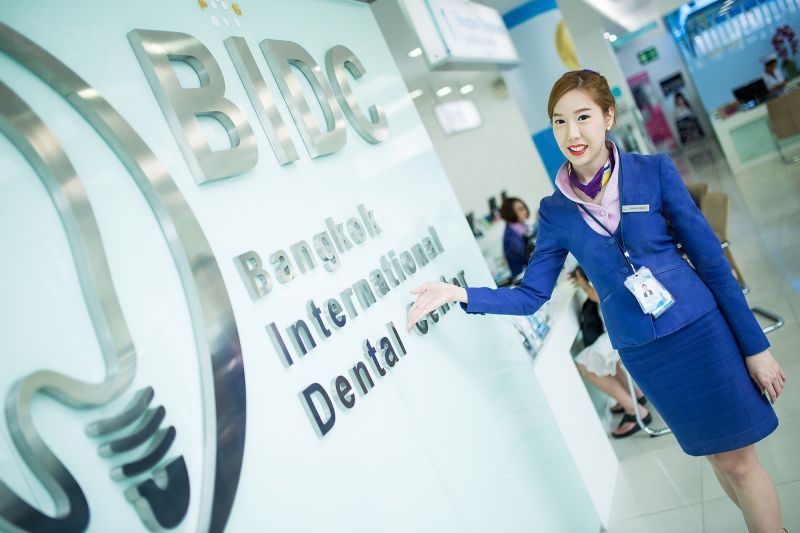 3. Thantakit International Dental Center is Thailand's longest established dental center. It provides high quality dental implants and cosmetic dental treatments. It has specialists in Dental Implants, Prosthodontics, Oral Surgery, Cosmetic Dentistry, Orthodontics (TMJ), Endodontics, Periodontics (children's dentistry), and other experts. The specialists completed their studies from well-known institutions in Thailand and abroad. They include members of the International Congress of Oral Implantologists (ICOI).
The clinic offer dental implants, cosmetic dental work (crowns, bridges, veneers, laser teeth whitening), inlays, onlays, gum treatment, root canal therapy, and more. The clinic has an in-house laboratory complete with 3D CT scan and digital impression scanner.
If you're looking for cheap smile makeover in Bangkok, Dental Departures' clinics can help. Get in touch with our Customer Care Team to book an appointment.