Why is Dental Tourism in San Jose becoming so popular?
Patients from all over the world are visiting San Jose dental clinics because the savings they get is astronomical. Due to easy access for patients from North America and Canada the country also offer patients the opportunity to recuperate in the tropical climate of Costa Rica. Dental tourism in San Jose is currently gaining a lot of interest among international patients.
To assist international patients in selecting the perfect facility is one of the main functions that our staff at Dental Departures offers the patients. We make sure that the facility we recommend has the expertise and provide world class care. We further offer warranties to make patients more comfortable in traveling to another country for their procedures.
Situated in the popular La Sabana, which is home to numerous hotels, restaurants and shopping malls, makes Costa Rica All on Four a very convenient venue for international patients. The clinic offer quality treatments using an in-house CAD/CAM dental laboratory. The experienced specialists use state-of-the-art technology when performing procedures on their patients.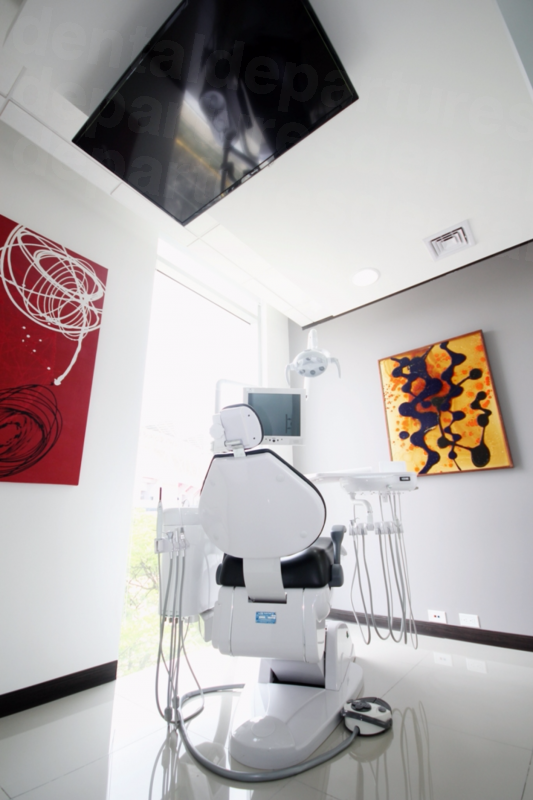 Prisma Dental was founded in 1982 and 80% of their patients come from the USA, Canada and Europe. They are known for their affordable dental care and expert work on dental implants, full mouth reconstruction and cosmetic dental services. The clinic also provide top quality dental care for children such as"
· Orthodontics (braces)
· Mercury filling replacements
Clinica Mario Garita - The Dental Experience offer international patients the opportunity to have dental procedures at enormous savings and still get the same quality care that they would have had in their home country. The added advantage is that patients can recover after the procedures relaxing and enjoying the beautiful sights around the country.
DentaVac dental clinic is located about 15 minutes outside San Jose in the beautiful Central Valley area of Costa Rica. The clinic has a team of twelve highly skilled professionals that graduated from top universities both in Costa Rica and abroad. Using state-of-the-art technology they offer patients affordable dental care in the following:
Fillings
Teeth cleaning
Endodontics (root canals)
Implantology
Periodontics (gum disease)
Orthodontics (braces)
Pedodontics (children's dentistry
Cosmetic surgery
Natural Smile Costa Rica is located in the Barrio Amon district of San Jose offering quick access to anywhere in Costa Rica. The clinic opened in 2005 and has a reputation of being among the best specialists in the country. The clinic offers a full range of cosmetic surgeries to help patients achieve the beautiful smile they always wanted. Also available are procedures in:
Fillings
Extractions
Full mouth rehabilitation
Endodontics (root canals)
Periodontics (gum disease)
Prosthodontics (dentures, crowns)
Oral surgery
Dental Departures and we will assist you with travel and accommodation arrangements for your stay.
Dental tourism in San Jose has created a huge influx of international visitors wanting to enjoy the enormous savings on treatment and at the same time explore the beautiful scenery that Costa Rica offer. Explore our dental clinic listings in Costa Rica and look forward to getting your mouthmakeover.