Why has Dental Tourism in Singapore become so popular among international patients?
Singapore has been a popular destination for tourist for many years. Over the past few years this has exploded due to the demand created by dental tourism in Singapore . International patients have discovered that quality dental procedures in Singapore are offered at a fraction of the price that they pay back in their home countries. Currently there are more than one thousand registered dentists working in both the private and public sector of this dynamic country.
Dental Departures have identified a number of top facilities that we recommend to international patients when visiting the country for a dental procedure. We also supply patients with warranties that the prices are far below that charged in other countries and that the care they will receive is on par with or better than world class.
The Dentist@Orchard is located in the world famous Orchard road in central Singapore and offer patients top quality procedures and very affordable prices. Among the procedures offer is the following:
Composite filling
Inlay/Onlay
Full porcelain or Ceramic Crowns
Porcelain Veneers
Full Dentures in Porcelain for both upper and lower
Implant Supported Overdenture that is removable with 8 implants
Mini Implants
Standard Implants
Scaling
Root Canal
Fluoride applications
Prophylaxis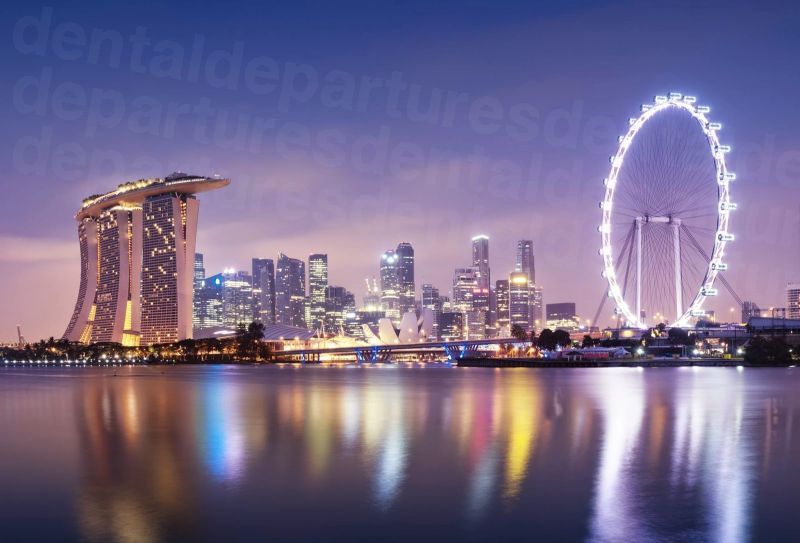 TOOFDOCTOR Dental Centre @ Toa Payoh is a modern clinic comprising of dynamic and caring doctors and staff who believe in providing their patients with evidence based dentistry. The clinic use state-of-the-art equipment that provides them with comprehensive services in diagnostic radiography, dental implants, root canal therapy and teeth whitening. The clinic is unique as they have theme based rooms that reflect the individual personalities of the dentists.
LQ Dental is a fully equipped dental facility offering international patients a range of dental procedures at extremely reasonable prices. Their procedures include:
Composite fillings
Extractions, both surgical and impacted
Teeth Whitening
Full Porcelain ceramic Crowns
Full Dentures in Acrylic
Mini Implants
Clear Braces Invisalign (USA)
Scaling
Root Canal
Amalgam Fillings
K & K Dental Surgery
is located in the Beauty World centre in Upper Bukit Timah Rd and offers international patients a comprehensive range of procedures at affordable prices. The treatments include: · Scaling· Polishing· Tooth coloured fillings· Teeth Whitening· Complete and partial denture fixing· Crowns and Bridges fixing· Tooth extraction
Le MinT's (East Coast Road)
is a practice that has made a commitment to share knowledge with their fellow dental professionals about the most relevant and up to date skill sets, the latest available technological systems and dental treatment options available. Among their treatment are the following:· Composite fillings· Simple extractions· Surgical and impacted extractions· Teeth Whitening· Full Porcelain and Ceramic Crowns· Full Dentures with Porcelain Teeth for upper and lower· Scaling· Root Canal· The above clinics are dedicated to promote and grow dental tourism in Singapore and at the same time offer international patients the most affordable prices for their procedures. Patients can enjoy the sights of Singapore before and after their procedures and take home memories that will last forever. Get in touch with Customer Care to find out more about our
Singapore dental clinics.