Private dental care in the United Kingdom is some of the most expensive in the world, but luckily British patients do not have to travel far for low-cost dental procedures.
High-quality dental clinics can be found in the historic capital of Zagreb, the cities of Rijeka and Split on the Adriatic Coast, as well as many other Croatian towns.
Croatian Dental Clinics Take Good Care of British Patients
Private dental clinics in Croatia welcome patients from all over the British Isles who are looking to make a saving on dental treatment. They really go the extra mile to make you feel comfortable and take any stress out of the experience. You can expect support staff, hygienists, and dentists to discuss everything about your treatment with you in English, plus many clinics can assist you with things like airport transfers and accommodation arrangements.
Comparing the Price of Dental Implants in Croatia to the UK
You could save thousands of pounds at dental implant clinics in Croatia because the price for treatment is so much less than in the United Kingdom. Take a single titanium implant for instance. The average price for this procedure at a dental clinic in London, Manchester, Cardiff, or Edinburgh is often around £3,045. Now consider the price for a titanium implant in Croatia, which is just £600. You are saving almost £2,500 on every implant!
If you are considering having a full-arch procedure in Croatia, such as the All-on-4® treatment concept by Nobel Biocare, you can also make a big savings. The average price in the UK currently stands at roughly £16,000, but the price for this treatment in Croatia can drop to as low as £3,350. At the high end of the scale, a Croatian full-arch procedure can cost $8,375, but that is still roughly half of the UK price. The average price for the same procedure at a Croatian dental clinic is around £6,000, a full £10,000 cheaper than in the UK.
Why Replacing Missing Teeth Is Important for Your Dental Health
When you lose a tooth your dental structure is put out of balance. Teeth next to the gap left by a missing tooth can begin to shift position, which can lead to more gaps and crooked-looking teeth. Your teeth that are left will also be under more strain when you bite and chew because your missing tooth is not taking its share of the work.
If you are missing multiple teeth then the severity of these issues increases, and you run the risk of letting your jawbone become weak. Regular biting and chewing put the bone in your jaw under pressure, which helps it to regenerate and stay strong. When your ability to chew properly is impaired because of missing teeth, your jawbone begins to deteriorate.
Using a dental implant to replace a missing tooth will help you to avoid suffering from these types of dental health issues. Your dental structure will be in balance, your jawbone will remain strong, and the crown on your new implant will look just like a natural tooth. Even if you are missing many or all of your teeth, dental implants can help.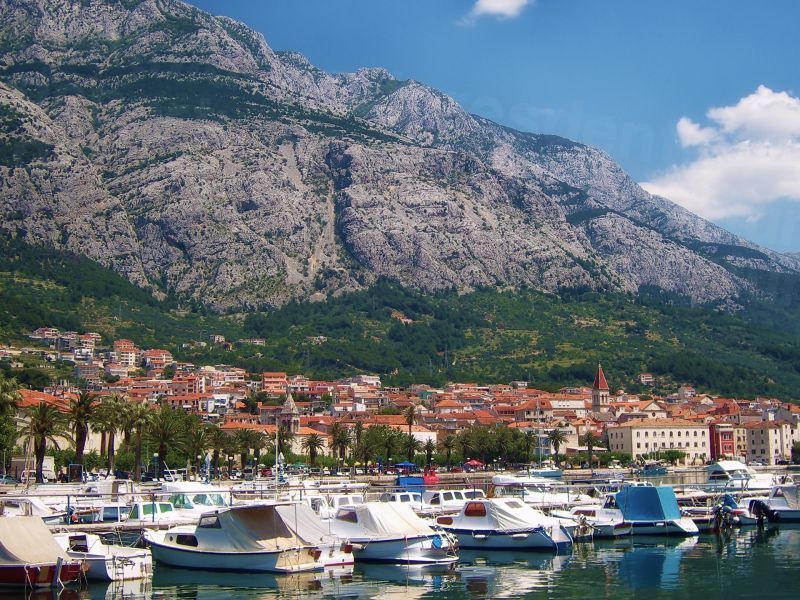 Consider a Restoration with 4 Implants Over Removable Dentures
Many edentulous patients have certainly resigned themselves to a set of removable dentures on the NHS, but this need not be your only option. The low-cost of the All-on-4® treatment concept in Croatia makes this type of complete mouth restoration a real possibility for British patients who are willing to board a plane and travel for treatment.
This innovative technique works by using four dental implants to attach an entire arch of replacement teeth (crowns) permanently to your jaw. Thus, as opposed to dentures, the All-on-4® treatment concept makes it easier to eat, drink, and talk with confidence. There will be no chance of it slipping out of place, as can happen with removable dentures.
Caring for Your Dental Implants
Once you've had dental implant surgery, there are no special cleaning requirements or complicated instructions for proper care. All you need to do is brush, floss, and rinse with a mouthwash twice a day, just like you would clean your natural teeth. Even though your implants will not suffer from tooth decay, it is still important that you maintain a clean mouth and healthy gums.
Visiting a dentist for routine check-ups is highly advised too, so that any potential issues arising with your dental implants can be fixed before they become a more serious problem. You do not necessarily have to travel back to Croatia for follow-up treatment, but you may wish to visit your dental implant specialist, who will have the best understanding of your original implant surgery.
How to Find a Top Croatian Dentist
Searching for a trustworthy and experienced dentist in Croatia is made much simpler when you use Dental Departures. All the Croatian dental clinics you will find listed on our website have a patient satisfaction rating, so you can quickly gauge how happy international patients were with the treatment they received. Written, authenticated patient reviews are also available to read, which reveal even more about the dentists working at each clinic, the cleanliness of the treatment rooms, and the quality of the dental equipment used.
Other information you can find out about Croatian dental clinics at Dental Departures includes complete price lists of all the dental procedures available, before and after photos of treatment, and how long the practice has been established for. To get you thinking about which dental clinic in Croatia is going to be best for you, here are three of our top recommendations.
Three of the Best Dental Clinics in Croatia
In the Croatian capital of Zagreb is the 5-star rated Dental Implant Clinic Krhen, founded by the highly-qualified Dr. Jurica Krhen in 2006. He studied dentistry at the University of Zagreb and is fluent in English, German, and Croatian. Specialising in dental prosthetics and oral surgery, Dr. Krhen has helped restore the teeth of thousands of patients.
Croatia's port city of Rijeka is home to many excellent dental clinics, but Zimmermann Dental currently stands out as one of the best. It is a modern family-run practice equipped with the latest in dental health technology, and also boasts some of the lowest dental care prices in Croatia. Dr. Marko Zimmermann is a member of the European Prosthodontics Association, and he speaks English, Croatian, Italian, and German.
Finally, we have Dental Care Croatia, a highly-rated practice in Split. More past patients have written positive reviews about their treatment here than at any other dental clinic in Croatia. This practice has been welcoming international patients for 25 years, and the talented Dr. Marina Jezina, who speaks English fluently, has almost 30 years of dentistry experience.
Arrange Your Dental Treatment in Croatia at Dental Departures Today
You can begin making arrangements for your dental treatment in Croatia right now by using the online appointment scheduler here at Dental Departures. Simply pick a dental clinic, a time and date that suits you, and leave us your contact details. We will get straight back to you with your appointment confirmation so you can start planning the rest of your trip.
If you need to change or cancel your dental trip, you can do so for free within 24 hours of your scheduled appointment. Also, any treatment booked with Dental Departures is covered by our Best Price Guarantee. For any more information please call our Customer Care Team, who can offer expert advice and guide you through the entire booking process.
Sources:
Mungo, Alex. Dental implants and how crucial replacing teeth really is. Oral Health Foundation. 8 June 2017. https://www.dentalhealth.org/Blog/dental-implants-and-how-crucial-replacing-teeth-really-is
Dentures (false teeth). NHS. 14 June 2018. https://www.nhs.uk/conditions/dentures/
Dental implant surgery. Mayo Clinic. https://www.mayoclinic.org/tests-procedures/dental-implant-surgery/about/pac-20384622
Fontana, Margherita, Dr. The Tooth Decay Process: How to Reverse It and Avoid a Cavity. National Institute of Dental and Craniofacial Research. July 2018.
https://www.nidcr.nih.gov/health-info/childrens-oral-health/tooth-decay-process