If you've lost all or most of your teeth how about getting permanent, fixed replacements with one of the newest dental implant techniques – All-on-6? Cozumel is the perfect location for a holiday and so where better than to combine your dental work with a vacation?
Losing your teeth has a massive impact on your life. It can affect confidence if you have unsightly gaps, and even speaking and eating may be fraught with difficulty if you have ill-fitting dentures. If you have multiple tooth loss it's likely that you have advanced periodontal disease, and if you do have teeth left, the likelihood of hanging on to them may be slim. It may be worth your while to bite-the-bullet and have the rest removed and replaced with the All-on-6 dental implant system.
What are All-on-6 dental implants?
This is a safe, advanced method of placing dental implants. It is suitable for patients that do not have enough viable bone in their jaw for traditional implants. The implants (six – hence the name, All-on-six) are placed in the back of the jaw at a 45-degree rather than a 90-degree angle – and they are longer than normal implants – so there's a greater surface area for the jawbone to fuse with. A whole arch of false teeth is fixed in place on top of the implants, providing a secure row of teeth that look just like your own.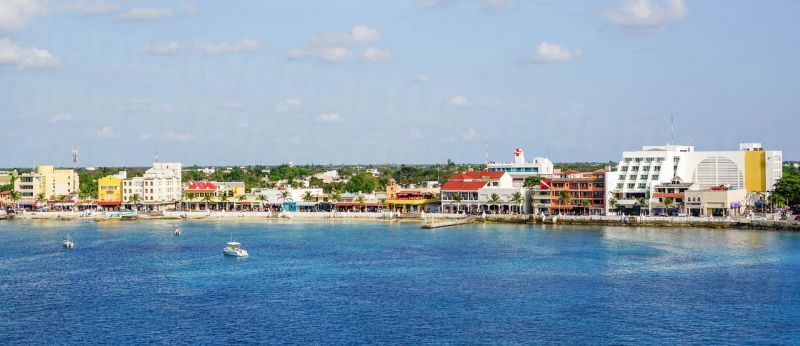 What are the benefits of All-on-6?
Eliminates the need for dentures and everything bad associated with them – from worrying about them slipping, to the messy adhesives to hold them in place, to leaving them to soak in a glass overnight!

They look like your own teeth. They feel like your own teeth. And other people will think they are your own teeth.

They need little in the way of additional upkeep. Just maintain your oral hygiene with your everyday routine as your dentist instructs.

They help maintain healthy bone. There is some evidence that the normal forces exerted on dental implants when biting and chewing food stimulates the bone and keeps it healthy.

They help to maintain facial contours. When teeth are missing the soft tissues of the face have nothing to support them, resulting in a collapsing bite.
Why get All-on-6 in Cozumel?
Cozumel's dentists are skilled and used to dealing with international patients. The island is on the cruise ship stop-off points and so treating all manner of dental problems is second-nature to the island's dentists. Clinics are ship-shape, and equipped with the latest diagnostic and therapeutic technologies. If you don't need any extractions, your new teeth can be placed in a only a day, leaving you with much more time to enjoy your vacation.
The prices in Cozumel are considerably lower than at home:
| | | | | | | |
| --- | --- | --- | --- | --- | --- | --- |
| | US $ | CAN $ | UK £ | EUR € | AUS $ | NZ $ |
| All on 6 Dental Implants Price - at home | 30,000 | 44,000 | 23,000 | 27,000 | 39,000 | 42,000 |
| All on 6 Dental Implants Price – Cozumel | 12,000 | 16,000 | 9,000 | 11,000 | 16,000 | 17,000 |
The island is not just a gorgeous tropical getaway with pristine, white sand and crystal waters teeming with marine life, there is history here too that predates even the Maya. Ruins are scattered around the island, and you'll find amazing coral reefs in the surrounding waters. Nightlife isn't as boisterous as in Cancun, but there is plenty to do once the sun goes down.
Get in touch with our Customer Care Team to find out about more about All-on-6. Review Cozumel's facilities, compare prices and book your appointment with Dental Departures.