If you want to dip a toe into the world of dental tourism (and see what all the fuss is about), then getting your teeth whitened is a great place to start. The simple procedure takes only a couple of hours while delivering noticeable results. Plus, unlike other dental work people undergo abroad, you'll have no downtime afterward–meaning you can enjoy eating, drinking and other fun holiday activities without feeling down-in-the-mouth about it.
What Teeth Whitening Treatment is the Best?
Although you can find plenty of over-the-counter teeth whitening kits and treatments at your local pharmacy or even supermarket, these products don't offer the same degree of "wow" compared to what you get with treatments at a dental office. Even so, the treatments offered by dentists are either at-home whitening kits, or laser teeth whitening, both of which provide different degrees of whitening.
● At-Home Whitening Kits
These do-it-yourself treatments consist of a whitening gel and custom-made trays that fit over your teeth to hold the gel in place. The treatment is designed to work while you sleep. So, each night, for around two weeks (or until the desired degree of whitening is achieved), you place gel into the trays and fit them over your teeth. In the morning, you simply remove them, then clean your teeth and the trays to remove all traces of the gel.
Two visits to the dentist in Bali should be enough to get you set up. On the first visit, the dentist takes impressions of your teeth, which are sent to the laboratory where your trays are custom-made. After a couple of days, simply return to the dentist to pick up the trays and gel, ready to head back home and apply.
The gel you get from the dentist is likely to be stronger than other over-the-counter gels and these promise more noticeable results. However, if you want to see a more drastic difference, then laser teeth whitening is the procedure for you.
● Laser Teeth Whitening
This treatment whitens teeth by up to 14 shades. Prior to the treatment, the shade of your teeth will be matched to a shade chart, which is then used again to compare your teeth after the treatment.
The treatment typically takes a couple of hours. Your teeth are thoroughly cleaned before a rubber dam is placed around them to protect soft tissue . Protective eyewear is worn to shield your eyes from the laser beam. A whitening gel is applied to the teeth and left for 15 minutes, after which a laser is applied to the gel, activating its bleaching properties. The gel is removed and the process repeated several times. Some treatments only require one application of gel for 45 minutes before the laser is applied, so don't worry if this part of the treatment is slightly different – it all depends on what system your dentist is using.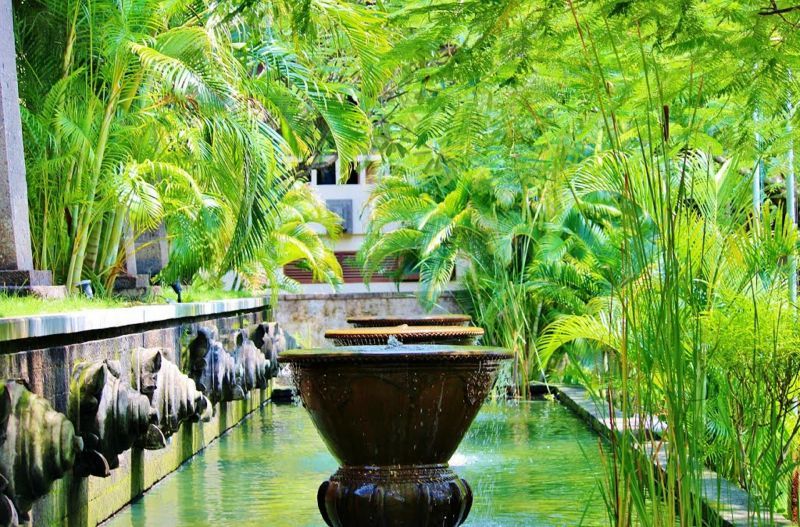 How Much Can I Save on Teeth Whitening in Nusa Dua?
The average cost of laser teeth whitening price in Nusa Dua is shown below, compared to prices at home. At-home whitening kits are usually cheaper.
| | | | | | | |
| --- | --- | --- | --- | --- | --- | --- |
| | AUS $ | NZ $ | UK £ | EUR € | US $ | CAN $ |
| Laser teeth Whitening Price – Home | 657 | 705 | 387 | 460 | 496 | 669 |
| Laser Teeth Whitening Price – Nusa Dua | 400 | 437 | 240 | 286 | 307 | 414 |
Where Can I Get Teeth Whitening in Nusa Dua?
You can get teeth whitening treatments at clinics all over Bali. In Nusa Dua, the BIMC Hospital Dental Centre is a popular choice for international patients. BIMC is an internationally accredited medical center, offering the highest standards of clinical care.
What's Next?
At-home kits offer a more affordable solution that can be re-used by obtaining more gel from your local dentist after you are back.
The teeth whitening cost Nusa Dua offers is good enough reason to get this simple yet effective treatment done while visiting Bali. Laser teeth whitening gives the most dramatic results but the at-home kits are great if you prefer to have a more subtle change.
For either option, you can book an appointment online with us, it's free! Or please feel free to contact our Customer Care Team with any questions or concerns. We're here to help.
Sources:
Why Should I Whiten My Teeth? Colgate Oral Care Center. 11 November 2010. https://www.colgate.com/en-us/oral-health/cosmetic-dentistry/teeth-whitening/why-should-i-whiten-my-teeth" target="_blank
Michael Friedman, DDS. Teeth Whitening. WebMD. 25 January 2017. https://www.webmd.com/oral-health/teeth-whitening#1" target="_blank
Things to Do in Nusa Dua. Frommer's. https://www.frommers.com/destinations/nusa-dua" target="_blank