The procedure is quick, taking just a few hours to complete, and is totally painless, leaving you free to enjoy the rest of your holiday in this fascinating and historic city. You can achieve the same high-quality results from your treatment that you would expect to receive in your home country, but for a significantly lower price.
Dentists in Ho Chi Minh City have cutting-edge facilities and utilize state-of-the-art equipment and materials, enabling them to deliver a range of quality laser teeth whitening systems such as BriteSmile and Zoom!
How Does Laser Teeth Whitening Work?
Unlike an at-home whitening kit, laser teeth whitening in Ho Chi Minh City is carried out by a trained professional in a suitable dental facility. A bleaching agent is applied to the surface of the teeth and a laser is used to activate chemicals in the solution, causing a reaction that can lighten the teeth by up five or six shades. A rubber dam will be placed over your teeth to protect your gums throughout the whole process and, aside from a little tooth sensitivity afterwards, there is virtually no downtime after the procedure, allowing you to go about your business normally.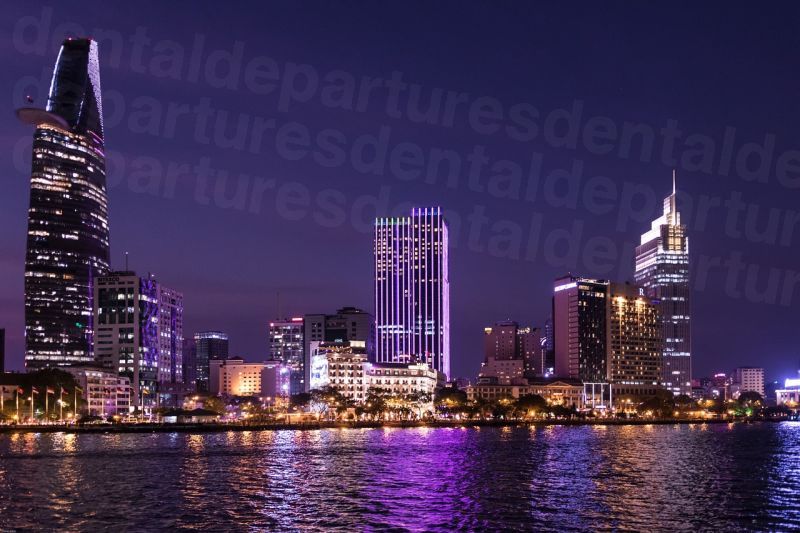 Where can I get the Treatment in Ho Chi Minh City?
There are plenty of laser teeth whitening clinics in Ho Chi Minh City for you to choose from. To gauge the effectiveness of the treatment, you should check out some images for laser tooth whitening, before and after. Ho Chi Minh City's top-rated clinics for this procedure include:
Open 7 days a week, it's easy and convenient to book your treatment with Vinh An. This modern facility uses the latest technologies and equipment to deliver superior teeth whitening results that are performed by internationally-trained dental experts.
With certification from the International Organization for Standardization (ISO), this state-of-the-art facility is equipped to deliver outstanding whitening procedures from a team of surgeons that have undergone their training in countries that include Australia and the United States.
With certifications from both the American Dental Association (ADA) and the International Congress of Oral Implantologists (ICOI), patients are guaranteed to receive treatment here that meets international standards for quality and service.
How Much Will It Cost?
Aside from the assurance that you will receive first-class treatment in Ho Chi Minh City, you are also guaranteed to make a significant saving on the cost of the procedure. Take a look at this breakdown of average prices from around the world compared to dentists in Ho Chi Minh City to see just how much you can save on the cost of laser teeth whitening:
Average Domestic Cost: AUD $870; NZD $971; USD $667; CAD $858; GBP £509; EUR €576
Price in Ho Chi Minh City: AUD $230; NZD $256; USD $176; CAD $226; GBP £134; EUR €152

Overall Saving: 73%
So, get in touch with a member of our Customer Care Team today and see how you can benefit from the teeth whitening cost in Ho Chi Minh City.