While dental implants are among the most expensive dental procedures, by traveling overseas for treatment you can realize huge savings. Prices do vary across different regions, so here at Dental Departures, we monitor the cost of affordable dental implants in popular dental tourism destinations.
Our price guide can help you understand what you can expect to pay in different countries, and give you an idea of how cheap is too cheap for dental implants.
Average Prices for Dental Implants Across the Globe
In the United States, you can expect to pay around $3,900 for a single dental implant. The United Kingdom will set you back roughly £2,900, while in Australia the cost comes to $5,000. These countries are some of the most expensive in the world healthcare of all descriptions, but you do not have to travel too far to find more affordable care.
Americans need only cross the border into Mexico to enjoy savings of over 60%, with an average cost of $1,250 for a single dental implant.
For Australians, one of the closest places for discount dental implants is Indonesia, particularly Bali, where you can expect to pay $1,585.
If you are British, just a short flight away is Hungary, where the price for a dental implant is around £900.
Some dental implant clinics will offer lower prices than these; however, do not make your decision based on cost alone. Check out the Dental Departures Premium Clinics and Verified Clinics, which have been inspected by our team, then read authentic reviews from past patients about the care they received.
What Exactly are Dental Implants?
Dental implants are replacement teeth attached to your jaw, for just a single tooth or a full arch of teeth. A single dental implant involves securing an implant, like a screw, into your jawbone where a tooth is missing. This implant is left to settle for four to six months, with a temporary crown affixed, so that it fuses with your bone securely. Once the implant is secure, an abutment and permanent crown are fitted, and your procedure is complete.
Procedures like full mouth restorations with multiple implants are designed to replace a full arch of teeth without having to place an implant for every individual tooth. These involve the insertion of four, six or eight implants into the jawbone, onto which a full permanent set of teeth are attached. If you need multiple teeth replaced, these kinds of restorations can often be cheaper and faster than having many individual dental implants.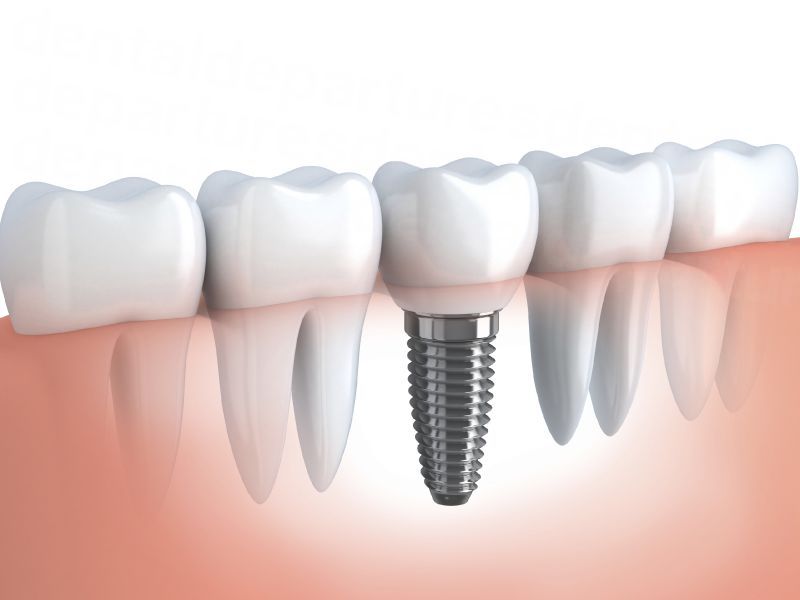 Choosing the Right Dental Implant Clinic for You
Consider how much you want to pay and how far you want to travel for dental implants, then begin to shortlist trusted dental clinics listed here at Dental Departures.
If you need any assistance or have any questions when deciding which country and dental clinic to visit, simply get in touch with our Customer Care Team for help. When you are ready, book your appointment online right here at Dental Departures.