Looking for top-notch, cost-effective dental care in Thailand? Save more than 50% on the dental implants cost in Thailand with Dental Departures.
Combine your annual holiday with dental work and let us take the sting out of the cost. Let us put a smile on your face thanks to our best price guarantee , quality-checked dentists and world-class facilities.
It is no wonder many patients visit Thailand for inexpensive care and to explore its idyllic surroundings.
Why Choose Thailand For Dental Implants?
Thailand is a world leader in dental tourism, continuing to grow as many patients seek out first-class, affordable dental care.
Utilising state-of-the-art equipment and identical branded materials, Dental Departures only work with the best implantologists in Thailand . You are in safe hands with specialist dental experts in their chosen field who continually stay abreast of the latest industry trends.
All Thai dentists are registered and fully-regulated by the Thai Dental Council and Thailand Ministry of Public Health, ensuring high clinical standards are followed. Furthermore, our best dentists belong to international affiliations and professional organisations such as the International Congress of Oral Implantologists . Our quality-checked Thai dentists undertake rigorous training in the US, the UK or Australia. Patients enjoy the latest techniques and ultra-modern instrumentation, such as digital panoramic x-ray, CT scanning equipment and 3D CAD/CAM.
Our best Thai dentists offer warranties on treatment as well laboratory work. Dental Departures acts as a safety net, supporting our patients through the entire dental process, which is important in the rare event that a complication may arise.
Thousands of overseas patients take advantage of high-quality, cost-effective dental work in Thailand with easy access by air to this luxurious setting. Our fully-vetted dentists undertake many dental implant procedures annually at a fraction of the price compared to home. Considered to be the ideal solution to dentures, implants offer a permanent solution, often requiring less daily maintenance.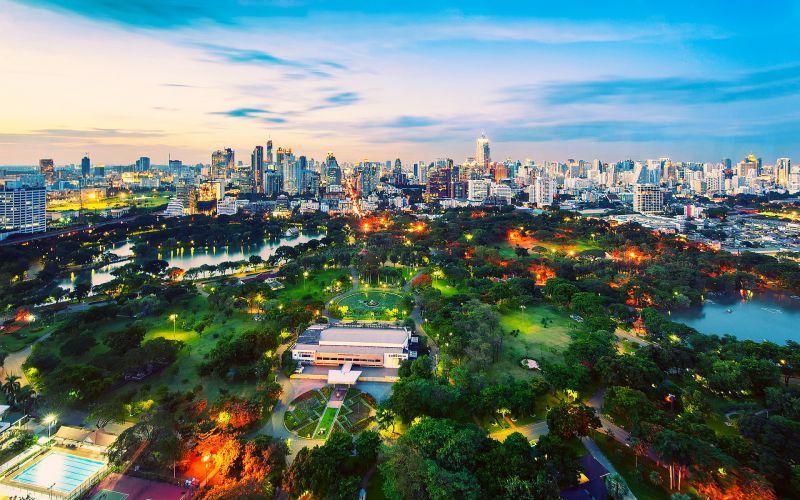 Dental Implants—Explanation
The dental implant procedure comprises of the implant, an abutment and a crown. The abutment joins the crown to the implant. The crown is an artificial tooth that fits on top of the abutment, specially made to match your other teeth in shape and colour tone.
The implant will be inserted on your first visit, which can usually can be achieved in one day. The next trip will be scheduled in between three and six months later in order for both the bone and implant to fuse together. This process is called osseointegration, providing a stable base for your crown. The abutment and crown are both placed on this follow-up visit.
Please consider that ideal bone level is needed to support the implants. Therefore, if the bone level is too shallow or narrow, bone grafts may be needed for implant placements. Your home-town dentist can provide guidance on bone grafts and other considerations.
Dental implants would be paid for on the first trip with the abutments and crowns on your return visit.
Clinics in Thailand—Overview
Finding and choosing the right dentist can be a long and arduous process. With Dental Departures, we help make your decision-making process hassle-free. We background-check every clinic for stringent hygiene, clinical quality, dental qualification and memberships, ensuring a first-class experience.
Dental tourists have been visiting Thailand for some years, with a well-deserved reputation for delivering top-quality, inexpensive treatments by skilled dentists.
Catering to thousands of international patients every year, Thailand's unique service culture and leading clinical quality can be found across its hospitals and clinics, featuring English-speaking staff, modern diagnostic equipment and contemporary interiors.
More than 60 Thai hospitals and clinics have achieved prestigiousJCI accreditation , a US-based assessor of healthcare quality.
With more than 60 treatment rooms and 100-plus dentists, both clinics belong to one of the biggest private dental network providers in Asia. BIDC facilities are impressive, including a multi-storey dental clinic, bank, hotel, on-site dental implant labs and numerous patient amenities. With one of the highest dental implant success rates in Thailand, BIDC is home to both the SLActive Straumann Dental Implant and Bone Level Straumann Dental Implant system.
Thailand remains a world leader in both dental tourism and complex dentures and implants, making thousands of patients smile each year on price and procedure. Compare prices, view maps and read trusted patient testimonials before you book.
What is the Price of Dental Care Compared to Australia and New Zealand?
Save more up to 65% on our selection of background-checked dental Implant clinics in Thailand :
Dental implant cost in Australia: $5,098 AUD

Dental implant cost in New Zealand: $5,238 NZD

Average dental implant cost in Thailand: $1,900
Why Choose Thailand?
Known as the "Land of the Smiles," Thailand is consistently popular with dental tourism travellers looking for world-class facilities, top-quality treatment, first-class service and affordable prices.
International flights provide non-stop routes to Bangkok and other major Thai destinations including Phuket, Koh Samui, Chiang Mai and Pattaya .
Brimming with tropical rainforests, limestone cliffs, golden shorelines and culture, Thailand is the ideal dental destination for pre-treatment holiday or relaxing post-treatment recuperation. This exotic location draws visitors in with ancient temples, authentic Thai cuisine, diverse cities and array of activities.
Discover adventure trails and hidden villages in Chiang Mai, mouth-watering street food in Bangkok, rice paddies and stunning beaches in Kata, Ao Bang Thao and Hat Surin.
Staying in Thailand
Plentiful accommodation options await you in Thailand ranging from ultra-modern five-star hotels to budget-friendly options.
Due to Bangkok's traffic congestion, patients are advised to book lodging close to their chosen clinic. Our Customer Care team can assist in finding suitable accommodation nearby, whilst some Thai clinics offer convenient hotel-to-clinic shuttle services.
Complimentary and discounted hotel rates may be arranged directly through your reservation with Dental Departures.
How Do I Get Started?
Book an appointment online today for your dental implant work in Thailand with Dental Departures. Pay the best price for an unbeatable deal—guaranteed. We are always happy to discuss your specific requirements via our online chat, e-mail or toll-free phone number.