Spain is the second most visited country in the world. It is a tourism Mecca in Europe, welcoming individuals from all walks of life, including dental tourists. These are people travelling to a different country for affordable dental care. Since dental services are expensive in the UK, many Brits seek an affordable dental implant clinic in Spain .
Spain's vast tourism appeal makes the country a hotspot for travellers, including dental tourists. With world-class dentists and modern clinics in Spain, the country is particularly attractive for travellers looking to combine vacation with dental treatment.
The chance to get dental implants for a third of the price is an amazing proposition. The price difference also raises some questions about the quality of dental implants. Rest assured; as long as you visit the suitable dental implant clinic in Spain, you will not worry about quality.
What Are Dental Implants?
Before we discuss the price difference-here is a word about dental implants. A dental implant is a surgical fixture designed to infuse with the jawbone and replace a missing tooth. Materials such as titanium are used to create the implants, allowing for intimate bonding with the bone. First, the fixture is placed, and then the dental prosthetic is added.
The healing time varies from person to person. There are two key visits to the dentist for dental implants, 4-6 months apart. Keep this in mind when planning your dental holiday in Spain. With the savings, the two trips should not be a problem.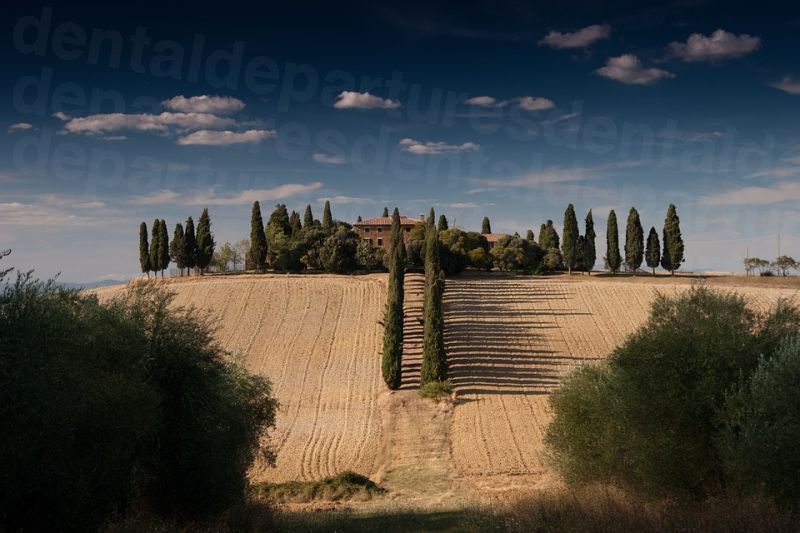 Dental Implant Prices in Spain
The average price of a dental implant in the UK is £3,000 (€3,417). Compare this to the starting prices at Spain's top dental clinics:
The quality of dental implants at these clinics is at par with the best in the UK. Our screening process ensures only the best dental clinics are added to our listing. This includes:
Malpractice/criminal records assessment

Onsite visits

Dentists' qualification verification

Dental association membership authentication

Collecting authentic patient reviews
All these substantiate top-quality dental implants when you visit Spain.
Are you wondering how even the most experienced dentists working in well-equipped clinics are able to offer such amazing rates? The main reason is the difference in operating costs. In Spain, it it is less expensive to operate a dental clinic than in the UK. The cost of living is lower as well. The only catch is finding a dependable dental implant clinic in Spain. With the help of Dental Departures, this is not an issue.
Holiday
In addition to quality dental implants, you also enjoy a quality holiday in Spain. From legendary nightclubs, to yellow sand beaches, to majestic landmarks,]; Spain has its fair share of tourist attractions. For dental tourists, the presence of modern dental clinics makes the country a top choice for getting dental implants. You will love everything from the sunny skies to experienced and affordable dentists.
No Need to Learn Spanish!
Dentists at best clinics like the ones mentioned above speak English very well. You can discuss your dental implant needs without any issues. These clinics cater to many English-speaking dental tourists and you will not worry about a language barrier.
Make sure to read about the clinics, get personalized quotes and compare prices before choosing one. We can also connect you to former patients for dental implants. A brief conversation with these dental tourists will help you better plan the visit. Booking with Dental Departures, you have warranties on the dental work and materials used.
A big part of making the most of dental tourism in this country is finding the appropriate dental implant clinic in Spain. Feel free to read more about the three clinics listed above on Dental Departures. You can always contact us if you have any questions before, during or after your dental holiday.