For Americans who want to travel overseas to visit a low-cost dentist Mexico is the easiest and quickest destination to reach. It is no secret that veneers are much cheaper here than the United States, and for this reason thousands of dental tourists make the journey to this Latin American country every year for dental treatment. The savings you can make are substantial—even after the cost of flights and accommodation, you are still likely to have money left in your pocket!
In Mexico dentists are able to offer veneers at a lower price than dentists in the United States thanks to lower overheads. The costs associated with running a dental clinic, expenses like electricity bills, business insurance, and salaries, are generally not as high in Mexico as the United States. Therefore, dental treatment prices can be lower and the dental clinic can still make a profit.
The Price of Veneers: United States vs Mexico
The average price of one veneer in the United States comes in at around $1,245, so a set across your front six teeth will set you back roughly $7,470. Compare these figures to the cost of veneers in Mexico , where a single veneer can range from $344 to $612. The average price for veneers in Mexico is $477, so a set of six for your top front teeth will cost just $2,862. That's over 60% less expensive than in the United States, and a saving of more than $4,600!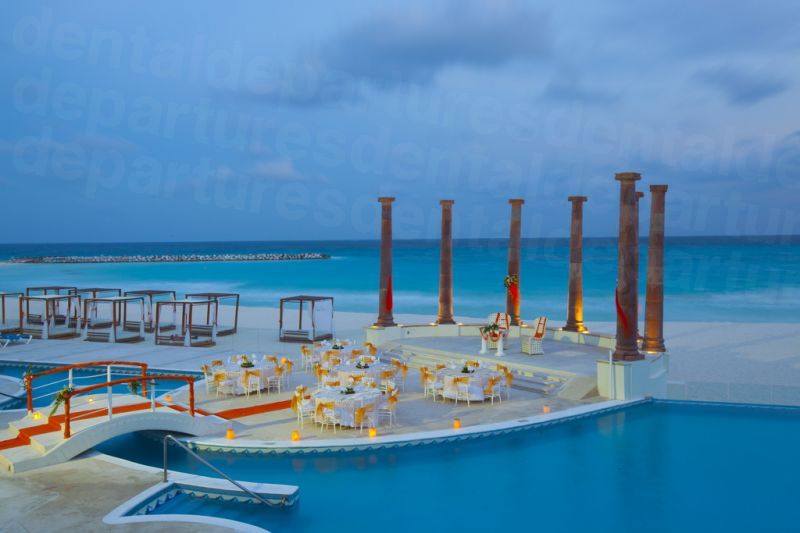 Check Out These T op 3 V eneers C linics in Mexico
You can find high-quality dental clinics all over Mexico, from Tijuana to Guadalajara, but with so many options it can be hard to arrive at the best choice. At Dental Departures we visit and verify the best Mexican dental clinics to make it easier for you to make an informed decision.
The US-Mexico border town of Los Algodones is full of dental clinics, so many that it has earned the nickname "Molar City." One of the best dental clinics here is Sani Dental Group , winner of the Dental Departures Global Patients' Choice Award. With 22 dental chairs, waiting times for an appointment are usually short. Sani has a fully-equipped CAD/CAM on-site laboratory, which means they make veneers and crowns are manufactured at the clinic for same-day treatments in many cases.
Another quality Los Algodones dental clinic is Supreme Dental Clinic , where many of the dentists are members of the American Dental Association and speak both Spanish and English. With over 1,700 reviews from happy past patients, this place has also undergone a rigorous four-part review to become a Dental Departures Verified Clinic.
Mexicali is also a top dental tourism destination, and our number one dental clinic here is Clinica de Ortodoncia & Estetica Dental . Both general and cosmetic dentistry are available, with the price of a high-quality zirconia veneer coming in at just $400! Other perks for patients include free border transport and wifi.
Speak to our Customer Care Team to get answers to all your questions about having veneers done in Mexico, and when you are ready to book your appointment do it online here at Dental Departures.