Do you know how much you can save on All on Four in Budapest? Look at our list and get discounts from the clinics that offer All on Four Implants. Budapest has a bunch of clinics offering inexpensive treatments. Keep reading to know more.
What are All on Four Dental Implants?
All on Four replaces the entire teeth in the upper or lower jaw using four implants that are inserted at an angle. These implants serve as substitute roots attached to a dental bridge. The technique eliminates the need for bone surgery that saves cost and shortens treatment time.
If you want to know if All on Four is right for you, visit a clinic in Budapest on your holiday. Your dentist in Budapest will conduct a comprehensive examination and evaluate your dental/medical condition. Upon verification, your dentist will place the All on Four dental implants in the jawbone and attach them to the temporary teeth. The temporaries will be replaced with permanent teeth after the healing period. You need to observe proper oral hygiene and get regular dental checkup to achieve optimum health.
How much is the price of All on Four in Budapest?
The price of All on Four in Budapest is lower compared at home. You'll get as much as 60% on your dental cost in Budapest. Take a look at the table below that shows the price comparison of All on Four.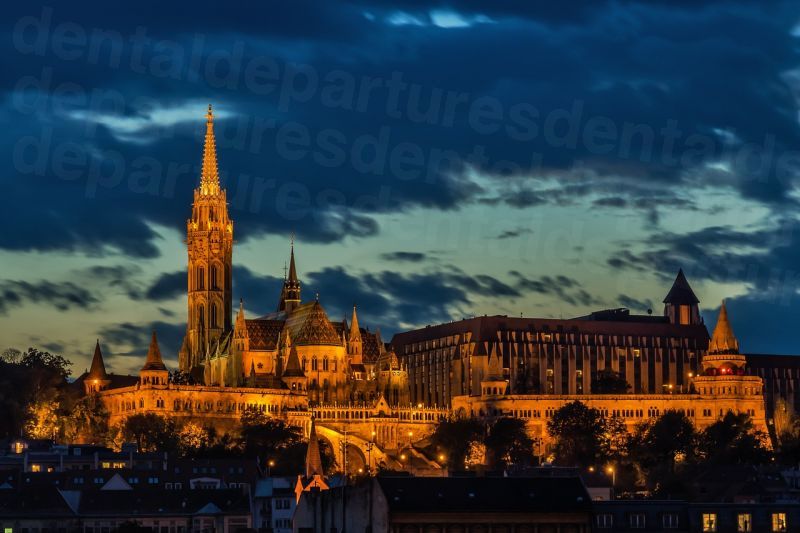 All On Four Implants: Budapest vs. other countries
| | | | | | | |
| --- | --- | --- | --- | --- | --- | --- |
| | GBP | EUR | USD | CAD | AUD | NZD |
| Price in Budapest | GBP 5,854 | EUR 6,990 | USD $7,497 | CAD $10,119 | AUD $9,938 | NZD $10,662 |
| Other countries | GBP 16,033 | EUR 19,144 | USD $20,533 | CAD $27,715 | AUD $27,218 | NZD $29,201 |
How's the quality of care in Budapest?
The quality of care in Budapest is comparable at home? We have a list of clinics in Budapest that provide exceptional dental service. These clinics are screened to help dental tourists. Some of the clinics we verified include the following.
Evergreen Dental clinic is certified by the International Organization for Standardization (ISO). The clinic is equipped with modern laboratory that produce dental restorations in just a short time. It has a team of specialists in Oral Surgery, Implantology, Periodontics, Orthodontics, and other fields. The clinic offers dental implants as well as other specialized treatments such as gum care, crowns, bridges, and veneers.

Dabasi Dent is located in the heart of Budapest convenient for dental tourists. This clinic is headed by an oral surgeon who has more than 20 years of dental experience. It offers Dental Implants, Aesthetic Dentistry, and other specialized treatments.

Dental Solution Haifa offers superb dental care in a comfortable environment. The clinic covers a wide range of treatments such as dental implants, crowns, oral surgery, and root canal therapy. Aside from the treatments, the clinic offers free airport transfer, free consultation, and hotel discounts.
Get big savings from the Budapest clinics that offer All on Four Implants. Budapest provides specialized treatments that can restore your missing teeth. View our quality-checked clinics and book an appointment with a clinic in Budapest.