In Australia, dentists in Sydney are charging around AUD $35,000 for the All-on-4® treatment concept, whereas you can get the same treatment abroad for anywhere between 60%-80% less thanks to dental tourism – and all without compromising on the quality of the workmanship that you receive!
Learn more about this full arch restoration method provided by Nobel Biocare and see how much you can save in top Southeast Asian destinations with Dental Departures.
What Is Dental Tourism?
Essentially, dental tourism is a phrase that refers to anybody who travels overseas with the intention of undergoing dental treatment. Often, prospective patients fly for the sole reason of receiving more affordable care, while others may choose to combine their treatment with a bit of a holiday at the same time.
Thousands of Aussies have already taken advantage of the superior dental treatment that dentists in Thailand and Bali can offer, and all for a fraction of the prices being charged by domestic dentists.
How Much Can I Save on the All-on-4® treatment concept Abroad?
See below to see how much you can save on this dental restoration treatment in Phuket, Bangkok and Bali compared to prices in Sydney, Australia:
Sydney price vs overseas price:
[Please note that these are estimated prices at the time of writing. See our individual clinic listings for latest prices.]
As dental costs continue to rise in Australia, more and more families are seeking out alternative solutions to minimize their soaring annual dental bills. By booking your treatment through Dental Departures, you can ensure that you get a quality-checked dentist at the lowest rate possible, thanks to our best price guarantee policy.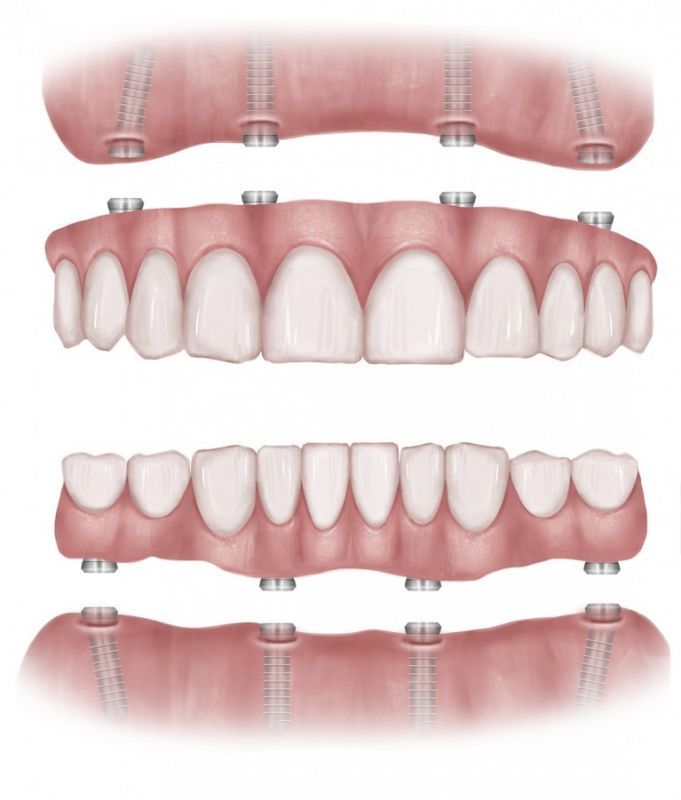 What Exactly Does the Procedure Entail?
The All-on-4® treatment concept uses a set of four dental implants, either upper or lower jaw, onto which a complete set of teeth are affixed. Each implant is inserted directly into the jawbone, at an angle, and a full bridge is then attached onto the implants.
The treatment usually requires two visits to complete. During the first visit, your dentist will perform a thorough examination of your mouth and jaw, which will generally involve a series of 3D scans and/or x-rays. You will also have impressions taken so that your new set of teeth can be fabricated.
The second visit will involve a series of small incisions being made into your gum to allow four implants to be inserted directly into the jawbone (two at the front, and two near the back). There will generally be a wait of between six to 12 months before your next visit to allow the implants to fuse securely with your jawbone through a process known as osseointegration.
Once the implants are securely fused, your dentist can then attach a permanent bridge during your third visit.
Will I Get Quality Treatment if I Travel Overseas?
Absolutely! Here at Dental Departures, we've compiled lists of quality-checked surgeons and clinics throughout the world that can perform this specialist procedure. Every entry in our listing has passed a series of background checks to verify professional associations and dental qualifications.
All of this information is available on our website for you to access, free-of-charge, along with site photographs, patient reviews and details of any professional memberships that may be held with globally-recognised organizations such as the International Congress of Oral Implantologists (ICOI).
Getting Started with Dental Departures
So, get in touch with our Customer Care Team today and discover how much you can save on the All-on-4® treatment concept. Sydney dentists will charge you top dollar, so why not save yourself thousands by undergoing your treatment abroad?
Sources:
All-on-4® treatment concept. Nobel Biocare. Website accessed: 9 February 2021. https://www.nobelbiocare.com/en-us/all-on-4-treatment-concept
International Congress of Oral Implantologists. Website accessed: 9 February 2021. https://www.icoi.org/