The Spanish resort city of Marbella is a great place to find the All-on-4® treatment concept.
Revamping your smile has never been so affordable and enjoyable. The costs in Marbella can save you thousands of pounds, allowing you to enjoy a holiday in the sun after your treatment and still come home with money to spare.
Spanish destinations like Marbella have always been popular holiday spots for Brits. Now, a lot of people also travel for dental tourism, enjoying top-class dentistry for a fraction of the cost, especially for expensive procedures like full-arch restoration work.
How Much is the All-on-4® treatment concept in Marbella?
Check out the costs for a full-arch restoration at Marbella's top three clinics:
Considering you have to spend around £16,033 (€19,144) for this procedure in the UK, a trip to Marbella makes perfect financial sense. The opportunity to save over ten thousand pounds has already attracted thousands of Brits to this amazing city.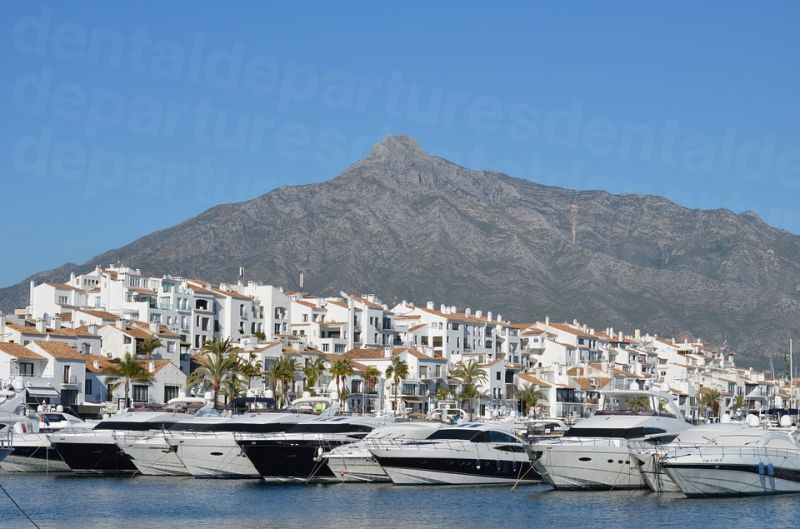 What really makes these savings worth it is that you do not have to compromise on the quality of your treatment.
Our website contains information regarding the very best the All-on-4® treatment concept clinics Marbella has to offer, giving you the peace of mind of knowing that your treatment will be carried out by one of the most competent and reliable dentists in Spain.
To ensure you are getting a quality dental implant system at an affordable price, our team goes to great lengths to vet each clinic before adding it to our listing. Their efforts include:
Visiting each clinic

Checking malpractice and criminal records

Verifying dentist and staff qualifications

Verifying dental association memberships

Collecting authentic patient reviews
We can also introduce you to past patients who have visited the clinics you are considering. This helps you better understand the clinic and what it is like traveling to Marbella as a dental tourist.
Dental and Tourist Haven
Marbella is an impressive blend of extravagance and serenity. On one hand you have the "Golden Mile" dotted with shimmering restaurants, uptown hotels and star-studded clubs. On the other hand, you can enjoy Marbella's natural settings, with the picturesque Sierra Blanca mountains and old town appeal, complete with slim lanes and well-tended flower boxes.
Whatever your preference is, Marbella has something for everyone to enjoy. The following tours are just a sample of what's on offer at this amazing Spanish resort:
Tour of the Alhambra

Full-day Gibraltar tour

Ronda tour, including the Ronda winery

Tour to Ojen

Half-day tour in Mijas Pueblo
There are also some must-visit sites to explore in Marbella itself, such as:
Alameda Park

Avenida del Mar

Bonsai Museum

Iglesia de la Encarnación

Old-town

Museum of Spanish Contemporary Engraving

Puerto Banús

Roman Villa

Vega del mar Basilica
Keep in mind that you will have to return to Marbella again around four to six months after your initial visit to complete your treatment. Your dentist will insert four implants into your jawbone during your first appointment. It then takes around four to six months for the implants to fuse securely into the bone through a natural process known as osseointegration.
Once this process is complete, you fly back for your dentist to complete the permanent restorations. You can think of this as getting two complimentary Spanish holidays along with your treatment as the low costs in Marbella will more than cover the cost of your plane ticket, hotel accommodation and other fun activities.
For quality dentistry at low prices, Marbella is the ideal choice for Brits looking to combine their treatment with a holiday in the sun, but keep the following points in mind when planning your dental holiday:
Understand the treatment process clearly

Ask for personalized quotes

Email your dental records to the clinic before traveling

Carry backup files of your records

Be clear about the location of your hotel and clinic

Book through Dental Departures to get warranties for all treatments and materials used
How Do I Book?
You can make the most of the low All-on-4® treatment concept costs in Marbella by choosing the right clinic. Talk to a member of the Dental Departures Customer Care Team to get a feel for which clinic will suit you best.