Save up to 70% off dental treatment in Bangkok with Dental Departures. Considered to be the world's most popular medical tourism hotspot, find and book a quality-checked dentist at affordable rates for the ultimate in dental care. Combine this with a relaxing vacation and it is no wonder why many international patients choose Bangkok.
We know how important it is to locate a reputable, fully-qualified specialist. Dental Departures work in conjunction with some of the finest dentists in Bangkok , ensuring patients receive first-rate dental care at inexpensive prices.
Why Is Bangkok the Ideal Choice for Dental Care?
This pulsating metropolis is the global epicentre of dental tourism, home to complex dental care, with implantologists , cosmetic oral surgeons and paediatric specialists capable of addressing all manner of dental conditions.
World-class facilities offer a myriad of All-on-6 options such as the internationally accredited Bangkok International Dental Center (BIDC) .
Boasting a purpose-built dental hospital with more than 80 specialists, on-site laboratories and a boutique hotel, BIDC provides the very best in dental care. Bangkok's clinical reputation is second to none and far more affordable compared to Australia and New Zealand.
Bangkok's best clinics are impressively ultra-modern, featuring cutting-edge equipment, state-of-the-art facilities and a collection of top specialists. Bangkok dentists have all undergone rigorous training and trained at numerous internationally-renowned dental schools across Australia, Germany, the US and the UK.
Clinics in Bangkok
Finding a reputable clinic in Bangkok is a seamless process with Dental Departures. Working with fully-approved, certified dentists, our stringent background-quality checks help assure you of a rewarding clinical outcome.
From annual checkups to complex procedures and All on Six implants in bangkok , many patients across Australia, New Zealand, North America and the EU have already visited one of our outstanding clinics such as Thantakit International Dental Centre.
Browse before you book. Read feedback and trusted reviews, compare prices and check out your options.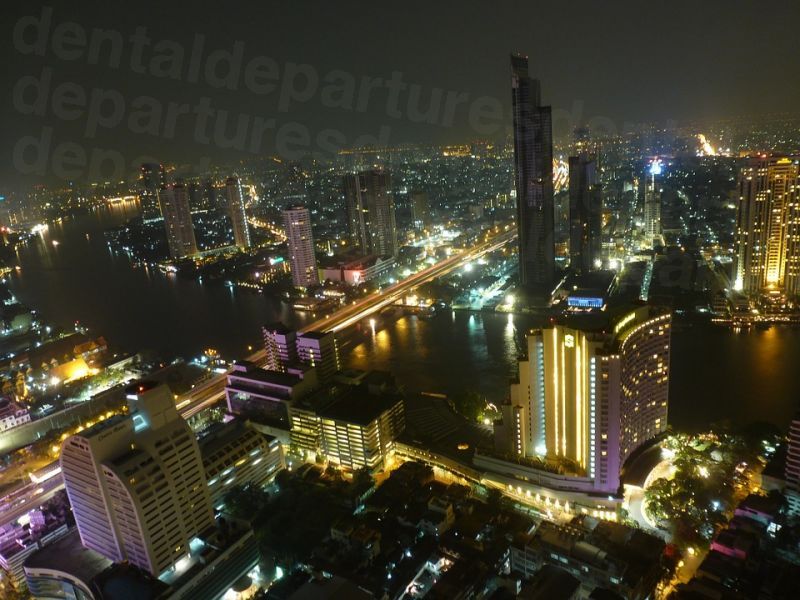 What Is the Price of Dental Treatment in Bangkok Compared to Home?
Save up to 70% on the All-on-6 cost in Bangkok. Prices can be found below;
• Avg. cost of a single dental crown in Australia: $1,200 AUD
• At a dentist in Bangkok: $280 AUD
• Avg. cost, root canal, post, and crown treatment in Australia: $2,375 AUD
• Dentist in Bangkok: $900 AUD
• Avg. cost of dental implant and crown treatment in Australia: $5,000 AUD
• At a dentist in Bangkok: $2,000 AUD
Why Choose Dentistry in Bangkok?
Located on the Chao Phraya River, Thailand's capital is full of dynamism, culture, tradition and heritage. Home to 12 million people, more than two million patients visit Bangkok every year for top-notch, low-cost medical and dental care.
Recognised as one of Southeast Asia's major hubs for dental care, a host of international flights make dental clinics here extremely accessible.
Tourist attractions include the iconic Grand Palace, whilst you can also visit a plethora of temples. Savour five-star dining, a wealth of street food from several vendors or a river cruise.
Visit the floating market along the Chao Phraya or the night-market in Patpong, or discover retail therapy at one of Bangkok's glitzy shopping malls. Experience the narrow streets of Chinatown, take the BTS (Skytrain) to Sukhumvit for its vibrant nightlife scene or hop on a Segway tour.
Staying in Bangkok
There are plenty of accommodation options in Bangkok to suit any budget, notably around the diverse Sukhumvit area. You will find a wealth of restaurants, shops and Bangkok's public Sky Train.
Due to traffic build-up, patients are advised to reserve lodging close to your chosen dental clinic. Many of our clinics offer discounted rates on partner hotels; our Customer Care Team is happy to assist with your travel arrangements.
How to Book?
Check-out clinic pictures, view maps, read trusted reviews and compare prices. Enjoy exclusive discounts and our best price guarantee to obtain the best deals. Contact Dental Departures via online chat, e-mail or our toll-free number for any queries about dental care in Bangkok.