Did you know that in Vietnam, dental costs are just a fraction of what they are in Western countries? With prices so low, you can turn your trip to the dentist into the vacation of a lifetime - especially with an expensive procedure like an all on 4. Hanoi costs, for example, are around a third of the price you'd pay at home - making for big, big savings.
What is an all on 4?
An all on 4 is a dental procedure in which 4 implants are inserted into the upper and lower arches of the mouth, providing support, and acting as anchor points for which artificial teeth can be installed. The procedure is ideal for patients who are suffering from broken, missing, rotting, or decayed teeth. It is also a good permanent solution to dentures, eliminating the need for messy adhesives, dietary restrictions, slippage, cleaning issues, etc…
How much does an all on 4 cost?
In western countries, an all on four can easily cost $26,000 USD (or £20,280 GBP, $35,100 AUD, €23,140 EUR). However, by seeking alternatives abroad, you can find yourself paying just a small percentage of that price. On average, dental care in Hanoi is about 70% cheaper than what you are used to, and the average price of an all on four is just around $8,000 USD (or £6,240 GBP, $10,800 AUD, €7,120 EUR). With all of the money you can save, you will have more than enough to cover the cost of your procedure, your flights, hotels, food, entertainment, and still have plenty left over to take home with you.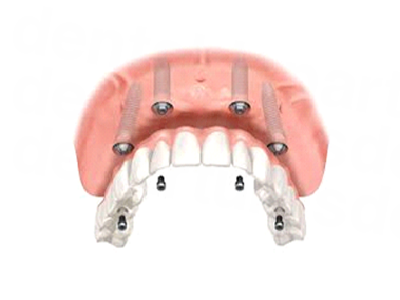 Where can I get an all on 4?
Trying to find the lowest cost for all on 4? Check out these clinics for great care at affordable prices! Click the links to learn more.
Serenity International Dental Clinic – Their dedicated team of dentists and staff offer more than 30 years of high quality dental experience to their customers. Their specialists are all internationally trained in Europe, and offer a wide variety of procedures to get you smiling again.
That just about wraps it up for all All on 4, Hanoi. Costs, clinics, patient reviews and much more can be found across our website, or you can contact our Customer Care team with specific questions.