It is no secret that in Budapest dentist fees are much lower than in the United Kingdom, and every year thousands of British dental patients travel to the Hungarian capital for affordable dental treatment.
For expensive procedures like dental implants and full mouth restorations the savings patients make can reach beyond £20,000.
The average flight time from London to Budapest is just 2 hours and 10 minutes, and a return ticket is often available for between £50 to £100, sometimes as low as £25.
While low prices for treatment and travel have helped to fuel dental tourism in Hungary, these are not the only reasons why Britons visit Budapest to see the dentist.
The Rise of Dental Tourism in Hungary
Hungary has one of the highest concentrations of dentists per capita, so it is unlikely you will have to wait very long for an appointment. The same cannot be said for the UK, where a shortage of NHS dentists leaves many patients waiting months to get treatment. Private UK dentists charge some of the highest fees for dental work in the world, so in Hungary, dentists are capitalising on the fact that British patients want to get treated quickly and pay less. Another contributing factor to the growth of Hungary's dental tourism market is the high-quality dental care that overseas patients receive here.
Hungarian dentistry is held in high regard across the world, with many foreign trainee dentists choosing to study at universities in the Central European country. Qualification standards match those of Western European and North American countries, and materials used in Hungarian dental practices are of the same high quality that you will find in British and Irish dental clinics. When it comes to complications with your dental treatment, you are just as likely to experience problems with UK dentistry as you would from a dentist in Hungary.
Comparing the Cost of Dental Implants: UK vs Hungary
The price of dental implants in Budapest is just a fraction of the price dentists in England, Scotland, Wales, and Ireland charge.
An All-on-6 costs on average £25,638 in Britain, whereas in Hungary you can get the same procedure done for as little as £5,017, which would save you a huge £20,621!
For just a single dental implant the average UK price comes in at £2,928, but visit our top-rated dental clinic in Budapest and the price drops all the way down to £773.
[Note: these are estimated prices calculated at the time of writing. Please see our clinic listings for up-to-date prices.]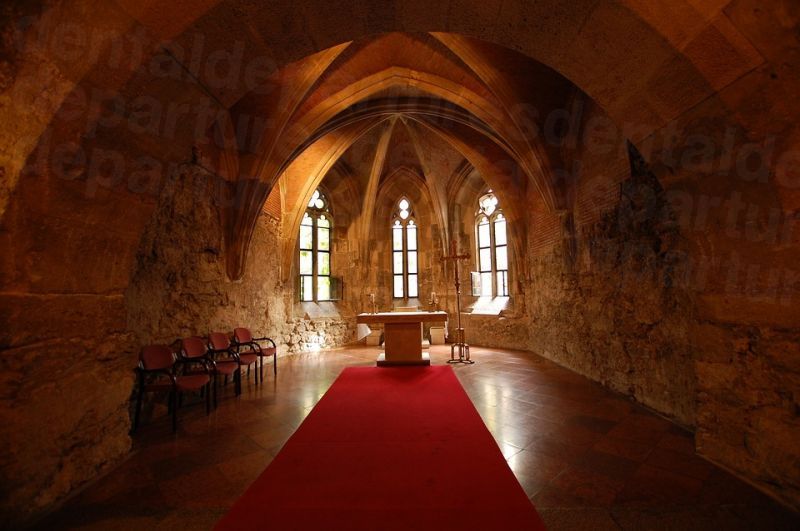 Do You Need Dental Implants?
Dental implants can be used to replace lost teeth and even improve the appearance of damaged or cracked teeth. If you are missing many of your front teeth, procedures like mouth restorations with four or six implants are a great way to achieve a complete smile makeover.
While crowns can be used to cover up dead and discoloured teeth that still retain a strong root, dental implants can be used to replace teeth that have been extracted or are too fragile for a crown.
A consultation with your dentist is the best way to find out if dental implants are the right treatment for you.
Choosing a Dentist to Visit in Hungary
Dental Departures strives to make it easier for people to choose and book an appointment at a dental clinic in the Hungarian capital. We want you to have all the information you need at your fingertips, so that you can make an informed decision when choosing where to have your treatment.
For every Hungarian dental clinic listed on the Dental Departures site, there is a wealth of information about every aspect of the practice.
Read bios of the dentists who work there, look at before and after photos of dental treatment that has been completed by those dentists, and find out all the prices for different procedures. You can also find out their address and opening hours, take advantage of promotions offered by the dental clinic, and see a list of recommended hotels close to the clinic.
Read Reviews of Budapest Dentists
We believe the best way to build up your confidence to visit an overseas dentist is by reading reviews written by patients who have already been treated by them. You can find hundreds of reviews for dentists in Budapest here at Dental Departures, written by patients from all over the British Isles and Europe. In addition to writing about their experience at a Budapest dental clinic, reviewers also provide a rating out of five stars for the treatment they received.
This type of invaluable information has given many dental patients the reassurance they need to book an appointment, so make sure you leave a review after your dental treatment to help the next dental tourist with doubts!
The Best Dental Implant Clinics in Budapest
For a dentist in Budapest that you can rely on, consider our top three dental clinics in the capital. With almost 200 reviews between them, you can find out exactly what past patients thought of their treatment. Each one has had their dental license checked, premises inspected, and online reputation reviewed by us, making them all Dental Departures Verified Clinics.
1. Our number one dental clinic in Budapest is MDental Hungary, which consistently receives a 5-star rating from past patients. Talented bilingual dentists carry out complete smile makeovers in the eight modern treatment rooms here every day. Services like free airport and hotel transfers are also provided for dental tourists. You can expect to pay £4,429 for a full mouth restoration at this award-winning dental clinic.
2. Conveniently located close to the Budapest-Nyugati railway station and just a short stroll from the River Danube, the Dentium Implant Center is an excellent choice for low-cost dental implants. Dr. Ali Dehghani studied at the University of Debrecen, is a qualified implantologist, and speaks both Hungarian and English. The cost of an overdenture supported by two dental implants starts from £2,345 here.
3. Evergreen Dental is another high-quality Budapest dental clinic, housed in a UNESCO World Heritage building within the city centre. ISO 9001:2015 accredited and equipped with state-of-the-art dental technology, dental tourists are invariably impressed with the standard of care they receive. The team of talented dentists working here speaks a variety of languages, including English, French, German, Russian, and Greek. A single titanium dental implant, including an abutment and crown, is priced at £804.
Explore Budapest After Your Dental Treatment
Hungary is a fascinating country, and the city of Budapest has a rich history that goes back to the days of the Roman Empire and beyond. The historic centre of Budapest, including the Banks of the Danube, the Buda Castle Quarter and Andrássy Avenue, is a UNESCO World Heritage site.
Despite suffering widespread devastation during World War II, Budapest still retains spectacular architecture and cultural sights that should not be missed.
Here are few of the top things to do and see in the "Pearl of the Danube."
Take a stroll around the historic Trinity Square, where you will see the 13th-century Matthias Church and the Fisherman's Bastion, a turreted fortress commanding fantastic panoramic views over the city.
For shopping make sure you visit the neo-gothic Great Market Hall, packed full of authentic Hungarian souvenirs and traditional delicacies.
To unwind after a long day on your feet, the art deco Gellért Baths offer natural hot spring pools to soak your weary muscles.
For something a little more terrifying step inside the House of Terror, once the headquarters of the secret police when Hungary was under fascist and communist rule. This unique museum reveals the gruesome torture techniques used and showcases actual interrogation rooms.
Learn about less barbaric history at the Hungarian National Museum, where you can see a piano played by Beethoven and artefacts from the days of the Hungarian monarchs.
To step even further back in time, check out the ancient ruins of Aquincum. During the days of the Roman Empire, a city was built on the same spot as Budapest stands today, and you can still wander around the old amphitheatre now located within the district of Óbuda.
That should be enough to get your exploring, but these attractions only scratch the surface of what Budapest offers for the curious traveller!
If you are ready to schedule an appointment with a dentist in Budapest use our online booking tool now, or you can also get in touch with our Customer Care Team and they will arrange a consultation for you.
Sources:
Dental implants. NHS. Website accessed: 9 February 2021. https://www.nhs.uk/live-well/healthy-body/dental-treatments/#dental-implants
Hungary's Dental Tourism Market. European CEO. Website accessed: 9 February 2021. https://www.europeanceo.com/industry-outlook/affordable-treatments-spur-growth-in-hungarys-dental-tourism-market/
Replacing a Lost Tooth. Dentistry & You. Dear Doctor. Website accessed: 9 February 2021. https://www.deardoctor.com/dentistry/blog/you-have-options-for-replacing-a-lost-tooth
Cracked teeth. Oral Health Foundation. Website accessed: 9 February 2021. https://www.dentalhealth.org/cracked-teeth
Budapest, including the Banks of the Danube, the Buda Castle Quarter and Andrássy Avenue. UNESCO World Heritage Centre. Website accessed: 9 February 2021. http://whc.unesco.org/en/list/400
Budapest. Lonely Planet. Website accessed: 9 February 2021. https://www.lonelyplanet.com/hungary/budapest