Snowbirds in the States seeking affordable dental treatment are flocking to Los Algodones, along with dozens of other Mexican destinations, to take advantage of the low costs coupled with warmer temperatures during the winter months.
If you are looking to save on dental crowns, bridges and/or implants to replace a missing tooth (or teeth), Los Algodones is the ideal option - and in this article, we explain why!
Los Algodones: Overview
Los Algodones, also known as Molar City, is located on the US-Mexico border where the states of California and Arizona meet. This location makes it easy to reach from Southern California or Arizona, with patients able to park their cars on the US side of the border and simply walk across to their appointment.
The town itself has a modest range of shopping and dining options, with businesses opening to cater to the thousands of dental and medical travelers who visit every day. However, this is no Tijuana (with its world-famous nightlife), and so most visitors tend to stay on the US side of the border or in nearby Yuma (Arizona) where there are plenty of accommodation options to suit all budgets.
How Much Can I Save on Dental Care in Algodones?
The cost of dental treatments in Los Algodones is, on average, much lower than in the US and Canada - with patients booking through Dental Departures able to save between 60% and 80% compared to prices back home.
This is mainly thanks to the lower operating costs in Mexico, as well as high competition among dentists and lower living expenses for staff.
For example, the cost of a dental crown in the US ranges from USD $900 and $1500; the same treatment at one of our verified Algodones dentists starts at just $160-$500, depending on the type of material used.
Trusted Clinics in Los Algodones
Check out the three clinics below with respective crowns prices; click through to see more prices, dentist profiles, photos, patient reviews and more useful information:
[Please note that these are estimates at the time of writing.]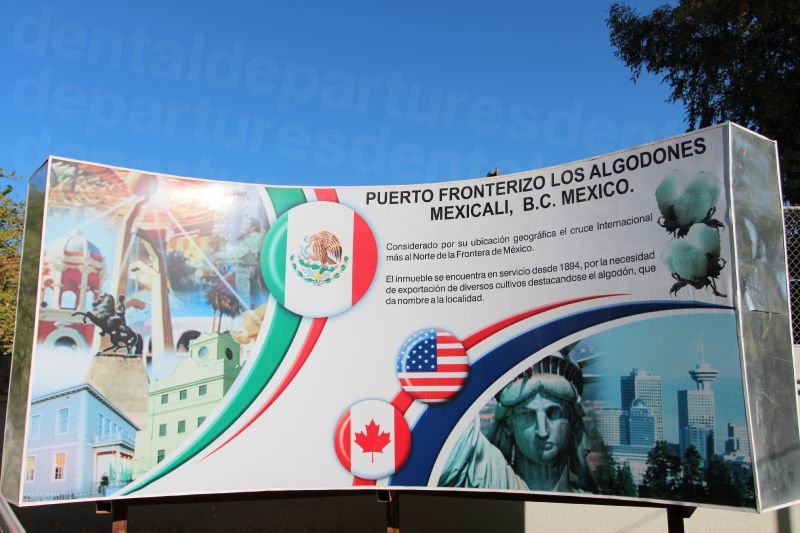 What Does the Process for Crowns Involve in Algodones?
For those seeking dental crowns, bridges or implants in Los Algodones, the process generally takes two visits to the dentist; however, some clinics with onsite manufacturing capabilities may be able to create your new crown within one day.
On your first visit, your teeth will be thoroughly cleaned and prepared for receiving the crown. This is done by shaping the tooth with a drill. Impressions of your teeth will be made and sent to the lab where the dental crown will be made. A temporary dental crown will be fitted by your dentist.
On your second visit, the temporary crown will be removed and the surface of your tooth prepared to receive the permanent crown. Once you and your dentist are happy with the crown—for color, shape and fit—your dentist will cement it firmly in place and your treatment is complete.
How Do I Book?
Check out our full list of dental crown clinics in Los Algodones here. Once you have some options in mind, feel free to contact our Customer Care Team who can provide you with a range of quotes, as well as assist you with travel arrangements, finance and insurance.
Sources:
Tijuana. Lonely Planet. Website accessed: 3 January 2021. https://www.lonelyplanet.com/mexico/baja-california/tijuana
Mexico's Molar City: Where Americans Go For Affordable Dental Care. Sky News. 3 January 2021. https://news.sky.com/story/mexicos-molar-city-where-americans-go-for-affordable-dental-care-10944822.
Shepard, Katelynne. Your Dental Crown Procedure: What to Expect. Colgate. Website accessed: 3 January 2021. https://www.colgate.com/en-us/oral-health/cosmetic-dentistry/bridges-and-crowns/your-dental-crown-procedure-what-to-expect-0113