Do you know that you can save money by visiting Thailand for your dental treatment? Read on and find out how a dentist in Thailand can improve your smile at a reasonable price.
Thailand Dental Tourism
Many people tend to skip dental appointment due to their busy schedule and the cost of treatment in their home country. When they get time off from work, they sometimes spend a vacation and forgo dental work. Here's the good news: you can get oral care while on a holiday in Thailand. Clinics in Thailand like the Bangkok International Dental Center (BIDC) offer world-class service at a reasonable price.
Bangkok International Dental Center
Bangkok International Dental Center is an award-winning dental center in Thailand that is certified by the International Organization for Standardization and the Joint Commission International ( JCI), an accreditation that implements the highest level of patient care and evidence-based quality standards. This means that BIDC patients receive a similar level of uniform access, care, and treatment like the JCI accredited medical facilities around the globe. Take a look at the awards received by BIDC:
Best Service Provider – Prime Minister Export Award by Royal Thailand Government

Trusted Quality Award – Thailand Trustmark by the Department International Trade and Promotion of Thailand (DITP)

DBD Award – Department of Business Development by Ministry of Commerce of Thailand
In addition to this, Bangkok International Dental Center received the Dental Departures' Global Patients' Choice Awards. Booking with Dental Departures gives you access to quality-checked clinics that are screened based on their facilities, qualifications, professional memberships, including real patient reviews.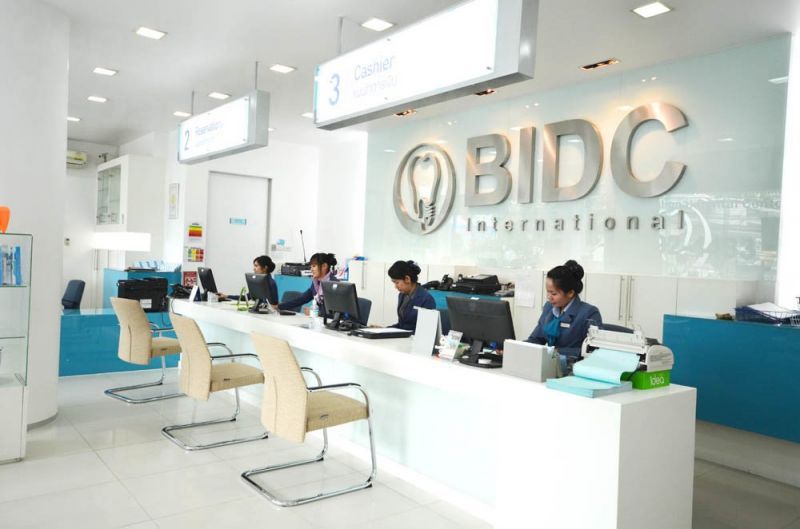 BIDC is the largest private dental center that treats residents and visitors seeking dental treatments. The center is a 7-storey building equipped with the latest dental and medical technology such as 3D CT Scan, Digital Tomography, hi-tech x-rays, Carl Zeiss Microscope, and European-designed dental chairs. It has more than 20 treatment rooms, on-site laboratories, and sterilization equipment that deliver safe, effective treatments.
The clinic uses a referral system, which means that dental work is assigned to different specialists to ensure proper treatment diagnoses. The team is composed of specialists in Restorative Treatment, Root Canals, Dental Implants , Orthodontics, Oral Surgery, and Gum Treatment. They provide simple to specialized treatment like Aesthetic Dentistry (teeth whitening, crowns, veneers). The dentists completed their studies and training from Thailand as well as from international institutions. They include dentists with the following qualifications:
Diplomate, American Board of Prosthodontics

Master of Science in Prosthodontics, University of Minnesota, USA

Master of Science in Implant Dentistry, University College London, UK

Master of Prosthetic Dentistry, University of North Carolina, USA

Master's Degree in Restorative Dentistry, University of Michigan, USA

Master of Science in Orthodontics, University of Sydney, Australia
The price of treatment in Thailand is lower compared to Australia, UK, US, and Canada. For example, veneers in Australia cost around AUD $450 (NZD $486; UK £271; USD $339; CAD $456) compared to AUD $1,459 (NZD $1,577; UK £881; USD $1,100; CAD $1,478).
Indeed, flying to Thailand lets you get big savings on your treatment.