If You Need Dental Implants, Bangkok Is The Ideal Choice
Domestic dental fees can be quite prohibitive if you require dental implants. Bangkok can offer an affordable solution, delivering world-class treatments for up to 80% cheaper than the prices being charged by your dentist back home.
How Good Will The Treatment Be At A Bangkok Dentist
Bangkok dental tourism has been an expanding industry for over three decades now. There are custom-built, state-of-the-art dental facilities with internationally-qualified surgeons that cater specifically for the needs of overseas patients. Their training ensures that the treatments they deliver are every bit as good as domestic dentists.
Increasing numbers of patients are taking advantage of the exceptional value for money that dentists in Bangkok are able to provide. Facilities such as the Bangkok International Dental Center (BIDC) continue to raise the standards of dentistry in Thailand , delivering superior dental treatments whilst keeping the costs to a minimum. In fact, the BIDC has the distinction of being the first dental clinic in Thailand to be awarded accreditation by the Joint Commission International (JCI) for its quality and standards.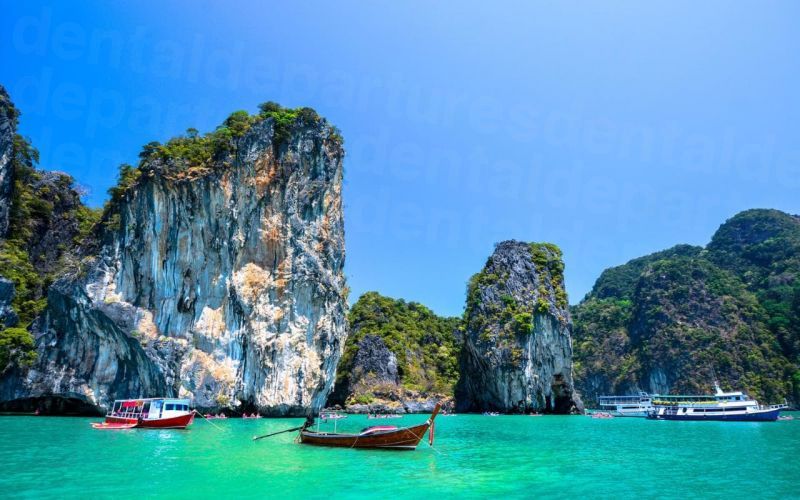 What's Involved In A Dental Implants Procedure
If you opt to undergo dental implant surgery in Bangkok , there are three stages to the treatment:
1. Firstly, the implant needs to be fitted. Your dentist will make a small incision in your gum to allow a small hole to be drilled directly into the jawbone into which the implant can be slotted.
2. Next, an abutment will be screwed directly into the implant. It can take several months for the implant to fuse securely with the jawbone (known as osseointegration). Your dentist will decide when the implant is strong enough to support the abutment.
3. Finally, once the abutment is secured, your dentist can attach a crown directly onto it, giving you a seemless, natural-looking match to your surrounding teeth.
How Much Do Dental Implants in Bankgok Cost
Compared to prices in most western countries, you should expect to pay around 50%-60% less by undergoing your dental implant treatment in Bangkok. The following table gives an overview of typical prices and savings across the globe:
Australia Bangkok Saving
Dental Implants (AUD): $5,000 $1,800 64%
New Zealand Bangkok Saving
Dental Implants (NZD): $5,500 $1,978 47%
U.S. Bangkok Saving
Dental Implants (USD): $3,913 $1,900 51%
U.K. Bangkok Saving
Dental Implants (GBP): £2,928 £1,563 47%
By booking your treatment through Dental Departures, you can take advantage of our best price guarantee policy to ensure that you get the best deal currently available anywhere on the market. And for extra peace of mind, we can also put you in touch with a number of independent insurance companies who can provide additional medical insurance . This can help with the cost of travel and accommodation in the unlikely event of any complications arising during your treatment.
If you're looking for top quality, low-cost dental implants, Bangkok is the ideal choice for you. Their highly-skilled dental surgeons can deliver unrivalled results for a fraction of domestic prices.