Today, Cancun counts as one of the world's foremost destinations for dental tourism offering top-notch dental treatments. Many dental patients have discovered inexpensive implants in Cancun, often saving more than 50% of the costs for the same procedure back home.
Cancun has earned a well-deserved global recognition for its affordable high-quality dental treatments, modern and safe clinics, and their well-trained dental specialists comparable to that in North America.
What are dental implants?
Dental Implants are metal frames made of titanium and surgically placed in the jawbone beneath the gums to replace the roots of missing teeth without affecting or altering the adjacent teeth.
Once in place, replacement teeth, crowns, bridges and dentures can be mounted onto them.
Implants can be used to replace a single tooth, several teeth, or all of the teeth. Most Dental Implants are made of titanium which enables them to integrate with the bone making them more stable and comfortable.
Unlike dentures, implants do not come loose and feel and look like your own teeth. Usually, you will be able to function with your "new" tooth on the same day as your surgery.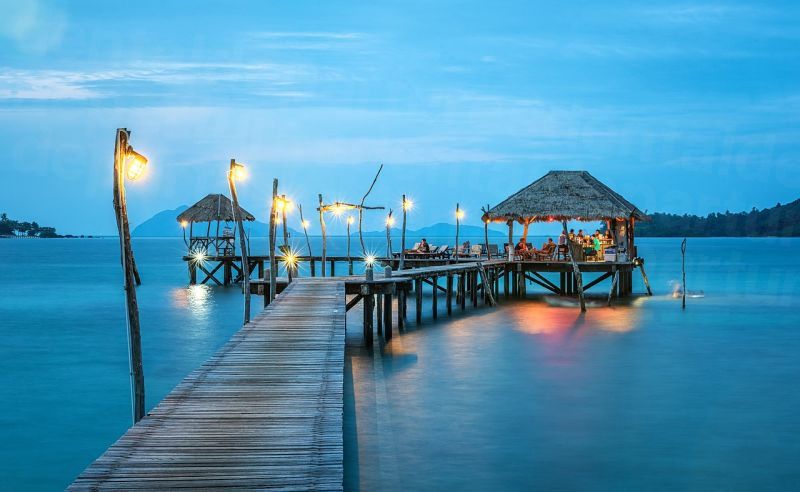 How Much Can I Save in Cancun - And Where?
Dental Departures specializes in dental tourism and is dedicated to making your experience comfortable and stress-free. Booking through us provides you with the assurances that the facilities of the clinics, accreditations of the staff and doctors and their experience have been thoroughly vetted with background checks..
Dental implant costs are substantially lower in Cancun. For example, the average cost of a Standard Titanium Dental Implant (implant only) starts at USD$900 compared to USD$2,200 in America, CAD$2,970 in Canada, GBP£1,720 in the UK, EUR€2,050 in Europe, AUD$2,920 in Australia and NZD$3,130 in New Zealand.
Top dental clinics for implants in Cancun include:
Sunset Dental Cancun - This ultra-modern clinic is fully equipped with state-of-the-art technology. Comprising a team of highly-skilled dental staff fluent in English, French and Spanish, the clinic utilizes high-tech diagnostic equipment and techniques in a safe, clean, sterile facility.
Cancun Dental Specialist - A state-of-the-art facility, the clinic boasts an on-site laboratory, cutting-edge technology and equipment and a highly-skilled specialist team with a combined experience of 90 years,
Ocean Dental - A fully-equipped dental clinic certified by the American Dental Association, the dental team comprises either U.S.-licensed or U.S.-trained staff, skilled in the most up-to-date dental procedures and technology. The clinic utilizes the latest equipment and technology and dental work is guaranteed for up to ten years.
Dentics - The clinic offers a wide range of dental treatments, including implants and boasts state-of-the-art equipment and technology, a highly-skilled dental team and utilizes high-quality dental materials.
Cancun Dental Design - Providing affordable and superior dental treatments, the clinic is equipped with the latest technology, an in-house laboratory and a highly experienced and skilled dental team fluent in English, Portuguese, Italian and Spanish.
Hundreds of patients have rated the clinics with 5-stars which speaks of their high standards and quality of treatment.
Getting Started
Head on to Dental Departures listings. Find out more about our inexpensive implants in Cancun dental clinics, and the range of promotional all-inclusive comprehensive dental packages available.
Sources:
Frothingham, Scott, DDS. Dental Bridge. Healthline. 13 June 2018. https://www.healthline.com/health/dental-bridge
Are Same Day Dental Implants Right For You? Colgate. Website accessed: 26 April 2021. https://www.colgate.com/en-us/oral-health/implants/are-same-day-dental-implants-right-for-you